Hello everyone! We wish you a happy holidays, regardless of your religion or if you even have holidays in the next days. And, in order to celebrate the occasion, we've decided to bring some life back to this place. Starting by the fact that many of you might be aware that Petroglyph Games has released 8-Bit Armies, 8-Bit Hordes and 8-Bit Invaders, in this year. In fact, 8-Bit Invaders was released only 9 days ago. You see? We are not that late into bring this news for you. Only miserable nine days. And of course, there is a trailer to explain to you what is it about and give a glimpse on the graphics and some of its features:
And, of course, we are adding support for these games here in Petrolution. Specially, because we do enjoy fun RTS games released by Petroglyph Games.
In fact, we've repaired all our content and updated the game icons for some of them, for the site revival.
But... some of you may be wondering... after all, isn't Petrolution a site about game modifications? Are these 8-Bit stuff moddable? To be honest, we don't know how much it could be modded. The Steam Discussions Forum for 8-Bit Invaders doesn't have a single topic about modding the game. If you browse its directory, you'll notice that it reminds a lot Empire at War in some sense. Afterall, both use the Alamo engine, except that it has received some upgrades in these years. And EAW is very modding friendly, which means that the current Alamo engine is still friendly with many things. However, so far I only could figure out that they allow you to customize the in game music quite easily there. However, we certainly want much more than tweaking the music of the game, right?
So, there is another occasional bonus of this place: we are offering you in first hand the latest version of OS: BIG Editor. This tool was supporting .MEG files for a while, but now it opens the encrypted config.meg files from Grey Goo and 8-Bit Armies, Hordes and Invaders. Unfortunately, I couldn't figure out the Key and Initial Vectors from End of Nations beta, otherwise, I would have added support for that too
.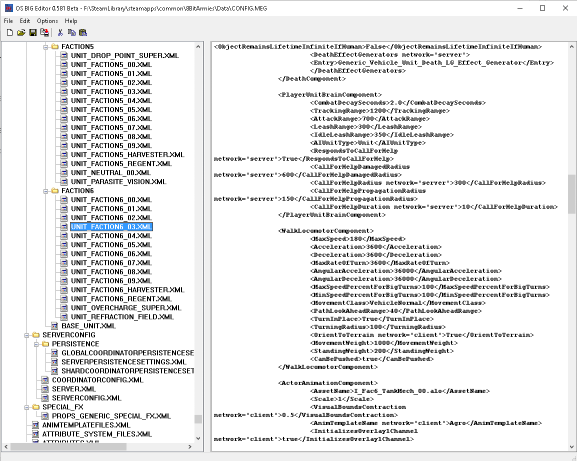 Anyway, OS: BIG Editor is not the first tool to support these encrypted config.meg files, since Mike.nl was the one who figured it out and implemented this knowledge at his Mega File Editor.
So, that should allow you to modify the XML files that are used to specify the features, powers and weapons from each unit. Does the Alamo engine used in 8-Bit Armies reads external files? Is there any volunteer to figure it out and share this knowledge with us? Post your thoughts here and, if these games are really moddable as they seem to be, we'll create dedicated modding forums here.
So, share the word and enjoy the place: Petrolution lives!