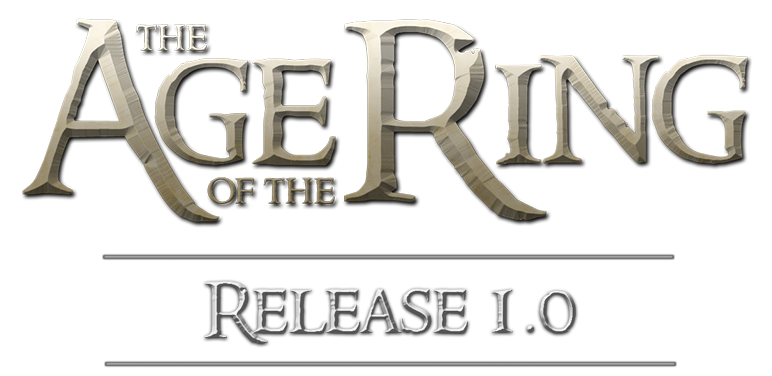 Hola,

The Age of the Ring team is proud to present our mod's first official release: Release 1. This release contains 4 factions: Gondor, Mordor, Isengard, and Misty Mountains. Each faction has been completely reworked, with new units, heroes, structures, abilities, spells, gameplay elements, and strategy. There are also two new Create-A-Hero classes: Gondor Captain, and Gundabad Berserker, over 30 new maps, and new and original Ring Heroes.

To play, please download and run the file below:
AotR Version 1.0 Installer
Note that AotR is based on the 2.02 community patch, and requires its installation to play.

For an exhaustive changelog of additions, please visit:
Play online
AotR is designed to play online using T3A:Online. To play AotR online, please refer to the T3A:Online website and follow the instructions.
Join our community on Discord!
Want to organize your online games other AotR fans? Join our Community Discord here: https://discord.gg/4xUFSDt
What is next?
Lothlórien.
Known issues
- Campaigns don't work
- War of the Ring doesn't work
- Gundabad Bodyguard occasionally slide instead of move
- Gundabad Berserker Create-A-Captain doesn't have a Leap power animation
- Buggy AI on map 'Osgiliath'.
- Most new units don't have new voice lines recorded
If you find bugs, please report them in the AotR Bug Reports forum.

Credits
Core team
RiderOfRohan - Mod Emperor, lead coder, visual artist
DúnedainRanger76 - Mod Chieftain, lead mapper, coder, sound artist, visual artist
Mathijs - Mod Jarl, lead visual artist, idea guy
Mod team
MattTheLegoman - Mapper, visual artist
njm1983 – Mapper
tomasz_exe - Mapper
vengefulnoob – Coder
FG15 - Coder
Testers
Saruman - Lead tester
Mûrazôr
SilverElf
Hoar
Necro
Voice actors
Ryan Antoine - Knights of Dol Amroth
Patrick Seymour - Axemen of Lossarnach
Joel Nisbet - Variags of Khand
Robert Benjamin - Royal Guards
NOTE: The above voices were part of The Dwarf Holds. If you are the author and wish to see your work removed, please contact the AotR mod team.
Special thanks
AndySan
Fredius
Glorfindel23
Gnanw
ICT
Kwen
Valheru
Maximan
MorguLord
Haldir
Fudge
M@tt

Extra special thanks to Nertea for allowing us to use his The Dwarf Holds assets and Ruudy for letting us use his Tactics assets. Thanks to the 2.02 team for their excellent community patch, as well as to The3rdAge.net, our BFME modding home under the Revora Creative Network.
Thanks and have fun,
The Age of the Ring Team