If life is a roller coaster, then I'm the guy who gets to disappoint children by pulling the brakes on it. 2018 is just a testament of how terrible once good shows can get, and as a result, we have new good shows that have wiggle room to become terrible in the future as well. Who will join the junkyard of childish things, and who will come out on top this year? Not Walking Dead.
#5 Gotham
Gotham has been turning sour with terrible writing decisions and the annoying tendency to bring people back from the dead more than Jesus himself, but its 4th season was still a solid bit of television. You just have to use you imagination to blot out some of the ghoulishly dumb plot twists. They may replace the actress who played Poison Ivy THREE times, or regress every character's progression, but somehow, I still don't mind. If they didn't bring back Barbra Keen just to turn her into a ninja prostitute, then maybe Gotham could have gotten higher on the list this year. LEAVE PEOPLE DEAD
#4 The Marvelous Mrs Maisel
Amazon is allowed to get it right at least once, I guess. The Marvelous Mrs. Mavel is a story of a obnoxiously Jewish woman who wants to be a comedian in the early 20th century, but since that's not being a housewife of a bar maid, the world conspires against her as she struggles to become the first successful woman in stand up comedy. The horribly predictable witticisms sometimes made me want to punch a child, but I lived.
#3 G.L.O.W.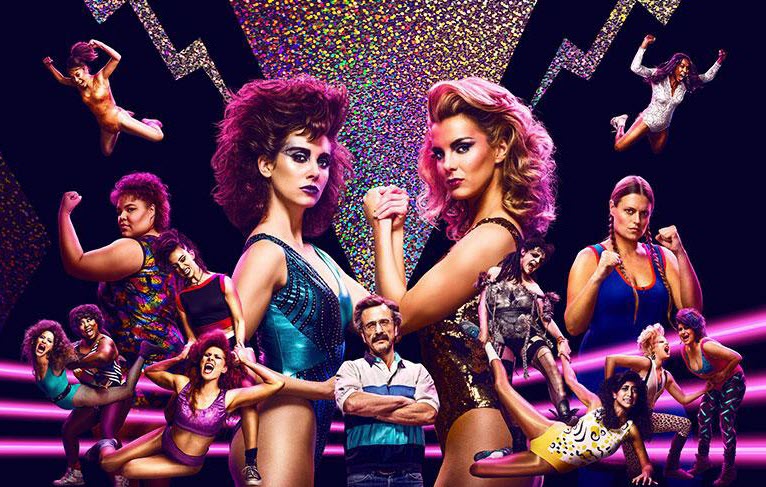 Do you like wrestling? Me neither. But here we are. G.L.O.W. is a show about a failed sci-fi director in the 1980's who wants to cash in on the cheesy staged wrestling genera, but do it with women. 100% the best show about fake wrestling you'll ever see. "Are you some sort of sick, perverted feminist with all these female equality shows, Pasidon?" Probably. And you will be, too.
#2 Daredevil
He's back. There was action. There were tears (not mine. I swear. Mostly.) Season 3 was a story about a blind guy who wants to save the city from a fat guy and a dirty cop who is dangerously good at throwing things. Did he win? Did he conquer his foes and come out on top? Well, it doesn't matter since NETFLIX CANCELED IT. So, no. Daredevil didn't win since he no longer exists. It was still one of the best seasons you'll watch from 2018.
#1 Happy!
Yaayyy. Happy is the best show ever made. How do I know this? Because I watched it. Have you? No? Then I'll cut this review short so you can GO WATCH IT.