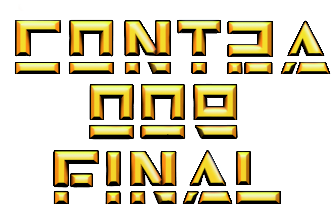 As promised, we are bringing you Contra 009 Final in 2018!
The long wait is finally over! Over 200 bugs have been fixed, many and many balance and stability changes have been made! This is a well polished version. A lot of attention was put in all aspects by all people involved: developers, testers and collaborators! 009 Final introduces three new challengers: USA, China and GLA Boss. Skirmish AI was fixed and then drastically improved. Numerous crash and mismatch errors were found and fixed.

First of all, let us say that we are so grateful and thankful for all of your voting, which helped Contra to score very high in MOTY 2018 and boost Contra's popularity.
As a thank you, we have a small gift which is actually last minute model work. It will improve visuals even more.
Angels for Cybernetic general have been remodelled and improved.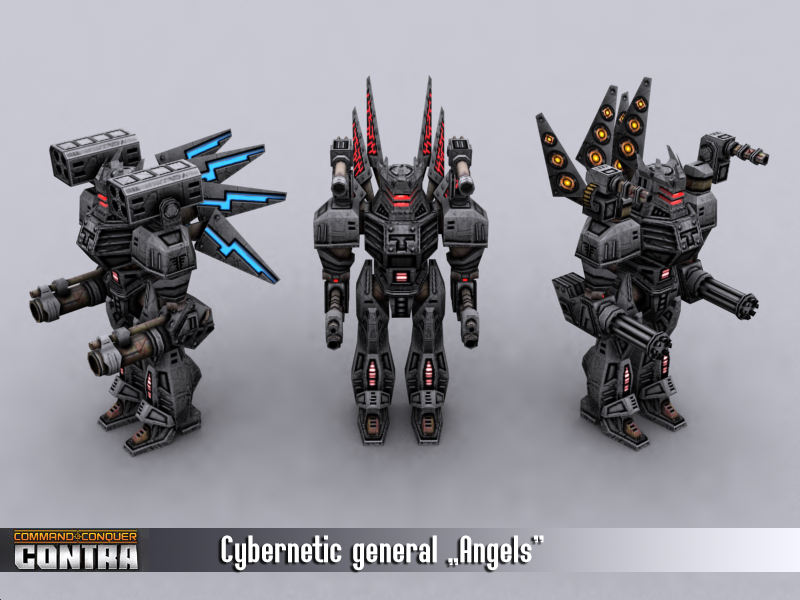 Angels are remade by Creator and dce.

This has been an amazing year for us, and for Contra. Our community grows each day. Many good and talented people are joining us, and helping us improving various segments.
But also, very important news is that Creator is back!
He will join us in our development, and help us achieve our goals and plans for next version, but even more.
Creator already improved some stuff like walking animations for spiders, walkers, projectiles and some more.
One of the new additions is hand-made map previews for all maps (by triatomic). A lot of effort and work is put on this one, everything in order to have better visuals for you!

Of course, there is a brand new launcher made by Predator, with full ContraVPN support (made by tet too)! You no longer have to search people online, struggle with settings....Everything starts with this launcher. ContraVPN is maintained by the wonderful guy tet.

Use this power wisely. Meet other people, join online games, improve your skills.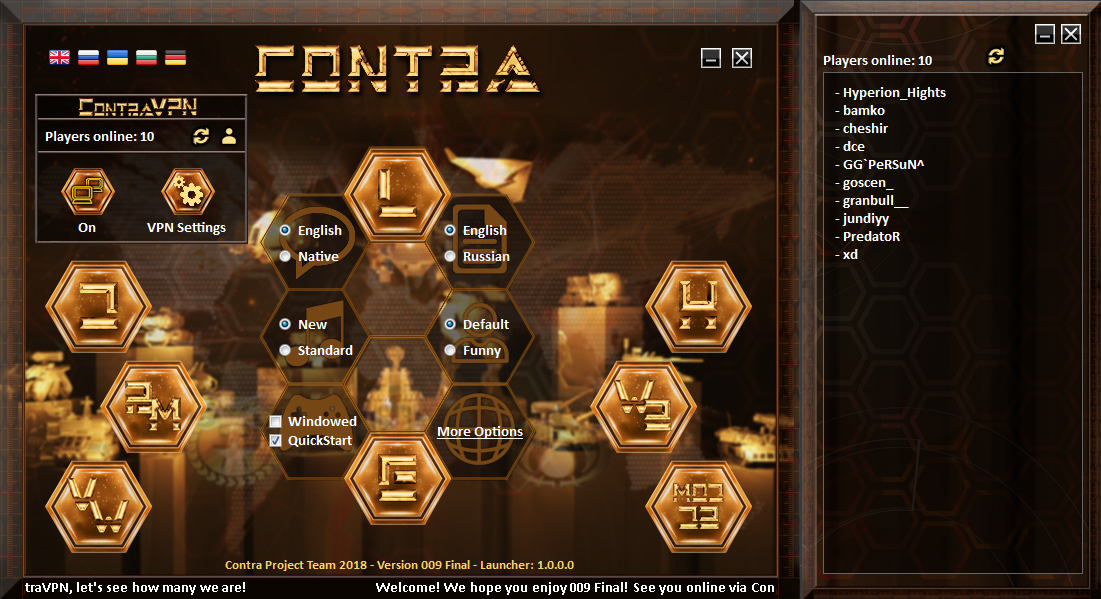 Of course, if you don't like to play multiplayer games, you can always compete vs improved AI (by Predator), or enjoy redesigned challenge games and fight even Boss generals!
If you need instructions for setting things up, Persun is your guy. His channel is better and better, and has more and more Contra content. Instructions video below!
We have no doubt that more of our friends and streamers will offer more content on their channels. Please check them, and subscribe, so you can be sure not to miss anything: Jundiyy, Maelstrom
One thing which you won't miss if you play Contra, are well-known super units. All of our super units have been voiced by voice actors who made really amazing job: Maelstrom, Matthew Vanston and George Exley
Thanks to WWB2 for big attention to details, helping us with challenge missions and bug hunting, Adriane for making new multiplayer maps and triatomic for the high-quality map previews and decals! Testing 009 Final to ensure quality release would not be possible without Dark_E_Swan, WWB2, Armanis, ParadoX, Persun, tet, triatomic, Marakar, Jundiyy, Adriane, Raven, Noctis, Falcon and Nizar_Haddad for continuous support with testing and reporting issues. Special thanks to Nizar_Haddad for close collaboration in fixing hard-to-fix bugs.
However, we need to warn you about possible Mismatch problems with AI. Blaming SAGE for such thing became a meme, but unfortunately it is a true one. We stretched this old engine in every direction, made sure to have everything polished, but with improved AI, and tons of new stuff, mismatch may happen often if you play online game with your friend vs. AI. So, please keep this in mind. Remove AI and it will be fine.

What more to say at the end of this year!? We wish you all happy and successful New 2019 Year!
See you in next adventure!

Edited by predator_bg, 01 January 2019 - 01:41 AM.