So, just recently Red Alert 2 has had its 20th Release Anniversary! The game and its community's support has been going strong for the last two decades, so hopefully the trend continues through all the interesting projects that focus on this bizarre war between the Blues, the Reds and That Other Bald Guy. As I used to say, Long Live Red Alert 2, still the best game in the series. Given the success of the Remastered Collection, who knows, perhaps a revival of it is potentially on the table in the future. I'm sure you're just as curious to what the future of Command & Conquer holds as I am.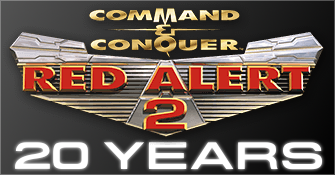 Now here's the thing. The set of final 8 missions of Mental Omega is built around a single narrative, telling one story from different perspectives. This means, they can only be released together, all at once. Due to various circumstances, as of this moment 5 out of the 8 final missions are finished. This has generally been a difficult time for all of us, and in our team we only have so much of our free time that we can spend on this project. After all, studies, work, family take precedence, especially now. We are getting to the end, but I can't exactly say when we will - these last missions are rather complex and demanding to design, and we want to make sure they work just as well as we intend them to. With all that said, everything else is ready and so we are going to release this update to you as-is.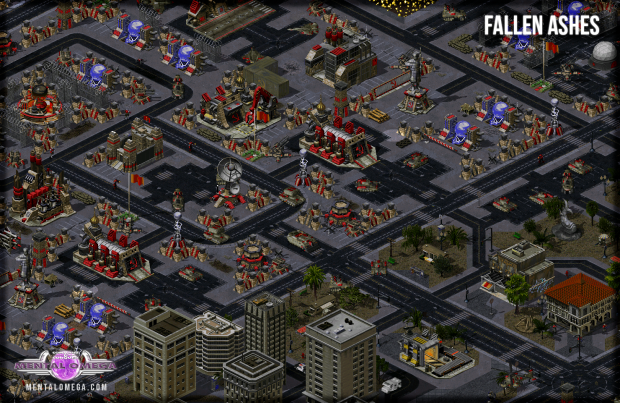 A lot has changed since the last release, the Mentalmeisters team has welcomed new members, thanks to which a major overhaul of the entire campaign was possible. All of our singleplayer and multiplayer missions have been heavily revamped, with their visuals, script and even bits of lore reworked to various extent. We have further adjusted the difficulty of the campaigns, making sure that Easy setting, now known as Casual, becomes more accessible to everyone, while Mental retains, if does not up the challenge a bit.

In addition to this revamped campaign, we have prepared 6 new Special Operations and 1 new Co-Op, which replaces one of the previous maps. Yes, that is the name we'll be going forward with for this set of additional missions, since sometimes there's confusion between Covert Ops and Co-Ops. Do note that these Special Operations have been designed by different mappers than the ones currently working on the remaining final missions.
Allied Special Op Mission Digital Demon
Allied Special Op Mission Convergence
Allied Special Op Mission Parasomnia
Soviet Special Op Mission Trophy Hunter
Epsilon Special Op Mission Fallen Ashes
Epsilon Special Op Mission Split Seconds
Epsilon Co-Op Mission Monochromatic
This update also gives all of the previous Special Ops their proper unique loading screen.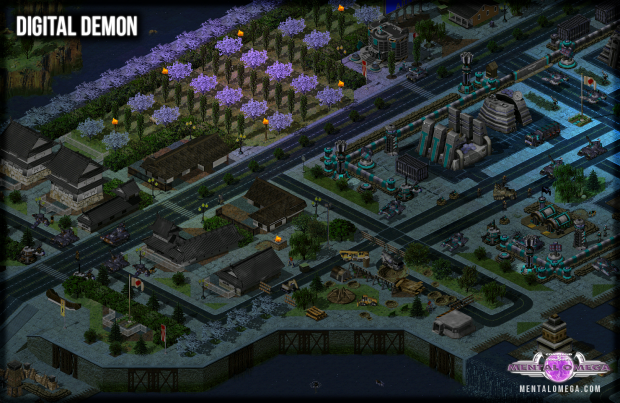 As you could expect, new Challenge maps have been designed and added to the game, four of them.
Aberration Challenge against all 3 Allied subfactions with a tech level switcher
Ironwall Challenge against the armies of China with a powerful experimental weapon
Gladiators Challenge where your enemy has advanced weapon-disabling effects in use
Judgement Challenge where a mysterious force is capable of perishing all of your bases
The skirmish map pool expansion is the biggest one yet for a single update - over 100 new maps to fight on! Many of these maps use new terrain tiles we have prepared for this patch and some of them are designed as interior.
'(2) Below Zero', '(2) Billy Middlewins', '(2) Bone Crusher', '(2) Dawn of Dune', '(2) Dustgarden', '(2) Enormous', '(2) Future Avenue', '(2) Grimdark', '(2) Honeypot', '(2) Kingsroad', '(2) Modern Wharfare', '(2) The Pointy End', '(2) A Quiet Mesa', '(2) Ravens Pass', '(2) Red Sun Lagoon', '(2) Rock of Egypt', '(2) Sandspring', '(2) Sekigahara', '(2) Simple', '(2) Snowpiercer', '(2) Spooky Waters', '(2) Tiger Bay', '(2) Tournament Spire', '(2) Underneath', '(2) Vector Valley', '(2) Victims', '(3) Devil's Triangle', '(3) Unjust Rising', '(4) Amazonas Chi', '(4) Amazonas Iota', '(4) Amazonas Theta', '(4) Ashes to Ashes', '(4) Baked Alaska', '(4) Billy Middletwins', '(4) Border Order', '(4) Canyon Defrost' '(4) Carville's Command', '(4) City Escape', '(4) Floral Fury', '(4) Don't Mock the Croc', '(4) Dusk Till Dawn', '(4) Dutch Highlands', '(4) Einstein's Fate', '(4) Enclosure', '(4) Fallen Empire', '(4) The Hypergate', '(4) An Icebox', '(4) In Limbo', '(4) Let Them Eat War', '(4) Modern Wharfare II', '(4) Metro Midway', '(4) Nitro-Fueled', '(4) Oil in the Center', '(4) Oingo Boingo', '(4) Pac-Man Maze', '(4) Quarter Pounder', '(4) Race Base', '(4) Ravens Ravine', '(4) Roundhouse Redux', '(4) Set on Destruction', '(4) Sierra Cleave', '(4) Snowmelt', '(4) Sole Summit', '(4) Southwest Cay', '(4) Stormy Weather II', '(4) Tournament Garden', '(4) Tournament Tower II', '(4) A Town Blitz', '(4) Twilight Heat', '(4) Zen Bazaar, '(4) Zen Cellar', '(5) Civic Hustling', '(5) Dangerous Days', '(5) Lake Wise', '(5) Quinary Barrage', '(5) Ripper', '(6) Angel Island', '(6) Bifold Retreat', '(6) Billy's Full House', '(6) The Bloodiest Feud', '(6) Bluff Reflection', '(6) Boiling Point', '(6) Crystal Moon Cake', '(6) Dante's Inferno', '(6) Desert Descent', '(6) Einstein's Gate', '(6) Eviction Notice', '(6) Gold Experience', '(6) In Spitting Distance', '(6) Krakenhaven', '(6) Living Death Girl', '(6) Lost Inside Redux', '(6) Quicksand', '(6) Replica', '(6) Rogue Nation', '(6) Shrouded Canyon', '(6) Six-Assist', '(6) Verity's Hold', '(6) Vulkan', (6) Whiplash', '(6) Shrouded City', '(6) Wildfire Steppes', '(8) A Dusty Mesa', '(8) Knockdown Mega', '(8) Octagony Mega', '(8) Permafrost Mega'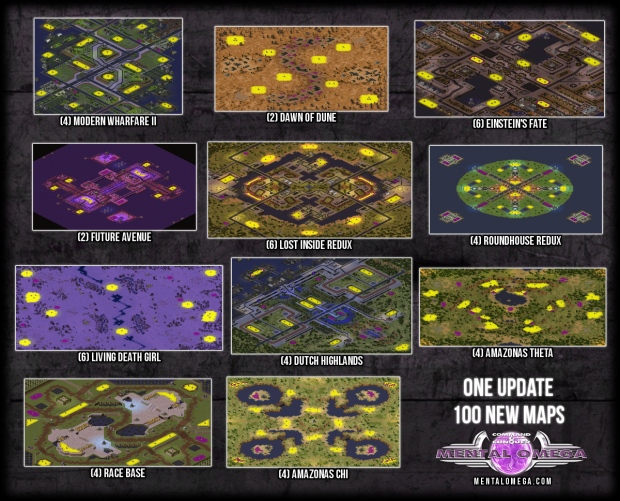 As always, for a complete list of authors of the big everything see our Credits page.



It's been a while since the last update, so there's a whole lot of changes to talk about. There are many new additions, bugfixes, quality-of-life changes, in addition to the balance of the game being heavily revamped, to the point that I suggest you head to the complete changelog right away. In this newspost I will only highlight some of them.
enhancements of the factions' arsenals include new additions such as: support powers Cryoshot, Cryospear, Black Widow Alpha, Elite Reserves, Regen Drugs, Wonder Drugs, Risen Monolith, Psychic Flash, Hijackers, Chaos Touch, Golden Wind, armory additions Warpnode, Ultra Dome, Cryomines, Hyperion, War Rig and units Siren Frigate, Mosquito Demoboat, Shock Trooper, Scourge, Ruiner, Hovracoon, Mobile Grinder, Orcinus Waveshaper, also including the completely redesigned Speeder Trike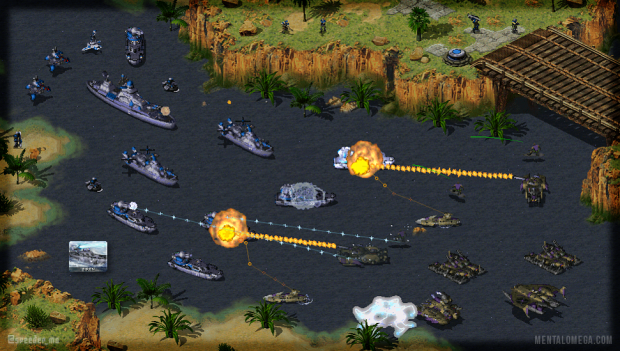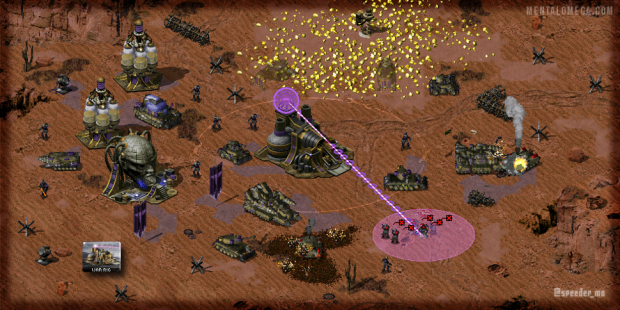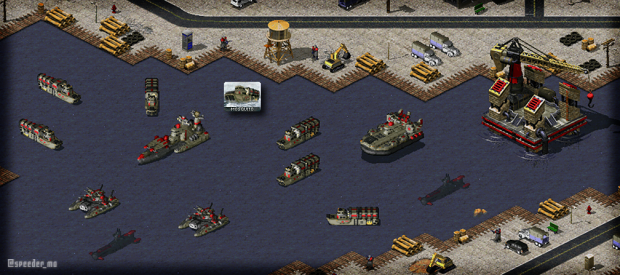 the red warning message telling you about the modified files between players and possible cheating has been fixed, so if you see one in multiplayer, do pay attention this time
another important fix: infantry with attacks on deploy, such as Epsilon Adepts or Libra, should no longer get randomly stuck when performing the attack, this will surely help you in missions
early game has been reworked; the vanilla factions receive a new building available after Barracks which unlocks some of the tech and new powers and some prerequisites have changed
the worth of harvestable gems has been decreased by 25%, meaning that the actual gold-to-gems value ratio has been changed from 1:2 to 2:3, still crucial, just not as crucial
Tech Secret Lab now always unlocks one very special unit returning from a previous version instead of doing a unit roulette - the new repair airship, Rejuvenator
a new tech building Tech Protector increases the strength of mechanical ground and naval units stationed around it by 50% in a large radius, but requires 50 power units to work
the new Superweapons dropdown allows you to choose to enable All, Minor or None of the superweapons in a skirmish/multiplayer match, replacing the old toggle
the new Tech Defenses dropdown allows you to choose between All, Bunkers or None of the capturable tech defenses to be placed on map automatically
the new Ore Growth dropdown allows you to adjust the growth and spread of the resources on the map, or even disable it completely if you feel like it
the new No Garrisons toggle allows you to disable all of the garrisons inside of the civilian structures, but not the neutral Tech ones or the Battle Bunkers
the new Global Soundtrack toggle allows you to enable the entirety of the standard Mental Omega ingame soundtrack regardless of the faction chosen, that's 69 themes
Part 2 of the Mental Omega Soundtrack will be released alongside the new update, featuring old and new mission-exclusive music
No Defenses is a new game mode, which completely disables and removes all defenses
No Rush is a new multiplayer game mode, in which no weapon will work for the first 10 minutes
Tournament 1v1/2v2 are new modes, which force a certain set of rules and could be used for future balance testing, possibly with experimental changes
the client will now inform you on startup if any of the required files from vanilla games are missing
all of the powered buildings now have an indicator whether they are online or not, usually a light
you can left-click on a cameo while holding the Shift key to queue creation of 5 objects at once
the client will now automatically delete all the debug log files from the game folder every 7 days
owning a Tech Missile Bunker or a Tech Refinery in a Short Game no longer keeps you alive
various additions to the map editor and terrain sets in the game have been included
icon display for friends and the ability to put users on an ignore list were fixed
you can now mark your status as always ready in multiplayer game lobbies
it is now possible to use and design interior maps in any of the theaters
you can now adjust the game speed in a singleplayer mission
new visual markers for objectives in missions were added
a new skirmish/multiplayer color has been added - Sky
Destructible Rocks, woah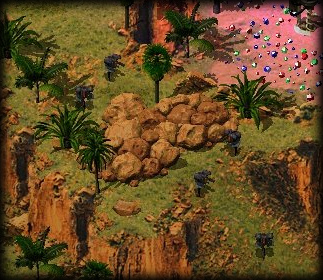 Again, you can see the complete list of new additions, changes and bugfixes under the following link: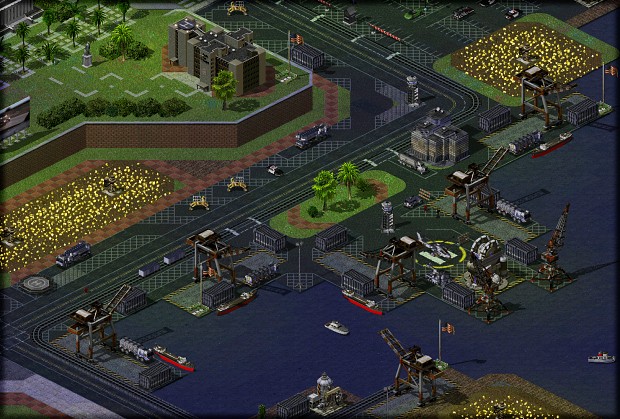 Expect this update to drop within the next few weeks. Once it's out, send us all the feedback at the usual places. The final missions will be released eventually, together, but that's all I can say for now.
Stay tuned and stay safe!

If you'd like to help develop Mental Omega, write an e-mail to mental.omega.apyr@gmail.com
We always welcome additional Voxel Artists, 3D, SHP & Animation Artists and Mission Designers.
Single contributions are also welcome and will speed up further potential development of the mod.