After a short 8-11 year hiatus, and nearly 14 years since the latest release of The 4th Age, the Age of Men is approaching. If you're new to this mod, here's a short summary: Roughly 200 years has passed since the Fall of Sauron, and the Age of Men has come. The New Shadow looms, and peace between the Men of the West and the Men of the East and South has shattered once again. The strength of the East and South is massive, and both Gondor and Rohan are pushed back from their territory. You may play as Gondor, Rohan, Rhûn or Harad, with new heroes, units, abilities and spells. The mod retains the core gameplay of BFME1.
Here are a few pictures to enjoy, a mixture of both older and newer models. Read on after the pictures for informations about my plans going forward.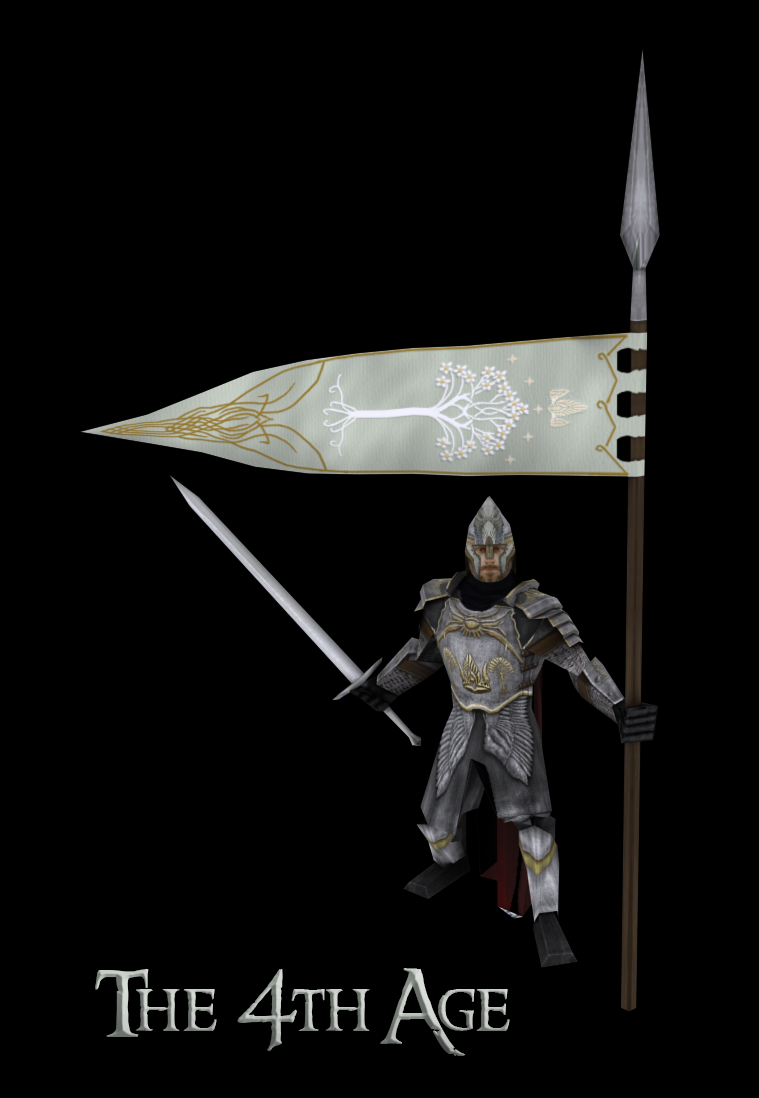 Fell deeds awake.
Now for wrath,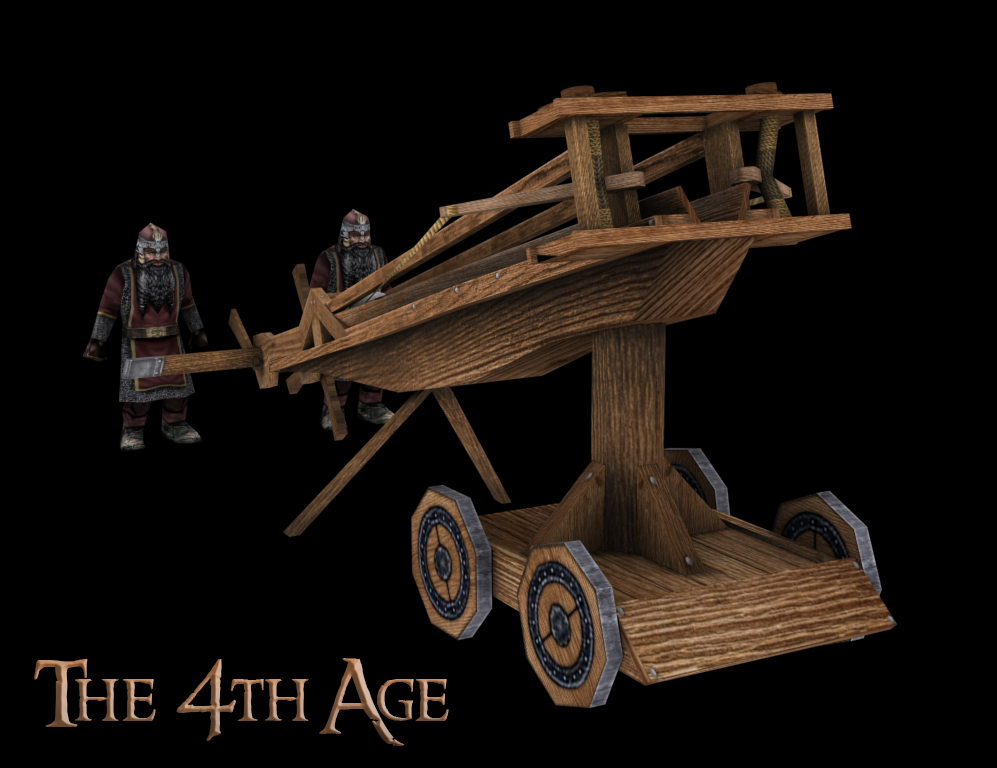 now for ruin,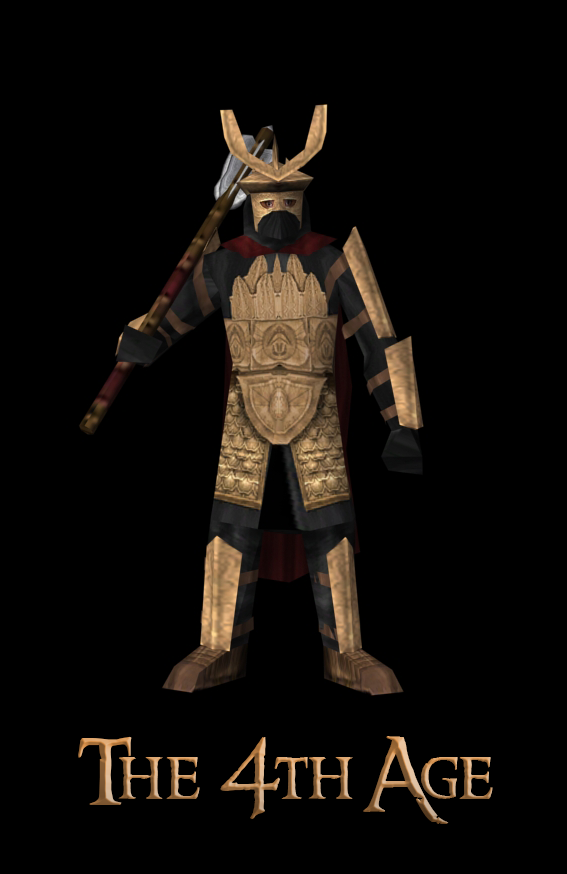 and the red dawn.
When I left the mod and the modding community 8 years ago, the mod had gotten quite a lot done since the 0.7 beta. In fact, when I suddenly felt an urge to return to the mod a couple of months ago to complete the mod, or at least update it to work on the newest 1.06 community patch, I was surprised at how "little" was left to do on Gondor and Rohan, specifically.
Thus a motivational surge was kindled, and a lot of coding has already been completed during this summer. However, coding is also where most of the work left to do remains, and you probably won't get a lot of updates on new or updated models going forth, which is usually what's easiest to show off. I am kind of a perfectionist, so there is a lot of old models I would like to remake (I've seen how far the art in this community has come, and I want in). However, I would much rather be able to release the mod in a fun, functional and "as-bugfree-as-possible" state to you as soon as possible, and save potensial upgrades on the art department for after an initial release.
Therefore, the release plan is as following:
0.8: I want to launch the next beta when Gondor, Rohan and Rhûn are considered complete, while keeping Harad on the backburner. The reason for this is quite simple:

Gondor and Rohan are both roughly 98% complete, including functional AI.

Rhûn is roughly 95% complete, but that excludes AI. However, adding a functional AI to Rhûn should go along quite quickly when those remaining 5% are finished. I also don't have any problems with releasing this version without AI for Rhûn if that drastically reduces the time it takes to get it released.

Harad is maybe around 40% done. They have their basic units and most buildings in-game already, along with a new spell, so you'll be able to play around with them in-game, but they are far from being complete.

1.0: Apart from potential bugfixing patches, 1.0 will be the next release thereafter, with a fully operational Harad also included in the mix, thus completing the original design of the mod.
1.1: A new round of bugfixing is likely to happen, along with balance changes.
While I make no guarantees, this is the plan I'm working towards. I'm pretty confident that 0.8 will be released within a few months or the end of the year, with or without Rhûn's AI, and after that I will simply have to see if I'm up for doing Harad as well. By the way, voice acting isn't included when I say a faction is "complete". I've enjoyed my summer vacation immensely working on this, but my job starts again tomorrow, and I won't be able to keep up the production I've had these past weeks.
Now, I'm working on this mod alone. While I've had help in the past, particularly from Mathijs, this was always "my" project. That doesn't mean that I wouldn't like help, should you be interested in helping out on any of the following:
Beta testing

Voice acting

Voice acting "supervisor" (writing the scripts, find voice actors, communication with them, etc.)

Sound design (code voice acting into the game, but also making sound effects. I can teach you to code it into the game, as it's quite easy to learn)

Less important for now, but I also don't mind help from:

Mappers

Coders

Artists (2D buttons or images, 3D models and textures, units or buildings, props, etc.)

Composer/musician (Rhûn and Harad scores comes to mind)
Just send me a message here on Revora, on Discord or ModDB if anything sounds interesting.
That's all for now. While I will still be posting here on Revora, feel free to join the newly created Discord server, or the mod's page on ModDB. You may even visit the mod's old website, though updating that site is not a priority.
Best regards,
Lauri