Scout Leichter Panzerspähwagen SdKfz 222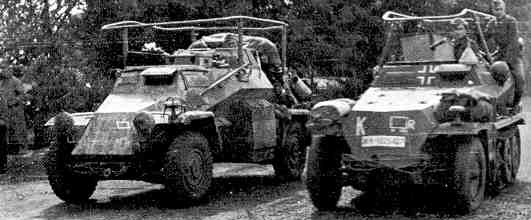 The SdKfz 222 that served with the Afrika Korps reconnaissance units and was armed with a 2cm cannon and a coaxial machine-gun. Carrying a 3 man crew, it had performed well enough, but was handicapped in the desert by its relatively short cross-country range of 160 km
Dimensions: 4.80 x 1.95 x 2 (h) mt
Weight: 4.8 tons
Armament: 1x 20mm KwK 38 cannon, 1x 7,92mm MG 34
Propulsion: Gasoline Horch Auto/Union V8-108, 81 hp
Speed (Max): 80 km/hr
Armor (Max): 30mm
Crew: 3
Repair vehicle Bergepanther (Sd. Kfz.179)
On March 29th of 1943, it was decided to produce recovery version of Panther for use in the Panzer-Abteilungen. In June of 1943, MAN produced original 12 prototype series Bergepanthers which were turretless and modified Ausf Ds returned for repairs. Production started in July of 1943 and Panther Ausf A and later Ausf G were used, although production was slow and various modifications were made during the production. Early Bergepanther was armed with 20mm KwK 38 L/55 and later on with twin 7.92mm MG34 or MG42s. Bergepanther was operated by the crew made up of commander, driver and mechanic. It was fitted with a 1.5 ton lifting crane and other recovery/repair equipment (eg. large spade, 40 ton winch etc.), some of it especially designed. Overall, only 347 (240 Ausf A and 107 Ausf G) along with 12 based on Ausf D were produced from June of 1943 to March of 1945. Bergepanthers were produced by Demag(Benrath), Henschel and MAN. Bergepanthers equipped Panther-Abteilungens (starting in August of 1943), schwere Panzer(Tiger)-Abteilungens and schwere Panzer-Jager-Abteilungens (starting in January of 1944) along with some independent recovery and repair units. Some Bergepanthers had their recovery equipment removed and were modified to carry ammunition, designated as Munitionspanzer Panther. Bergepanther was the best recovery vehicle of World War II and after the war, some captured Bergepanthers were used by the French Army until mid 1950s.
Dimensions: 8.82 x 3.3 x 3 (h) mt
Weight: 40 tons
Armament: 1x 20mm MG
Propulsion: Diesel Maybach HL 230 P30, 700 hp
Speed (Max): 46 km/hr
Armor (Max): 80 mm
Crew: 5
Medium tank Panzer V Panther Ausf G
After 2000 Panther A's, the production lines switched to the Panther G. This introduced a number of detail improvements, the most noticeable being the elimination of the driver's vision opening in the hull front. Instead, the driver was supplied with a rotating periscope and seat & control extensions that permitted him to drive with his head out of the hatch. Other changes included upper hull side plates that were 10mm thicker & a variety or reliability improvements. Aside from the reliability problems, many of which had bean ironed out with the Ausf G, the Panther was probably the best all-round tank of WW2.
Dimensions: 6.88 x 3.40 x 2.98 (h) mt
Weight: 45.5 tons
Armament: 1x 75 mm Gun, 3 x MG 7.92 mm
Propulsion: Gasoline Maybach HL230P30, 700 hp
Armor (Max): 110 mm
Speed (Max): 46 km/hr
Crew: 5
Tank destroyer Jagdpanther
On August 3rd of 1942, Waffenamt decided to use Panther's chassis and components for a Sturmgeschutz (tank destroyer/assault gun) armed with newly developed 88mm gun. Jagdpanther was based on standard Panther Ausf G chassis with superstructure being an extension of the upper hull and side plates. Two other hatches were mounted on the roof of the superstructure. Jagdpanther's equipment differed from Panther's, only in exhaust system, hatch covers and small number of mechanical components such as new heavy-duty Zahnradfabrik AK 7-400 transmission used in later models. Jagdpanther was armed with excellent, long barrelled 88mm Pak 43/3 L/71 gun (similar to that used on Tiger II) and single 7.92mm MG34 or MG42 machine gun mounted in the same ball mount as Panther Ausf A. The 88mm gun was capable of destroying enemy tanks at ranges of 3000 meters. Both weapons were mounted in a well-sloped frontal plate (80mm at 55 degrees). Jagdpanthers were equipped with two types of 88mm gun; early type gun was one piece (monobloc) while the later type gun consisted of two parts. Two-piece gun was introduced in May of 1944. The outstanding firepower of the 88mm gun, excellent mobility and low elegant silhouette made Jagdpanther a formidable opponent when correctly employed. Its combination of protection, firepower and mobility made it a superb tank destroyer. Overall, the Jagdpanther was probably the best tank destroyer produced during the World War II, but it was introduced too late to have any serious impact on the situation.
Dimensions: 9.86 x 3.42 x 2.51 (h) mt
Weight: 45.5 tons
Armament: 1x 88mm Pak 43/3 L/7 cannon, 1 x 7.92mm MG34 MG
Propulsion: Gasoline Maybach HL 230 P 30, 700hp
Armor (Max): 75 mm
Speed (Max): 55 km/hr
Crew: 5
Infantry killer/AA Flakpanzer IV Wirblewind
Wirbelwind and Ostwind were successors to the Flakpanzer IV Mobelwagen (armed with 37mm Flak 43 L/89) - "interim solution" produced before the introduction of real Flakpanzer. In July of 1944, prototype of Ostwind (Eastwind) - an air defense armored vehicle build on Panzer IV's proven chassis was produced. Its design was very similar to that of Flakpanzer IV Wirbelwind (Whirlwind) which prototype was build in May of 1944 and was to become the first true Flakpanzer. Both vehicles were build on retired or battle damaged Panzer IV (mainly Ausf F/G) chassis/components returned from the front for major repairs. The concept of Wirbelwind was that of Karl Wilhelm Krause, an officer of 12th SS Panzer Division "Hitler Jugend", who in summer of 1944, proposed to mount four barrelled 20mm Flak 38 L/112.5 gun on PzKpfw IV's chassis. Wirbelwind and Ostwind were fitted with very similar (especially designed) open-top (Wirbelwind's turret had 9 side panels and Ostwind's had 6 side panels) turrets mounted in the place of standard turrets. Ostwind's turret was nicknamed Keksdose - cookie tin. Main difference was that Wirbelwind was armed with quadruple 20mm Flak 38 L/112.5 guns while Ostwind was armed with single 37mm Flak 43 L/89 gun (both could be used against ground targets as well).
Dimensions: 5.92 x 2.90 x 2.76 (h) mt
Weight: 22 tons
Armament: 4 x 20mm Flak 38 L/112.5 MG, 1 x 7.92mm MG34 MG
Propulsion: Gasoline Maybach HL 120 TR 112, 272 hp
Speed (max.): 38 km/hr
Armor (max.): 80 mm
Crew: 5
Artillery Panzerwerfer 42 auf Maultier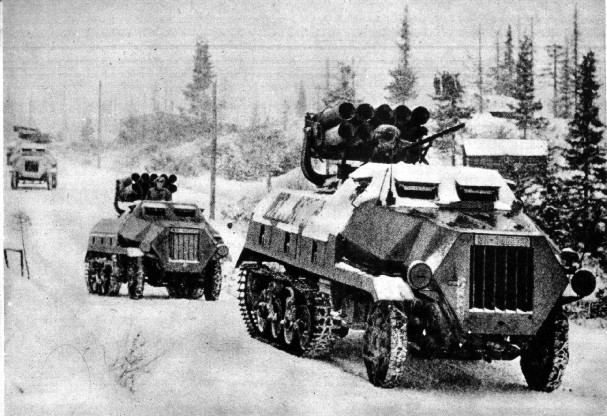 The Panzerwerfer 42 auf Maultier, Sd.Kfz. 4/1, first went into production in April of 1943, and was produced until March of 1945. Hitler called for production of the vehicle in January of 1942, and the vehicle saw it's first tests on the front in fall of 1943. The rocket launcher was on a chassis referred to as "Maultier", which means "Mule". The vehicle is referred to with the suffix "42", but all of the German texts about the vehicle refer to it as the Panzerwerfer 43, a reference to it's first year of production. Opel was the main manufacturer, producing most of the components, including the 3.6 liter, 6 cylinder Adam Opel engine, which had 68 horsepower and an 80 liter fuel capacity, Throughout the three years it was produced, 300 Panzerwerfers and 289 of it's variant, the Munitionkraftswagen, were made. The Munitionkraftswagen, or Sd.Kfz. 4, was the exact same vehicle, just without the rocket launcher. It was mainly used for ammo re-supply. The Panzerwerfer had a 150-millimeter, 10-barrel rocket launcher, which traversed 270 degrees, could be elevated up to 80 degrees, and was guided with the RA35 optical sight. The Panzerwerfer saw action on both fronts, seeing it's first combat in Russia in late 1943. As to whether it saw action at Kursk, there is not enough solid information to support that but it is very possible. The rocket launcher was used for larger scale rocket barrages against positions of Russian resistance where a large bombardment of a big area would be more effective than more accurate artillery fire. The Panzerwerfer's rocket barrages covered much larger areas and added more psychological elements to the fight: the amount of noise, smoke, shrapnel, and flying debris as the rockets hit and exploded was tremendous. The extensive use on the eastern front showed that this weapon could be employed effectively on the western front as well. The weapon was finally introduced throughout the army on May 14, 1944, in France.
Dimensions: 6 x 2.2 x 2.5 (h) mt
Weight: 7.1 tons
Armor (max): 30 mm
Speed (max): 40 km/hr
Engine: Gasoline Opel
Armament: 10x 150 mm Nebelwerfer 42 1x 7.92 mm MG34
Crew: 3
Heavy tank Panzerkampfwagen VI Tiger II - Konigstiger Ausf.B (SdKfz.182)
The Panzerkampfwagen VI Tiger II Ausf. B "Königstiger" (Sd.Kfz.182) / VK4503(H) was the most powerful combat tank of World War II. Up to the end of the war, the Allies did not introduce anything that could effectively counter it. The Tiger II combined a powerful and effective gun with armor that was virtually impervious to any Allied tank or anti-tank gun. The Tiger II was armed with the very accurate 88mm KwK 43 L71 tank gun. This 88mm gun, 71 calibers long (6.3m or 21 feet), had a maximum effective range of 10km (6.2 miles). The Tiger II was initially equipped with a binocular Turmzielfernrohr (TZF) 9b/1 sighting telescope and later with the monocular TZF 9d sighting telescope. The gun could be elevated to a maximum of 17 degrees and depressed to a maximum of 8 degrees. The rounds for the 88mm gun weighed almost 20kg (44 pounds) each, which resulted in a relatively slow rate of fire. The powerful 88mm gun was able to knock out Sherman, Cromwell and T-34/85 tanks at a range of 3,500 meters (2.2 miles), far beyond the range of enemy guns. In addition, Tiger II was equipped with turret mounted Nahverteidigungswaffe (90mm NbK 39 close-in defense weapon). The crew was protected by thick sloping armor that made it a hard target, and only a few weapons were actually able to destroy it at even close range. There are no records or photographs to prove that the Tiger II's frontal armor was ever penetrated in combat. Its side armor was easier to penetrate by existing Allied armor (e.g. Sherman Firefly, T-34/85, JS-II).
Dimensions: 10.28 x 3.75 x 3.09 (h) mt
Weight: 68 tons
Armament: 1x 88mm KwK 43 L/71 Gun, 3x 7.92mm MG34/42 MG
Propulsion: Diesel Maybach HL 230 P 30, 700 hp
Speed (Max): 38 km/hr
Armor (Max): 180 mm
Crew: 5
Structure destroyer Sturmtiger
During World War II, Germany produced a variety of specialized armored fight-ing vehicles, including Sturmpanzers-assault tanks. They were to be used as heavy infantry support vehicles in urban street warfare against buildings and in operations against heavily fortified defenses. In the autumn of 1942, under the influence of heavy fighting in Stalingrad, the concept of a heavy infantry support vehicle designed for street fighting was revived. At the time, the only vehicle that fulfilled the role was the Sturminfanteriegeschütz 33, while Sturmpanzer IV Brummbär was still under development. The Sturmtiger was originally to be armed with a 210mm howitzer, but it was not available at the time. On August 5th, 1943, it was decided to mount a modified Tiger I heavy tank with a 380mm rocket launcher/mortar installed in a new superstructure. The new vehicle received the designation of 38cm RW61 auf Sturm(panzer)mörser Tiger, but it was also known as Sturmtiger, Sturmpanzer VI and Tiger-Mörser. The Sturmtiger was armed with a short-barreled 38cm Raketenwerfer 61 L/5.4, breech-loading rocket launcher/mortar. The RW 61 launcher fired short-range (4,600 to 6,000 meters, or 2,850 to 3,720 yards) high-explosive rocket-propelled projectiles. The launcher was fitted with a PaK Zielfernrohr 3 x 8 telescopic sight. Each projec-tile was almost 1.5m (five feet) long and weighed 345 to 351kg (759 to 772 pounds). Two types of ammunition were available-high-explosive Raketen Sprenggranate 4581 (with a 125kg, explosive charge) and shaped-charge Raketen Hohladungsgranate 4582 for use against fortifications. The shaped-charge round could penetrate up 2.5m (8 feet) of reinforced concrete. The Sturmtiger main armament was originally developed by Rheinmetall-Borsig in Dusseldorf from an anti-submarine depth charge launcher developed for the Kriegsmarine. Sturmtiger could demolish any building or other target with a single shot, but it could carry only 14 rocket projectiles inside the superstructure. Only 18 Sturmtigers were produced, and they did not have any effect on the out-come of the war. In their limited use, Sturmtigers proved to be excellent defensive weapons but were slow and mechanically unreliable, and most were abandoned or destroyed by their crews after mechanical breakdown or because of fuel shortage. Their heavy armor protection forced the enemy to destroy them with heavy artillery bombardment or air attack. In January 1945, a single round from a PzStuMrKp 1001 Sturmtiger reportedly destroyed three American M-4 Sherman tanks located in a targeted village.
Dimensions: 6.28 x 3.70 x 3.46 (h) mt
Weight: 65 tons
Armament: 1x 380mm Stu M RW61 L/5.4 rocket launcher, 7.92mm MG34
Propulsion: Diesel Maybach HL 230 P 45, 700 hp
Speed (max): 40 km/hr
Armor (max): 150mm
Crew: 5
Heavy mortar 60 cm Mörser Gerät 040
The self-propelled version of the 60cm siege mortar was ordered in June 1937. General Karl Becker of the Artillery was involved in the development, hence the name Karl was used to describe the gun. The driving trials were held at Unterlüss in May 1940. Delivery of the six production vehicles took place from November 1940 to August 1941. In February 1941, discussions commenced. concerning increasing the range of the weapon, and in May 1942, 54cm barrels ( Gerät 041 ) were ordered for the six vehicles. At a conference with Hitler in March 1943, it was stated that the first 54cm Gerät 041 would be delivered by June 1943, and the third, by mid-August. The 60cm and 54cm barrels appear to have been interchanged as required. In 1945, US forces captured vehicle II with a 60cm, and vehicle V with a 54cm. The prototype chassis, built in 1939, had eight road wheels with external swing arms. production Karl had eleven road wheels. Ammunition was transported in a tracked Munitionsschlepper converted from the PzKpfw IV, four rounds in each Schlepper. For the 60cm 040, the s Be Granate weighed 2.117 tons and the Ie Be Granate, 1.70 tons; in this case of the 54cm Gerät 041, 1.58 tons and 1.25 tons respectively. Maximum rate of the fire was 6 rph ( rounds per hour ).
Dimensions: 11.15 x 3.16 x 4.78 (h) mt
Weight: 123 tons
Armament: 1x 600mm schwere Betongranate 040 mortar
Propulsion: Diesel Daimler Benz MB 503, 580 hp
Speed (max): 10 km/hr
Armor (max): unknown
Crew: 11
Fighter Messerschmitt Me-109k
The Me 109 was one of the world's great fighter planes, and it enjoyed the distinction of having been built in greater numbers than any other; some 33000 were built. It was mass-produced in Germany from 1936 through 1945, and it was built in other countries after the War, serving in Spain until 1967. The design was also suitable for "stretch"-the use of higher power, heavier armament and other state-of-the art changes that kept it competitive with Allied fighters until the War's end. Almost its only serious deficiency was with its landing-gear design. The gear was on a narrow track, and the wheels weren't at 90 degrees to the ground. This often gave the pilots serious problems on landing.
Wing span: 9.72 mt
Lenght: 8.52 mt
Height: 2.475 mt
Weight (max): 3125.25 kg
Propulsion: 1x DB 605L, 2000 hp
Speed (max): 723.2 km/h
Service ceiling: 7284 mt
Armament: 1x 20mm MG-FF/M cannon, 4x 7.9mm MG-17 MG
Bomb load: N/A
Crew: 1
Interceptor Junkers Ju-87G-1 "Stuka"
The Stuka was the most famous of all planes used by the Germans as a sturzkamfflugzeug (divebomber). The Stuka was designed strictly as an army cooperation divebomber at the urging of General Ernst Udet. It is instantly recognisable with its inverted gull-wings, and fixed-undercarriage. The Ju 87 was ugly, sturdy, accurate, but very vulnerable to enemy fighters. The Germans learned in the Battle of Britain that its use demanded air superiority. It was too slow, unmanoeuverable and underarmed, but its effectiveness in destroying vehicles, fortifications or ships, or just scaring people, was undoubted. Its accuracy was high when in a full dive that was up to 80 degrees. Once the bomb was released it used an automatic pull-up system to ensure that the plane pulled out of the dive even if the pilot blacked out from the high g forces. The Germans fitted the wheel covers with sirens that were used once the planes went into a dive to shatter the morale of enemy troops and civilians. They also fitted whistles onto the fins of the bombs to ensure that the recipients knew just when the bombs were released and could track them on the way down. Over 5700 Stukas were built. From 1942 on the Ju 87G-1 was a dedicated anti-tank aircraft on the eastern front. It was fitted with a 1400hp Junkers Jumo 211J engine. The reduced speed and range was due to the armour plating installed to protect the pilot and gunner when flying low-level tank busting missions. It was armed with two 30mm cannons in pods under the wings and a 7.92mm machine gun in the back for the gunner.
Wing span: 13.8 mt
Lenght: 11.5 mt
Height: 3.88 mt
Weight (max): 3900 kg
Propulsion: 1x Junkers Jumo 211J-1, 1400 hp
Speed (max): 314 km/h
Service ceiling: 8000 mt
Armament: 2x 37mm Pak cannons, 1x 7.92 mm MG
Bomb load: N/A
Crew: 2
Air transport Junkers Ju-52/3m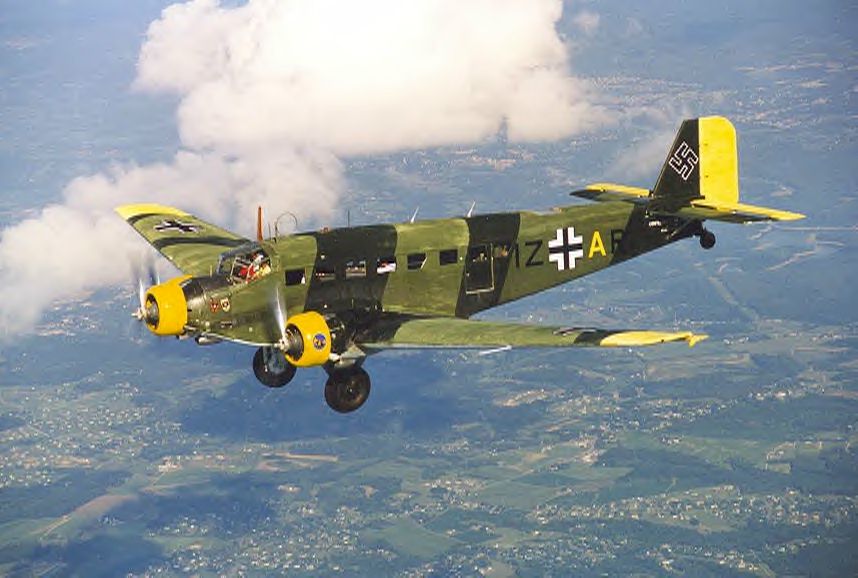 By 1932, the German airline, Lufthansa, had sufficiently recovered from the economic woes of the 1920's to put in service a three-engine civil transport plane, the Junkers Ju 52/3m. Based on a short-lived single engine model, the Ju 52 first flew in April 1931 and quickly became the workhorse of both the airline and the reviving Luftwaffe, with a standard passenger-carrying load of 17. During the Spanish Civil War, the Ju 52 ferried more than 10000 Moorish troops from Morocco to Spain, as well as dropping 6000 tons of bombs. With three BMW engines of 725 horsepower each, the Ju 52 had a maximum speed of 272.3 km/h and a range of 1280 kilometers. For air defense and tactical ground support the bomber carried two 7.92 machineguns and could be fitted with a variety of bomb racks as the need arose; the plane's trademark corrugated skin produced a very solid airframe. By the beginning of World War Two over 1000 Ju 52's were in service; eventually a total of 5000 planes would fly the Nazi colors performing every imaginable mission from troop transport to mine-laying on all fronts. During the war some thirteen 'variations on a theme' saw improved radios, interchangeable float/ski/wheel landing gear (indicating the wide range of Luftwaffe requirements), better armor and engines, and heavier defensive armament.
Wing span: 28.54 mt
Lenght: 18.6 mt
Height: 5.48 mt
Weight (Max): 14850 kg
Propulsion: 3x BMW 132A-3, 725 hp each
Speed (Max): 272.3 km/h
Service ceiling: 5808 mt
Armament: 2x 7.92mm MG 15 MG
Bomb load: 495 kg
Crew: 4
Bomber Junkers Ju 88A-4
The Luftwaffe received the first Ju 88A-0 pre-production planes and Ju 88A-1 production bombers in 1939. The Ju 88A-1 was at the time the best Luftwaffe bomber; it was more modern and had better performance than the Dornier Do 17 or Heinkel He 111 already in service. The Ju 88A-1 was powered by a pair of 1,200 hp Jumo 211B-1 engines, and could reach 450 km/h. It had a crew of four: pilot, bombardier, top gunner/radio-operator and bottom gunner/flight-engineer. Defensive armament was usually one flexible 7.92 mm nose gun, another at the back at the cockpit, and one below the plane at the back of the gondola containing the Lotfe bomb sight. This bomb sight allowed the Ju 88 to do level-bombing, but it also had dive-brakes for dive-bombing. For a short-range attack, its maximum bomb load was 2,400 kg, but the internal bomb bays were usually filled with additional fuel tanks. The Ju 88A-4 was finally delivered early in 1941, with the 1,400 hp Jumo 211F-1 or 211J engines. The A-4 had more armor, and its defensive armament was improved with faster-firing MG81 guns. The defensive armament varied from plane to plane: some had a 13 mm gun, some had a fixed forward-firing gun operated by the pilot.
By mid-1942, the Ju 88A-4 equipped nearly half of German bomber squads.
Wing span: 20 mt
Lenght: 14.4 mt
Height: 4.85 mt
Weight (Max): 14000 kg
Propulsion: 2x Junkers 211J, 1400 hp each
Speed (Max): 475 km/h
Service ceiling: 8200 mt
Armament: 1x 7.9 mm gun (pilot); 3x 7.9 mm, 1x 13 mm gun (gunners)
Bomb load: 3000 kg
Crew: 5
German Fighter/Bobmer Horten Ho 229 Fying wing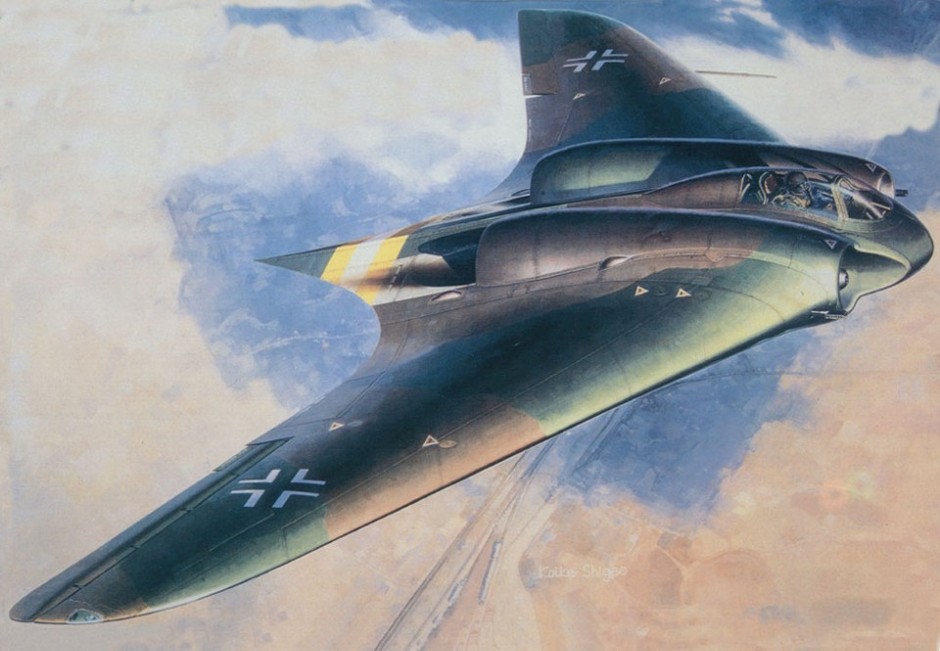 The Horten Ho 229 flying wing was an advanced Luftwaffe jet fighter that was in development at the end of the war. The Horten brothers developed many flying wing gliders and powered aircraft before and during WWII. Although the Ho 229 never saw service during the war, it was clearly very advanced and would have proved a formidable weapon.
A single example of the Ho 229 exists today in storage at the National Air and Space Museum. It remains preserved in original condition.
Wing span: 16.75 mt
Lenght: 7.47 mt
Height: 2.80 mt
Weight (max): 9000 kg
Propulsion: 2x Junkers Jumo 004B turbojets, 900 kg each
Speed (max): 977 km/h
Service ceiling: 16000 mt
Armament: 4x Mk 103 or Mk 108 cannon
Bomb load: 2x 1000 kg
Crew: 1
German Turbojet bomber Arado Ar E.555/1 "Amerika bomber"
In 1944, Arado was asked to compile design studies for a long-range jet powered
bomber. On December 28, 1944, Arado was ordered to cease all work on the E.555
series, probably due to the worsening war situation, and the need to
concentrate aircraft development and production on fighters.
Wing span: 21.2 mt
Lenght: 18.4 mt
Height: 6.4 mt
Weight (max): 24000 kg
Propulsion: 6x BMW 109-003A
Speed (max): 860 km/h
Service ceiling: 15000 mt
Armament: 2x 30mm M 103 cannons, 4x 20mm Maschinengewehre Magnesium 151 cannons
Bomb load: 4000 kg
Crew: 3
Destroyer class Z.36 (Zerstörers) 1936B Program
http://www.warships1...36b_Z43_prt.jpg
With the design of Z1936 B class (Z 35, Z 36, Z 43, Z 44, Z 45, built at Deschimag, Bremen), the German navy returned to the proved main armament with 127mm guns. The weight of the turrets, due to the 127mm guns, less than the earlier Z1936 A class, improved the seagoing capablity of these ships. The first ships (Z 35 and Z 36) were laid down as Z1936 A class construction, but completed at Z1936 B design. The ships carried a stronger AA-armament - up to twenty 37mm and 20mm caliber. Z 44 and Z 45 were not commissioned. The reduced weight allowed greater freedom of design. Opportunity was taken to strengthen the hull, increase the weight of the machinery and to provide more fuel capacity. There was less hull loading allowing more anti-aircraft guns to be added with no risks to the ship's safety. Up to three quad 20 Vierling mounts and two twin 37 mounts were carried. In terms of potential performance these were perhaps the best German destroyer designs. Unfortunately for the Kriegsmarine they were too few and too late
Displacement (Max): 3542 tons
Dimensions: 127 x 12 x 4.5 (lenght x beam x draft) mt
Propulsion: 6x Wagner boilers, 2x Wagner geared turbines, 2x shafts, 70000 shp
Speed (Max): 37 knots
Main Armament: 5 x 127mm/45 cal SK C/34 in 5 single mounts
Secondary Armament: 8x 533mm torpedo tubes in 2 quad launchers, 4x depth charges
AA: 4x 37mm/69 cal Mark 42, 15x 20mm/65 cal MG C/30
Crew: 331
Submarine U-boat Type VIIC/41
The VIIC was the workhorse of the German U-boat force in World War Two from 1941 onwards and boats of this type were being built throughout the war. The first VIIC boat being commissioned was the U-69 in 1940. The VIIC was an effective fighting machine and was seen in almost all areas where the U-boat force operated although their range was not as great as the one of the larger IX types. Type VIIC/41 was a slightly modified version of the successful VIIC and had basically the same engine layout and power. The biggest difference was that these boats had a stronger pressure hull giving them more depth to evade attack under (operational 120m and crush depth at 250m against VIIC's 100/200). They also had lighter machinery to compensate for the added steel in the hull making them actually slightly lighter than the VIIC.
Displacement (max): 1070 tons
Dimensions: 67.2 x 6.2 x 4.74 (lenght x beam x draft) mt
Propulsion: 2x diesel engines, 3200 shp; 2x electric motors, 750 hp
Speed: 17.7 (surfaced), 7.6 (submerged) knots
Main Armament: 1x 88/45mm cannon
Secondary Armament: 5x 533.4 torpedo tubes, (4 bow, 1 stern), 26x TMA mines
AA: 1x 37mm flak cannon, 4x (2x2) 20mm C38 cannons
Crew: 60
Naval transport Marinefährprahm / Motozattera MZ
The Naval Landing Crafts - called "Marinefährprahm" in German were the largest landing craft used by the Kriegsmarine. Although required for Operation Sealion (Invasion of England) in 1940, the first of this transport ships were delivered in 1941. The development of this ship went through several Types (A-D), whose size and armament grew from class to class.
They were mainly used for transport and supply duties and not for their initial invasion role and could transport 200 Soldiers or 140ts of equipment, including Tiger tanks.
Marinefährprahme were used in almost all Kriegsmarine operational areas, the British Channel, the Mediterranean and the Black Sea.
Displacement (max): 239 tons
Dimensions: 47.04 x 8.34 x 1.48 (lenght x beam x draft) mt
Propulsion: 3x Diesel engines OM t "BDX", 150 shp each
Speed (max): 11 knots
Main Armament: 1x cannone da 76/40mm
Secondary Armament: 1x 20/70mm Oerlikon MG 2x RAG 86 mm grenade launchers, UMA or EMC mines
AA: N/A
Crew: 13 + 200 tons cargo
Battleship Bismarck class
The Bismarck is possibly the most famous warship ever built. This fame is the result of having one of the shortest and most active lives in the history of battleships. In contrast, her sister-ship Tirpitz had one of the most inactive careers of any battleship due to Hitler's concern for her safety. Each was superbly equipped and carried the highly effective armament of eight 380mm guns. Not only did they pose a very real danger to the ships of the Royal Navy, but they were also a serious threat to Britainâs transatlantic trade.
Displacement (max): 50995 tons
Dimensions: 247 x 36 x 10.8 (lenght x beam x draft) mt
Propulsion: 12x Wagner high-pressure boilers (55 Kg/cm²) in 6 compartments, 3x Brown-Boveri geared turbines, 3x shafts, 175000 shp
Speed (max): 30.1 knots
Main Armament: 8x 380mm/52 cannons cal SKC/34 Krupp-Made in 4 Dreh LC/34 twin turrets
Secondary Armament: 12x 150mm/55 cal SKC/28 in 6x Dreh LC/34 twin turrets, 16x 105mm/65 cal SKC/33 in 8x Dopp LC/37 twin turrets, 4x Arado AR 196 aircrafts, 2x 533mm quad tubes installed on Tirpitz 1942
AA: 16x 37mm/83 cal SK C/30 in 8 Dopp LC/30 twin turrets, 16x quad 20mm L 38 Vierlige, 16x single 20mm
Armour: 120 mm (deck), 320 mm (side), 203 mm (turrets), 360 mm (control tower)
Crew: 2650
Heavy cruiser Hipper class
These heavy cruisers of the Kriegsmarine were a result of the Washington Fleet Treaty of 1921, so called "Washington Cruisers". Their displacement was not to exceed 10.000 tons and their main artillery was limited to 20,3 cm guns, but in reality they were up to 60% bigger than allowed.
Between 1935 and 1937 the keels of five of this ships were laid down which belonged to two slightly different classes of ships: The Admiral Hipper and her sister Ship Blücher, the improved second batch consisting of the Prinz Eugen, Seydlitz and Lützow. The last two were originally planned to be big CLs with an armament of twelve 15 cm guns, but due to the lack of guns and turrets and the threat of a new class of Soviet cruisers, the ships were built as additional ships of the Prinz Eugen design. Those ships were designed with the idea of commerce war in mind, they should attack allied merchant shipping and evade allied warships, but it soon got obvious that they were not ideal for this task. With their high-pressure steam engine their fuel consumption was too high and their operational range was not big enough to be used in the North Atlantic. In addition, the complicated engine construction often broke down. Of the five ships, only three got completed at all. The Admiral Hipper was destroyed by her own crew in the final days of the war. Blucher was sunk on April 9th 1940 in the Oslo fjord. Prinz Eugen, often called the "lucky ship" was the only major german warship that survived the war and was sunk after atomic bomb test in the Kwajalein Atoll. One of its floatplanes, the T3 + BH, is now in the Silverhill Storage Facility of the Smithsonian. Lützow was uncompleted sold to Russia in 1940 and was never completed. She was scraped in the late 1950s. The Seydlitz was to be converted to an aircraft carrier, but was never completed, too. The ship was captured by the Russians in Königsberg and scrapped in 1958.
Displacement (max): 18208 tons
Dimensions: 205.9 x 21.3 x 5.83 (lenght x beam x draft) mt
Propulsion: 3x Blohm und Voss turbines, 12x La Mont boilers, 133631 shp
Speed (max): 32.5 knots
Main Armament: 8 x 203mm SK cannons in 4 twin turrets
Secondary Armament: 12x 105mm L/65 C/33 (6x2) cannons, 12x 533mm torpedo tubes
AA: 6x 40mm Flak, 12x 37mm (6x2) cannons, 32x 20mm cannons
Armour: 50mm (deck), 80mm (belt), 105 mm (turretts), 150mm (conning tower)
Crew: 1600
Aircraft carrier KMS Graf Zeppelin
The Graf Zeppelin was the one and only German aircraft carrier, but it was never completed or used. As the only german ship in this class it deserves a special place. On 16.11.1935 the Naval Supreme Command gave the order to the Deutsche Werke Kiel AG. She was to have a crew of 1720 men and carry 110 aircraft; displacement 27.750 tonnes. She was launched on 8.12.1939. However already in 1939 the first doubts were expressed on her operation usability. In April 1940 construction was halted and in July the Graf Zeppelin was towed to Gotenhafen. In Dezember 1942, the G.Z. was towed to Kiel for construction to continue and, after a general shipbuilding stoppage at the beginning of 1943, in April 1943 she was taken to Stettin. On 25.04.1945 the G.Z. ws sunk at her moorings by a demolition squad, but in March 1947 she was raised by the Soviet navy and then in une she was finally sunk by torpedos.
Displacement (max): 28100 tons
Dimensions: 246.96 x 26.97 x 5.59 (lenght x beam x draft) mt
Propulsion: steam geared turbines, 4x shafts, 200000shp
Speed (max): 32 knots
Main Armament: 16 x 150mm (4x2, 8x1) cannons
Secondary Armament: 40x aircrafts 18x Ju 87C, 22x sea-version Me 109T
AA: 12x 103.1mm, 22x 37mm anti-aircraft, 28x 20mm cannons
Armour: 190 mm (flightdeck) 380 mm (deck), 90 mm (side), mm (control tower)
Crew: 1760 + air crew
Field howitzer K18 170mm
Although that gun wore down its barrel at an accelerated rate, it was for the rest an good weapon with high performances. Introduced in 1941 and fitted on a mortar carriage, it replaced the 150mm as the backbone of the German heavy artillery
Caliber: 170 mm L/50
Barrel weight: 17520 kg
Length: 8.50 meters
Weight of the projectile: 62.6 kg
Muzzle velocity: 925 meters per second
Range: 29600 meters
AA gun 88mm Flak 37/41
First of the lineage of the famous German 88 mm antiaircraft cannons. Its development started in 1931, when the engineers of Krupp, loaned to the Swedish company Bofors to evade the provisions of the Versailles Treaty, came back to Essen. The new weapon was sturdy, reliable and easy to build. It entered service in the German Army in 1933 and first saw combat during the Spanish Civil War.
The flak 37/41 was the continuation of the evolution of the 88mm Flak 18 via the 88mm Flak 36, of which it loaned some improvements and added a better fire control system against aircraft, lengthened barrel and a muzzle brake Like its two predecessors, it was the backbone of the antiaircraft defense of the Reich during most of the war and had furhtermore an active antitank career in the first years of the war.
Caliber: 88 mm
Length: 7 meters
Weight of the projectile: 9.07 kg
Muzzle velocity: 1000 meters per second
Range: 19800 meters
Ceiling: 14700 meters
At field gun 75mm Pak-40
Rheinmetall began the studies of a new antitank 75 mm gun in the Summer of 1939. It was in many counts the bigger brother of the 50mm Pak 38, to which it is visually very similar (only the size makes possible to tell them apart). Started leisurely, the development became an emergency when the Russian tanks T-34 and KV-1 rendered the existing German antitank weapons irrelevant in the Summer of 1941. The first examples reached the frontline in November of 1941 and proved a formidable tank killer. It could pierce 120 mm armor at a distance of one kilometer ! The chamber was wider than the barrel, so that the combustion of the propellant continued during the travel of the shell in the barrel. The main drawback of the new weapon was its weight: a large vehicle was necessary to move it, which was detrimental to the discretion of antitank positions.
Caliber: 75 mm L/46
Length: 3.45 meters
Weight of the projectile: 5.72 kg
Muzzle velocity: 933 meters per second
Range: 7678 meters