American MCV GMC CCKW-353
The 2.5-ton 6x6 light-heavy truck was known as the Workhorse of the Army. Over 800,000 vehicles were produced, most of them by the GMC Truck & Coach Division of General Motors Corp (562,750 units). The original GMC 2.5-ton 6x6 was the ACKW(X)-353 six-wheel drive commercial truck (1939-1941) which was also ordered by the French government.
Mass production of the military type started in 1941, and it quickly became the most widely used tactical transport vehicle of the US armed forces of World-War 2. International Harvester produced a very similar vehicle for the US Navy and Marines, and more than half of the 197000 units produce by Studebaker went to the Soviet Army. The 2.5-ton truck was available with a hard or soft cab, with or without winch. The soft cab version eventually became the military standard, and many of the existing hard cabs were later converted.
Dimensions: 6.768 x 2.236 x 2.795 (h) mt
Weight: 4.695 tons
Propulsion: Gasoline GMC 270, 94 hp
Speed (Max): 72 km/hr
Crew: 2 + 12 troops loaded
American Artillery tractor M4 18t
The M4 High Speed Tractor was developed to transport the 90-mm antiaircraftgun , the 155-mm 'Long Tom' gun and 8-inch / 240-mm howitzers. This tracked vehicle could master all kinds of terrain but it also performed well on paved roads. Depending on the towed load the M4 could reach a max. speed of 56 kmh and climb hills up to 30%. The steering is done by two handles that each influence a track. To come to a stand-still both handles have to be pulled. The crew of 10 would sit in the front compartment. The engine is in the middle of the chassis and the ammunition was stowed in the rear compartiment. A small crane to load and unload the ammunition is fitted. A 13t winch is mounted just above the tow-bar. A total of approximately 5.500 were built in between 1943-1945
Dimensions: 5.22 x 2.55 x 2.45 (h) mt
Weight: 18 tons
Propulsion: Gasoline Waukesha F817G , 210 hp
Speed (Max): 56 km/hr
Crew: 2 + 10 troops loaded
American Artillery tractor M3 Half Track
Forerunner of the modern infantry fighting vehicle, the M3 Half-Track was of half-French origin. In 1931 the U.S. Army purchased a French Citroen-Kegresse Model P17 half-track as part of a research and development effort for its own design. Working with private firms, the Army Ordnance Department produced the T14 prototype in 1939. In September of the following year the T14 was standardized and accepted for production; it became the M2 and the M3 Armored Personnel Carrier. During World War II, the M3 proved to be a versatile workhorse, and eventually over more than 41000 vehicles in no less than 70 versions were produced. Later, improved models of the M2 and M3 were designated M9 and M5. Production stopped in 1944, but the Half-Track remained in service until early 1950s.
Dimensions: 6.162 x 1.962 x 2.3 (h) mt
Weight: 9.1 tons
Propulsion: Gasoline White 160AX, 147 hp
Speed (Max): 72 km/hr
Crew: 13
British Artillery tractor Aec Matador
One of the most famous military vehicles of the Second World War, the AEC Matador went on to serve bus companies and fairground kings for many years after. Produced in large numbers, and serving in various disguises and roles. The AEC Matador served well into the 1970s with the British Army. During the thirties it evolved into the AEC Matador, one of the most famous military vehicles of the Second World War. Rated in some publications as a ten-tonner, the Matador was best known as an artillery tractor. A total of 8612 was produced in 1939-45, plus 400 for the RAF.
Dimensions: 6.32 x 2.4 x 3.1 (h) mt
Weight: 11.5 tons
Propulsion: Diesel AEC, 95 hp
Speed (Max): 58 km/hr
Crew: 2
British Artillery tractor Morris C8 Quad
The Morris C8 (Quad) was a British artillery tractor of the Second World War, introduced in 1939 and used to tow the 18 or 25-pounder gun. The C8 had room for the gun crew inside and had a top speed of 80 kmh and a range of 480 km.
Dimensions: 4.49 x 2.21 x 2.26 (h) mt
Weight: 3.4 tons
Propulsion: Gasoline Morris, 70 hp
Speed (Max): 80 km/hr
Crew: 1
Russian MCV & Artillery tractor Voroshilovets
Artillery systems of 203-305 mm calibre were accepted for service and therefore there emerged a need for a prime mover with high performances. The designing of such vehicle at the Kharkiv Locomotive Plant commenced in 1935, and it was designated the Voroshilovets. The first two prime movers were built in 1936. The layout was identical to that of the Komintern prime mover, but the new prime mover featured an enhanced transmission, running gear, winch, and, beginning with 1938, the V-2V diesel engine (a variant of the tank engine) was installed in it. Series production commenced in the same year.
In 1940 the prime mover together with two first tanks of the T-34 type made a run as a technical support under hard winter conditions from Kharkiv to Moscow and back. Throughout the Second World War the prime mover was effectively used at all the fronts and took part in the Victory Parade in Moscow. Total production of the Voroshilovets was about 1,200 vehicles.
Dimensions: 6.22 x 2.35 x (h) mt
Weight: 15.5 tons
Propulsion: Diesel BD-2, 350 hp
Speed (Max): 36 km/hr
Crew: 3 + 16
Russian Artillery tractor Zis-42

In November 1941 German Wehrmacht approached Moscow. Due to shortage of specialists, equipment, quality raw materials, the construction of ZiS-5 truck was simplified and the design was substantially changed. The new version became 200 kg less metal consuming, driver's cab and cargo body were made of wood, front-wheel brakes were no longer used. In March 1942 in the town of Ulyanovsk the first batch of ZiS-5 trucks was produced of details that were evacuated and in June in Moscow the first ZiS-5V was assembled. Production of trucks on the Ural (the town of Miass) started only in 1944. ZiS-SV was used as the basis for a number of modifications. The following modifications were produced serially: half-track truck ZiS-42; ambulance truck ZiS-44; fuel truck BZ-ZiS-SV, aerodrome truck BZ-43 and VMZ; searchlight truck 3-5-12; repair truck PM5. Besides the truck was used in anti-aircraft defense. ZiS-5V and Ural-ZiS-5V were produced in numerous modifications (lorry-mounted cranes, special-purpose trucks etc.) even after the war.
ZJS-42M was the result of modernization of ZiS-42 produced in 1942-43 and had a more powerful engine ZiS-16 and a number of small improvements (forexemple, a protective grille in front of the radiator and headlights). In 1942-44 production of ZiS-42 and ZJS-42M trucks amounted to 5931 pcs.
Dimensions: 6.095 x 2.36 x 2.95 (h) mt
Weight: 5.25 tons
Propulsion: Diesel engine, 85 hp
Speed (Max): 45 km/hr
Crew: 2
German MCV & Artillery tractor Sd.kfz 9 schwerer Zugkraftwagen 18t "Famo"
The Sd.kfz 9 was the largest halftrack used during World War II. It was designed as a heavy recovery vehicle for tanks. Famo Fahrzeugwerke und Motorwerke AG at Breslau designed and built it. The first prototypes appeared in 1936. Eventually an artillery tractor version was made. The tractor version was used to tow the heavy artillery and some heavy engineering equipment which included bridging equipment that was towed.
Dimensions: 8.25 x 1.6 x 2.76 (h) mt
Weight: 18 tons
Propulsion: Gasoline Maybach HL, 250 hp
Speed (Max): 50 km/hr
Crew: 19
German Artillery tractor Sd.Kfz. 251 Ausf. C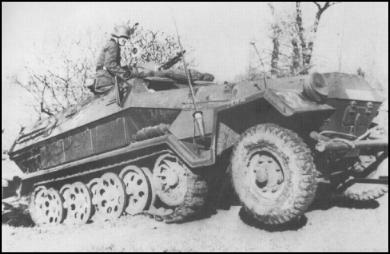 During the period when the concept of the Panzer Division was been planed requirements were detailed for an armored personnel carrier capable of accompanying tanks into battle. As early as 1935 it was suggested that the requirement could be filled by fitting an armored body on a medium semi-track tractor.In 1937 development was begun with Hamomag being entrusted with the chassis design and Büssing-NAG with the armored body. The Zgkw 3t (Sd Kfz 11) was the basis of the new vehicle. The Ausf A and B were superseded in 1940 by the Ausf C which was manufactured continuously until late 1943. The Ausf C featured a single-plate nose armour and armored cowls to cover the engine side intakes and an armored shield for the forward MG was introduced. All vehicles had a well-designed and shaped armored body and wide-opening doors at the rear to facilitate quick exit.Various styles of manufacture were used by different producers so that there existed Sd Kfz Ausf C with both welded and riveted bodies.
Dimensions: 5.8 x 2.1 x 1.75 (h) mt
Weight: 7810 tons
Propulsion: Gasoline Maybach HL 42, 100 hp
Speed (Max): 52.5 km/hr
Crew: 12
Italian Artillery tractor Trattore Pesante Breda mod.41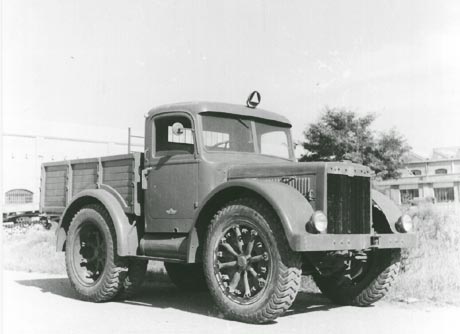 The Heavy tractor 41 was developed in replacement of the mod 32 which adopted a diesel engine with higher performances, higher traction and larger wheels.
Dimensions: 5.4 x 2.4 x 2.92 (h) mt
Weight: 13.6 tons
Propulsion: Diesel D11, 115 hp
Speed (Max): 41 km/hr
Crew: 2
Italian Artillery tractor Fiat SPA TM 40
Developed around the 30's, the TM 40 replaced the elder Trattore Pavesi P4.
The production started in 1937 until the 1948.
Dimensions: 5.3 x 2.12 x 2,7 (h) mt
Weight: 7.860 tons
Propulsion: Diesel Fiat 366, 105 hp
Speed (Max): 43.35 km/hr
Crew: 8
Japanese Prime mover Type 98 6t "Ro-Ke"
Dimensions: 4.3 x 2.05 x 1.91(h) mt
Weight: 6.9 tons
Propulsion: Diesel Engine, 120 hp
Speed (Max): 24 km/hr
Crew : 7
Japanese Prime mover Type 94 4t "Yo-Ke"
Dimensions: 3.8 x 1.85 x 2.2 (h) mt
Weight: 3.55 ton
Propulsion: Gasoline Engine, 91 hp
Speed (max) : 40 km/hr
Crew : 6
Edited by Rygar, 21 August 2004 - 02:16 PM.