Since Blitzkrieg3 was cancelled, a number of models were converted back towards Blitzkrieg2, including a model that was on the wishlist of Bio and me since November 2003, to be included in the 3rd German Mission (Revolution, attack on Moscow). After Rattuskid modelled it, SimoK skinned it, Flyby rigged it and Phoib coded it, we can finally show it to the public!
The T-35



Weighing a whopping 45 tons, the underpowerd engine only gave it a top speed of 30 km/h on the road, with almost minimal armor. Most of its weight was consumed by it's 5 turrets. Yes, you read it, the T35 was like a battleship on land, having a 76,2mm gun in the main turret, 2 turrets with 45mm guns on the front and back, and two having 7,6mm machineguns. Despite it's armament, however, the lack of armor, speed and complexity of command (it had a crew of 11) meant the T35 was quite hopeless on the battlefield, where the Germans even called them 'kinderschreke,' toys to frighten children.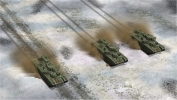 In Blitz2, you will see them in German Mission3 and probably the first Soviet mission. Also, they will be available from Civilian Factories. Capture them, and depending on the map, you can build different vehicles. One of the vehicles you can build on Russian maps will be this T-35.
Also, due to limitations in the Generals engine, not all turrets will work optimaly... but whatever gets in range, gets a huge load of shells and bullets sprayed at it!