Well now! Time to sit down and enlighten the world to our progress! Dang, where to even begin? So much to say, so much to show... But, one can't give away everything at once. However, I'm feeling generous. These goodies should keep you all satisfied for a while, whatever the case.
Before I get started showing off though, pause and think. If you have skill in a 3D modeling program, or better yet, Photoshop or something else for skinning, we desperately need you. We're working as fast and hard as we can, and the results are still slow in coming anyways. We need talented help! Now, with that noted, onto the goods!
First off: French tanks! You've already met Big Momma, the Char 2C, but Phoib jumped the gun a little bit before I had a chance to finish the vehicle like it was meant to be. So, here she is again, resized, and with particleFX! Thick oily black smoke belches from her exhaust pipes when moving, while thin grey smoke wafts lazily up from it while it idles. It has fully detailed damaged and destroyedstates, and spectacular deathFX. Also, it comes with its own train car!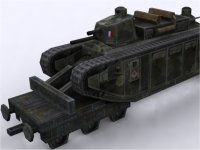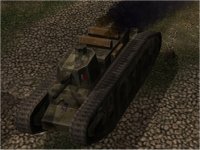 Also complete is the Somua S-35 cavalry tank. Highly advanced, it was considered the best tank in the world in 1940. It was armed with a 47mm cannon and had heavy armor, making it very difficult to engage in head-to-head combat. The Germans took all they could capture and used them in their own armored forces. Be careful when facing these in Paris, commander.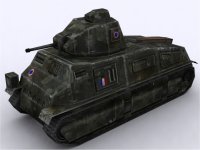 What's this? More tanks? Why sure! Next in line is the Renault FT-17 light tank, a model brought over from The Finest Hour. This little vehicle from the Great War comes armed with either a low-velocity 37mm gun or a machinegun. It is slow, has little armor, and poses little threat to... well, anything really. Still, no mission in France would be complete without one. While the final skin was done by SimoK, artist responsible for the Char 2C and Somua, Stino also deserves credit for getting the initial skin work done.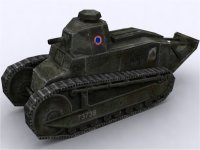 And finally, since one can never avoid floofy dogs when in France, here's the Renault "Fifi" - a little known vehicle from WWI. It was dreaded by the Germans not so much for its firepower, but for its penchant for humping their legs while they're trying to fight.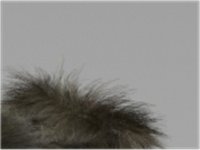 Next, we have a new train! We can't let Flyby and SimoK's beautiful Char 2C be hauled around by the great grey monstrosity in Zero Hour now can we? Smurf and Tebrey didn't think so. So, here's our German express locomotive! The release should also feature paint jobs suitable for France and Russia. I've also made a new smoke exhaust particleFX for the locomotive as well which you all should appreciate. You'll see it in the screenshots from Doctor Shrinker's maps which I'll be showing very soon.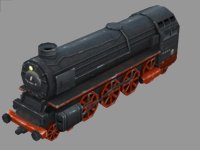 Enough eye candy? Didn't think so. Next on my list-o-stuff to show, a new gameplay feature that will go hand-in-hand with our newly rebalanced infantry. A thing many of you have begged, pleaded, and patiently waited for. Today, I can promise you - there WILL be machineguns in widespread use in R3! While they will not be infantry portable, any armored vehicle that was armed with a machinegun will be given one in R3, save for a few select cases where the main gun is more effective. Here on display are Panzer IV Ausf Hs and Panzer II Ausf Cs engaging Russian and British troops respectively. Yes, the Panzer IIs will be featuring in Killa's missions, so you'll get to experience these new machineguns firsthand in the very near future. Note that he machineguns are not only inaccurate and the bullets scatter all around the target, but they also kick up dirt and sparks wherever they hit the ground. Screenshots can't do the scene justice either - as bullets strike the ground and ricochet, you can actually hear the ka-pwings! For now though, enjoy the spectacle of things to come: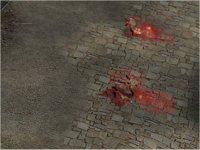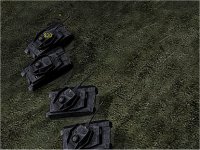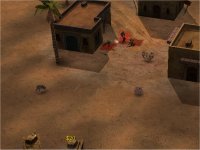 Remember, we need help! If you can model, skin, map, or do anything at all useful, drop us a line! Send an email! Look up my IM info! Blitz needs more talent!
Whoo! Think that'll keep everyone occupied for a while? Let the discussions begin!