Our recon plane has returned with reports on how NEXUS was able to build up a force so quickly, Commander. Seems he's altered his factory architecture to make it even more efficient, producing the armour for his robot soldiers right up until the end of the production line.
See for yourself what our spy plane recorded: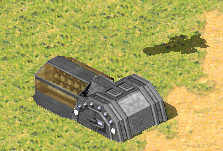 TRANSMISSION ENDS.
<Additional message from Field Marshal> Hey, wait a second. What's that in the corner...did the League get a Kirov over there? Wait...that's no balloon... <MESSAGE ENDS>
Edited by Apollo, 04 June 2006 - 06:36 PM.