Today in our spotlights, 2 tools which will help the Germans in unleashing the ultimate form of Blitzkrieg: the Hanomag Sd.Kfz. 251 and the 7,5 cm PAK-40, and a sneakpreview of the Panzerjäger Elefant.
Heinz Guderian in his book "Achtung, Panzer" called, besides fast moving tanks to exploit the enemies weaknesses, for a vehicle capable of transporting the infantry, armored and well, to the battlefield. The Sd. Kfz 251, also known by it's factory name Hanomag, was that vehicle. Appearing in 1939 with the 1st Panzer Division, it could transport 10 soldiers into the battlefield while providing a bit of fire support with it's machinegun. Altough it was armored, it was not fully enclosed, making the troops vulnerable to enemy fire trough it's open top.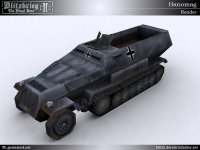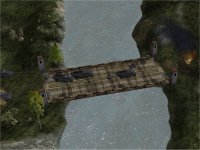 Besides vehicles, it could also tow guns, such as the FlaK-36 88mm Anti Aircraft and the PAK40 7,5 cm Antitank gun. The PAK40, produced by Krupp from 1941 onwards, first appeared in November 1941, quickly becoming feared by Soviet forces in the east and Allied forces in Afrika. With a range of 1,800 meters and capable of firing up to 14 rounds a minute, the PAK40 quickly chewed up all sorts of tanks, save for the IS-2 and the M26 Pershing...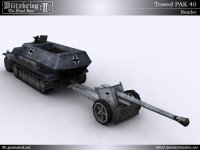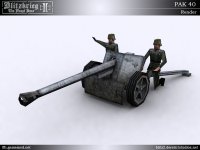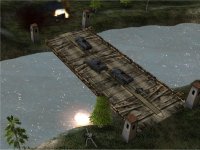 And, as a little sneakpreview, a render of the Panzerjäger Elefant. First used in the Battle for Kursk, you'll soon learn to fear this monster with it's PAK43/2 88mm antitank gun...