Project Mars
have released both some concept art and some renders this week, both of which are looking very nice. Featured here is some concept art of forces trying to hold an Omni Beach location and a render of a large Omni craft, although details on the craft are limited.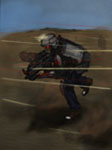 More details, images and a colourful background story can be found at
Project Mars Website
.