It seems of late that all I report are
Tiberium Nascence
updates, and today is no exception as the team have released another render. This time of a Nod, Hand of Nod, although not final, a first draft to be used as a placeholder until a better model can be made. Personally, I think it's already quite good so no doubt the finished version will be even better.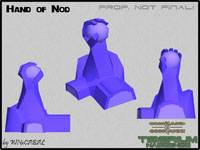 As usual, more info available at the
Tiberium Nascence website
.