Hello, finally a newspost from the new Blitzkrieg II: The Finest Hour leadership.
Our plans for the near future
The first big news is that we've decided to cut R3. Instead we'll release 2.6 soon, then continue on R3! While it's still in the works, we can give you a short list of what R2.6 will include:
towable anti tank guns
towable light artillery
submachine guns
V2 for German Rocket2 science.
1 mission for each campaign
This means that the German campaign will, for now go back from 5 missions to just one. The reason for this is very simple, we want to give a constant quality, and cannot give you the quality for all 5 missions in just a few weeks.
There will also be some new models for existing units, like the:
Hummel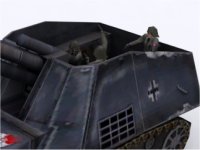 One of the earliest models, the hummel has already been replaced by the Blitz3 model in R2.5, but there was always something
missing
. Yes, thats right! We finally animated our Hummel! The crew will now reload a new shell after firing, all fully animated! Thanks to killakanz for working so hard and single-handedly figuring out how to create and code this monstrous job!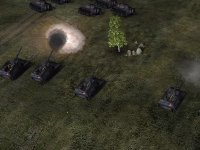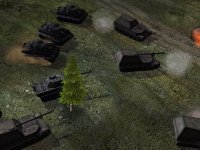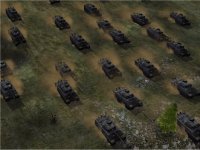 Here are another 3 pictures of the Kursk map, which will be the Soviet playable mission in R2.6! You can see here the new Hummels, Elefants in action and...
Panzer V "Panther"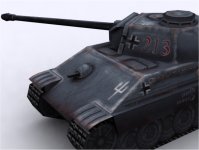 While the Panther was already chosen as the
most favorite unit
, we felt it was just plain ugly! So we took the Blitzkrieg3 Panther, put it on a diet and inserted it into Blitz 2, resulting in this new toy for the Germans! There will also be a PantherBefehl variant, but most likely it will not be in R2.6 yet.
Ok, these were the plans of the future, now the
bad news...
Logan had a harddrive crash, which resulted in him being unable to access it again. Since he is our mission planner, this kinda leaves us without his mission plans. We want to recover his harddrive, but such things take money... Around the $200-$300 range. If you want to support him, please donate some money trough the Paypall button, and mention it as 'Support Logan'.
Korona has had a few computer problems too, thankfully they're solved now, so he's back in action!
Phoib has problems with his laptop, which now has a defective cooling... It will be repaired, but that will take a couple of weeks, meaning Phoib is without a laptop, and unable to work.
So...
We need some more people to help finish up R3.0, since we've lost so many staff for various reasons! If you can model, skin, map, be a webmaster or speak either German, French or Russian, don't hesitate to contact us if you want to work for Blitzkrieg2! It's a job that will give you fame, glory, and the right to play Blitzkrieg2 before anyone else!