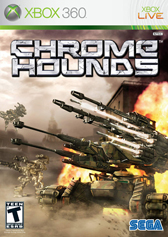 Ok, so I saw the first images of this and said to myself this is no Armored Core, and guess what I was right, this you actually need to think about how you need to do things, and this really hurts me, I was used to going in gun's a blazing, well I got my ass capped before I knew it. This game lacks large quantities of missions, number of different parts and good old in person multiplayer combat with bots, but what it lacks it more then makes up for in the number of combonations, colors, patterns, designs, and strategy needed to actually play the game. Ok, so patterns and colors wont actually help you against the AI, seeing as how it knows where you are at all times, but when I got my hands on the first 4 chainguns of the game, I realised that not only could you face your weapons forwards, but up, down, and backwards, allowing you to keep walking forward, and shoot enemies at your six. Although the fact that you can put the weapons on facing up or down is redundant due to the fact that there are no air units in the game.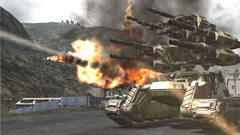 In AgeTech's "Armored Core" line of popular PlayStation and PlayStation 2 games, you are given the ability to hold up to 4 Weapons 1 being a laser blade if you would rather it be 4, then two side arms, one internal weapon, and one or two Exceed Orbits, depending on what core you pick. Now in this game, that isn't the case, it's based on your Maximum Load, Energy Capacity, and a sphere of some sort that magically appears if your "HOUND" is to tall or wide. Well actually it doesn't really depend on your energy capacity since if you go over that, you actually just move and turn slower. No in this game it's possible to have a "HOUND" bristling with weapons of any kind, from shotguns to sniper rifles.
You have six types of scenarios: Soldier, Sniper, Defender, Scout, Heavy Gunner, and Commander. I have actually only finished 3 of these and as such have not even seen all of the 129 parts, most of which are just extras of ones you already have. Soldier is the basic bipedal type mech, good all around, except when it comes to recoil control, it just plain sucks. Sniper, oh boy is this guy fun. Basically you have two huge ass cannons that you point at some fool's cockpit, and boom, his "HOUND" is down, most of the time. Defender, well basically picture a tank, with loads more guns, taller, about 60 feet taller. The other three I'm not really sure about so I will give you a prediction of their roles. Scout, it's fast light, and probably dies if a leaf falls on it. Heavy Gunner, all I can say, well ask is "Where have you been all my life?" Finally, the Commander, basically you wear a giant radar thingy, and tell people what to do, not really my style though.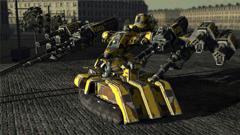 The amount of variety that you can get from this game and your "HOUND" construction is only half that when compared to the variety when online....from what I hear. Seeing as how I can't even play online yet. Anyway, you can design your own emblems kinda like in "Armored Core," only well less so. You can't paint your own design, you have to use their pre-defined ones. The patterns for the most part are your typical military camo schemes, the colorization for the emblems also lacks due to the fact you can't customize the color. Ground textures kinda lack, aside from the fact that if you were 60 feet tall, you could used the "HOUND's" footprints as dance steps.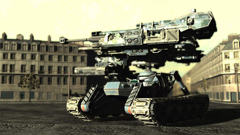 All in all I would give this game a 9/10 for the design, 10/10 for variety of designs, 7/10 on textures, 8/10 on sounds, 9/10 on overall gameplay. This game gets and 8.6/10 from me, if you like mech games, blowing stuff up, or just don't care about money, and want to try something new, get this game.