Im doing a new mod as a break from AoA, the mod will add dale, complete with a new ai, and hopefull be put into wotr.
Im doing this to keep my coding skills up to date, and get better at skinning.
I will try to release a beta this week, and have it 100% done with ai and wotr soon after.
here is what will be in,
The Rise of Dale
----------------
Units
-----
Dale Peasents (Rohan Peasents)
Dale Swordsmen
Lake Town Elite Guard
Lake Town Archers
Dale Mounted Spearmen
Dale Mounted Swordsmen
Dale Captain (Mounted, gives leadership)
Lake Town Merchent (pillage, and steal cash powers)
Dale Trebuchet
Heros
-----
Bard
powers- Toggle Weapon, Leadership, War Horns of Dale, Black Arrow
Brand
powers- Toggle Weapon, Leadership, Train Allies
Bain
powers- Horn Blast, Leadership, Siege Master,
Master of Lake Town
powers- Leadership, Pillage, Industry, Elite Market
Upgrades
--------------
Forged Blades
Heavy Armor
Fire Arrows
Banner
Trade Routes (makes markets generate more cash)
Fire Stones
buildings
---------
Lake Town Market--- (raises cash)
Elite Market--- Trade Routes, Merchent, Forged Blades, heavy Armor, Fire Stones
Dale House---(raises cp) Peasents
Barracks--- Swordsmen, Elite Guard, Archers, Fire Arrows, Banner
Stables--- Mounted Spearmen, Mounted Swordsmen, Captain
Dale Monument (heals and gives leadership)
Dale Tower
Lake Town Tower (Rohan Tower)
Lake Town Great Hall (rohan golden hall)
SpellBook
----------------
same as men except these spells added,
Dwarven Allies (summons a huge army of dwarfs, replaces aotd)
Mirkwood Allies (summons some mirkwood archers, replaces summon dunedain)
Dwarven riches (same as dwarfs)
here is some of the stuff i have done so far,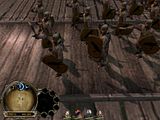 ignore the shields on this one, they have bee updated as seen above
please feel free to comment, surgest or whatever