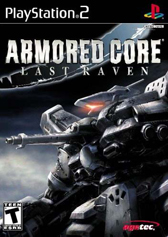 Well it's another giant robot game, but I've kept up to date with this one, this is one hardcore game. Infact all of the games in this series were. Sadly, this is the end of the line for the mech game that reigned supreme on the Playstation and Playstation 2 consols. Just because it's the last doesn't mean it wont go out with a bang. Able to choose a paint patern, custom colors, and able to even create, yes create your own emblem by drawing it yourself. You can even color the weapons. There is a monetary system in here, you run missions, and you get money, which you can then use to buy parts, these parts can be destroyed in battle, then causing you to have to re-buy them. Although that's a draw back, there are literally millions of combonations and designs that you can create, all with their strengths and weaknesses.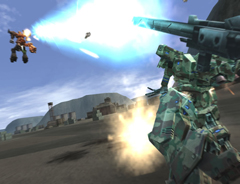 Multiple types of legs, Humanoid, Reverse Joints, Tank Treads, Quad legs, and yes even Hover legs. There are map boundaries, if you leave that the mission is over, but you can even use that to your advantage at times. There loads of missions, 6 different endings, and yes loads of explosions. The textures are great too.
Replayability is great to. While there are six different endings, each one is very short to come to. There arn't any missions where if you fail it's game over, you actually get a chance to restart the game from the beginning or start the game from where you left off before the mission. From Bazooka's to slug gun's, energy weapons or solid round weapons, pick your designs, but be wary, make the wrong choice and you're bound to die. Choose a quick design and you can even dodge missiles. Some cores have PDL's, you can even have anti-missile missiles.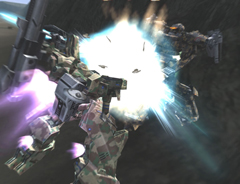 Overall it gets a 9 out of 10, the graphics need a little bit of work, like bump mapping or motion blur, but the graphics havn't really changed from AC2 overall.
Edited by Vanguard, 11 August 2006 - 02:57 PM.