Urgent Battlefield Report - Eyes Only
From: 'Nighthawk', Agent, Allied Intelligence
To:
<name corrupted>
, Commander, Allied Defense Forces
Commander, while we've been pre-occupied trying to get as much information on the Future Forces as possible, we seem to have neglected the other threat to our peace, Yuri. We originally thought he did not pose as much of a threat as he seems to have been holed up in Antarctica all this time doing God knows what, but he appears to have re-organised his forces entirely. Today at approximately 0200 hours, Yuri troops under the name of the 'Atlantic Legion' have seized the Russian city of Novgorod. The Soviets, who only had a small garrison in the city, were forced to retreat. The city is now in Yuri's hands. One of the Soviet soldiers stationed in the garrison, a Mladshiy Leytenant Rovodinsky, managed to snap a sizable view of one of the Yuri occupation zones as he retreated from the city in a MiG bomber using the bomber's black box. Here is that picture, unfortunately with most of Novgorod's power grid in chaos there are very few light posts running in that area of the city, and Yuri's "mood lighting" doesn't help much either, so we have lightened some of the areas so you can get a clear view of the area.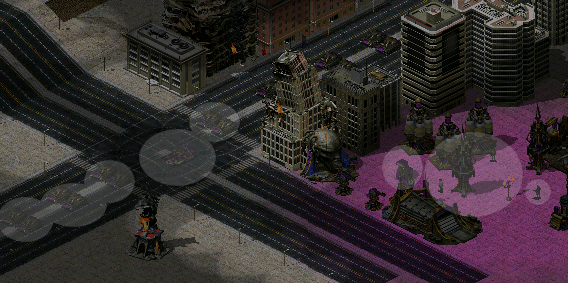 .
It seems that this 'Atlantic Legion' uses different vehicular units to those normally used by Yuri, we can see several heavy-tank like vehicles driving down the main road, and one rather large double barreled unit in the centre, which was unfortunately the poorest lit of all. The Soviets believe it to be an improvisation on their Apocalypse tank, but we are unsure of its armament. We have a glimpse of one of Yuri's new Sniper Turrets. These are basically the British Sniper in turret form, though we've seen them use various types of ammo before. We can also see several civilians being kept in the base, most likely for use in Yuri's Bio Reactors, and we can also see that they are being closely guarded by one of Yuri's rumoured Special Operations infantry, a Savant. Be careful of those Commander, they are armed with high-energy railgun weapons, though until now they have been largely unseen.
More information will be brought in on this incident as we can get it Commander, but for now, Novgorod is a no-go area without clearance from Command, but the Soviets seem keen to send in a strike force to retake the city, Command's not going to risk arguing with them, but you are not to intervene until ordered.
Agent Nighthawk, Allied Intelligence
==Report Ends==
Out-of-character note: I thought I'd go back to the 'in-character' news posts again, they seemed to get the story across better than normal posts
.
Edited by Nighthawk, 27 November 2006 - 10:10 PM.