Hello! I am Carnotaurus, ala, C&CG's new newsposter(no, I wont be replacing MiG eater and our other beloved cast of characters, so dont fear.
). If you dont know me, I am a poster on PPM, and creator of the pretty much unknown mod Tiberian Sun 3.0. If I get around to it, Comrades, I may start my own mod. But dont count on it.
Anyways, Enough about me. I am just a poster. Anyways, Some news in the community, starting on the C&C3/EA front...!
EA has, thanks to the complaints of diehard fans, the + has been replaced with the classic &. Honestly, the logo looks...worse now, it just seems so drab. The cool font's gone, and its more of a generic gray colour. But hey, more nostalga. Aside from the fugly logo, EA has announced that the third faction will be revealed December 19th, and have posted up four new wallpapers on the main C&C3 Page. The Recon Bike and a Nod soldier for Nod, a Harvester and Dropship fleet for GDI fans.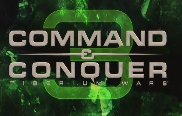 One of PPM's spotlight mods(Not final dawn, dont get your hopes up on that one.), Tiberium Odyssee, an alternate vision of the Tiberian universe, on Tiberian Sun's engine, has posted new screenshots of a completed map. The team's obviously the cream of the Tiberian crop, this picture alone should be proof enough.
Banshee, also seems to be going insane, ranting about some revolution of sorts...We'll just have to see what the insane admin has in store for us, cause he aint talkin.
Also, I suggest visiting C&C Source and paying them a visit for their fourth anniversary. Aside from extra hits, they also boast a huge gallery of images from C&C games past, present, and those that may never see the light of day(Renegade 2, Anybody?), a nice download section, and a forum you can register at and spam the heck out of, too!
So, thats it pretty much. Short and sucky, sadly. Once the news starts kicking up again, expect more posts. Especially of resources and of other promising mods around the community. If you have a mod you'd like me to post about, PLEASE by all means MSN me at CyborgCompy@aol.com with pictures of your work.
Edited by Carnotaurus, 30 November 2006 - 01:46 AM.