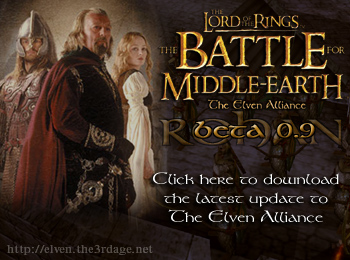 Here it is, the latest version of The Elven Alliance. This update features the many changes made to Rohan since the last release, as well as all the new models and skins for other factions featured in updates. A full list of additions, changes, fixes, and bugs can be found
here
.
A few things of note:-you do NOT need the original release installed to install the update
-if you already have the original installed, this will replace the older version
-PLEASE read through the installer. It includes Installation Troubleshooting as well as important terms of use information
-if you're still having problems after reading everything included in the installer, make a post in the forums, and I'll do my best to help you out
Also, if you haven't already done so, make sure to vote for
The Elven Alliance for the ModDB Mod of the Year Awards
. Many thanks. Also remember to hit the "BFME Top 100" button at the bottom of this page at least once a day (if you have the time to kill).