I've added stats and images for two brand new fighters to the
Units
section: the E-wing and the TIE Avenger! Here's an in-game screenshot of the both of them dogfighting in an asteroid field: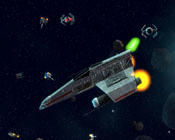 Additionally, all of the units now have listing for faction availability. More to come as fast as I can rig them up.
Edited by Phoenix Rising, 08 January 2007 - 02:04 PM.