Sup cncguild? PPM has had an influx of recent activity, here's the rundown from the PPM Front...
General:
-PPM has received a makeover visually in general on the mainpage,curtosey of Muldrake, well known for his Tiberian Sun Retro and Tiberian Odysee contributions. No word on a new forum skin, though. :(
-Banshee has posted(Finally!) his 3 part summary of the C&C Summit, check it out on the forums. Its pretty much the same thing as everybody else has said, with plenty of pictures for your veiwing pleasure if you're too lazy to read.
Mods(RA2):
-Derelict Soil, a mod set in post-apocalyptic earth, has shown two new images of structures, an Aircraft pad and blockade walls for one of the two factions. Droke, the creator,has been relatively inactive..hopefully we will see more of his wonderful and apocalyptic work, and hopefully, we arent seeing our future earth.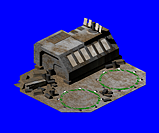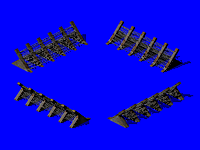 -Star Strike, headed by EVA251 has also been in hibernation it seems, but it really isnt.
Me and Eva have been busy playtesting a new devilish AI online together. So far it seems promising, Some units are being reworked graphically, The Allied Prism Tank is out of the mod this time around, and expect new remap colours to appear ingame.
Mods(TS):
-eXtended Terrain eXpansion (XTX), the daughter of Gangster's TX for Tiberian Sun, lead by DaTSChikinhead recently suffered a scare, all potential assets were lost it seemed, untill Alex06 sent DaTS his backup of the files. I asked DaTS for word on a release on the highly anticipated TX, here is what i recived...
"It will be released when it is finished!"-DaTSChikinead
Really telling, isnt it? Thanks, DaTS.
Assets, maps, misc.(TS/RA2):
A bunch of new voxels for RA2 have appeared on the Voxels forum, and a few new SHPs have appeared in the SHP forum, most of them also for RA2. A few delicious preveiws of a TS voxel pack have been posted in the Media Hut for you to drool over untill the release...
http://ppmsite.com/f...opic.php?t=9961
Maps have been sluggish, the newest map, Posted by WES.com for TS, can be found on the PPM mainpage. Hope you have Firestorm installed, this map needs it. I am in the process of touching up the unused Soviet01 mission from RA2 that was left in the MIXes. It was badly corrupted and made of FAIL. So far its mostly done, soon it will be ready for release!
That wraps up the PPM scene. Keep your mice tuned on Revora, as we grow closer to the apocalypse. :3
Nyoro~n