Various News Items - 25/01/07
It's been a while since the last news post, but I've been having connection problems from the end of December through the better half of January. But it's all fixed now.
The ModDB Awards were announced today. Though The Elven Alliance didn't win anything,
Mental Omega
another Revora mod for Command & Conquer: Yuri's Revenge got an honourable in the Strategy Genre Award. Half-Life 2 mods nearly swept the Awards (again), but there were still some great mods up there. Make sure to check out all the awards
here
. Thanks for all your support, getting into the Top 100 has to have been the biggest accomplishment of this mod ever. Can't thank you all enough.
Make sure to check out the higher-resolution version of the exclusive trailer I submitted to the Awards
here
.
In terms of the mod, a new release may be scheduled for the near future, featuring further balancing and a completely high-resolution Gondor faction. At the moment though, there isn't enough new/changed content to justify making you all download another huge file (as I can't quite get patches working).
Next, I have a little announcement for you all :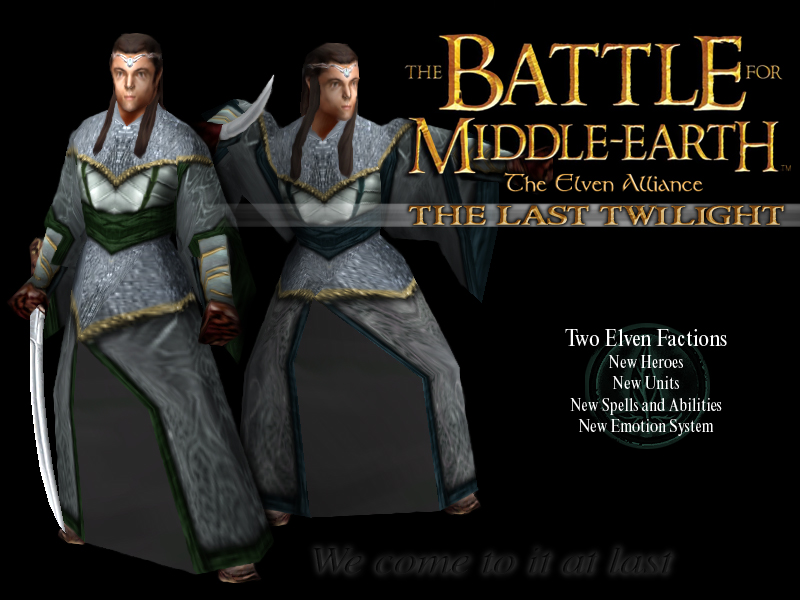 Anyone who frequents the forum will probably have seen plans for this project already in the making, but here's the official announcement. Once I feel that I've sufficiently completed work on The Elven Alliance, I'm going to be working on The Last Twilight. Call it a sequel, call it an expansion, whatever. In a nut shell, the Elven faction will be split up into two factions (Eriador and Rhovanion), allowing for lots more units and more heroes, including the Sons of Elrond who are featured in the above teaser poster. Work won't begin in The Last Twilight until the original mod is completed, so please don't ask for progress until I give it.
As a final note, I may have to take a short break from modding for a few weeks. I'm very busy with classes and shoots for the next while. I'm also finding that motivation is hard to come back lately. But don't worry, I won't "disappear" again.