Hello everyone! I've released the new Voxel Section Editor III 1.32 that comes to improve several important aspects of the program. The first priority was the auto normals, which still had few problems. The second change was the adition of some short cuts which were available on the old VXLSE II. And, as a bonus, I've ressurected the 3D preview window from the VXLSE II 2.1 SE OpenGL version totally adapted to the new rendering code. The old preview still works and both can be used together (in this case, at half speed until I find a way to bypass this limitation).
So, I highly recommend everyone to update your VXLSE III to the latest version. Here's the change log: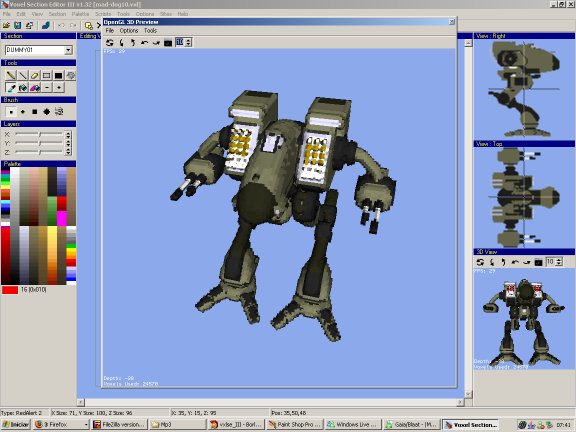 Voxel Section Editor III 1.32 ChangeLog:
- revisions by Banshee
-
Added
: 3D Preview window from VXLSE II 2.1 OpenGL edition is now back and it can render together with the current Preview (at half speed, in this case). It can also be resized and all features from the traditional preview were incorporated into it.
-
Added
: Shortcuts from VXLSE II are back. You can move the X, Y and Z axis by pressing x, y and z. To move backwards, add shift to it. Some other random shortcuts were added.
-
Updated
: Autonormalizer is now even better. Now it uses the concept of influence area to no longer miss the direction on few specific cases.
Support for this tool is available at the
Voxel Section Editor III forum
(guest posting allowed).
You can download it at our
Utilities Section
. If you own a fan site, you can place this program on your site for download. If you wanna modify it, go ahead. But on both cases, make sure that Will, Plasmadroid, Koen, Stucuk and I are credited for our efforts. And, happy voxelling!