After my long hiatus here, since we only got UaW screenshots, previews and units since february... err... ok. It's not true. There were some map packs for EaW and FoC released in these days, but I'll get back into that later, since now it's really time for some modding coverage.
Anyway,
mithrawnundo
from Petroglyph Official Forums has released a XML editor for the game called
SMG XML Editor
. This tool provides a nice interface for modders to edit and create units, hard points, projectiles, movie events, sector control events, among other things editable through XML. Here's a screenshot: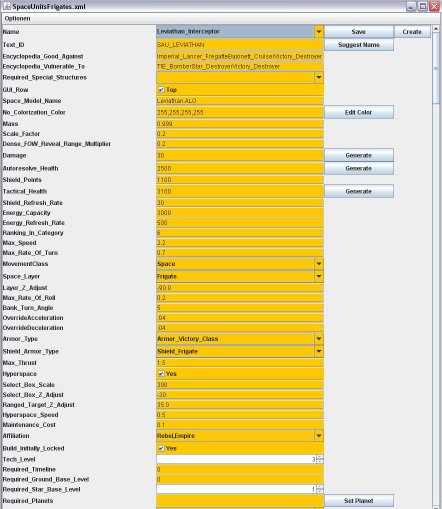 It's nice to have tools like this, since it helps new modders to know what kind of things they can do with the game, although it's always important to remind that you can edit these files with Wordpad or Notepad++, probably allowing you to do even more things, unless the author of the tool has added every single feature on it.
Visit the
topic on Petroglyph Official Forums
for more information and download it on
SMG Modding Forums
(Official forums of the tool) or
EAW FileFront
.