China infantry general has the most powerful infantry general in game.
they can be built in huge numbers and very quickly.
there are limited vehicals and air force.
he also has a very powerful defence.
Here are some of his powers; there are also other powers but you can see playing him
Extended squad training-allows squads of 10 men to be built.
Cluster mine drop (3 ranks)
Magnetic bomb- shuts off all drones
Infantry paradrop(3 ranks)-drops infantry to the target zone
Artillery barrage
Neutron bomb-kills every single unit that is human in the area (kills drivers in vehicals and infantry)
Carpet bomb
a list of his upgrades-
Tandem warheads-increases tank hunters missile damage by 30% and the ATGM troopers damage.
Armour jackets-all infantry are harder to kill
PFM-1 cluster bomb- allows certain defence structures and units to fire cluster bombs
Neutron shells-pre upgrade to buy neutron cannon
ok so first up his new buildings-
at the front left is the elete barracks. you can build 5x or 10x squads here. Mortar troopers, minigunners, ATGM troopers and neutron troopers can be built here. Also the field officer and red hat sniper can be built here.
to the right of the barracks is the Drop strip where all vehicals are purchesed from. a helocopter/plane drops them in. The cluster MLRS tank, Battle fortress, universal tank, Ecm tank, assult trooper crawler, artillery designator and neutron cannon are brought from here
at the back of the photo is the field armory. this is where important upgrades are reserched, such as chain guns, armour jackets, PMf-1 bomb and tandem warheads.
a helocopter dropping in a vehical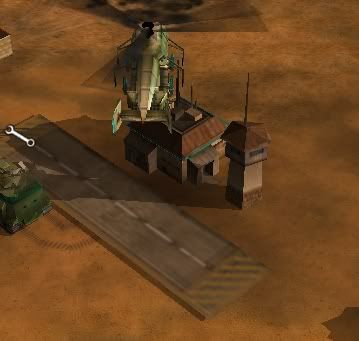 All of infantry generals vehicals. from left to right-the cluster MLRS missile tank-fires serveral missiles that do initail explosion damage then it blows up into 3 more small cluster bombs that do explosion damage. can lay mine fields. next along is the battle fortress. armed with 2 long ranged HE cannons and a AA missile pack, it can hold 10 infantry which can fire out of the sides of it. holds 10 infantry and crushes tanks. next, is the universal tank. is fast but low armoured. comes with a gattling gun and you can upfraded it with one of the following-radar, flamethrower ECM dish. holds infantry. next along is infantry gens ECM tank. faster than the tracked one, but less armoured. then the assult troop crawler. next to this is the artillery designator. calls in small artillery strikes on targets. very long range. on the end is the neutron cannon. kills infantry and drivers in vehicals with one shot.

Infantry generals planes.
From left to right is theJ -10 cluster plane. Fires 2 HE missiles and after they explode, it splits up into small cluster bombs. on the right is Mig -31 sky guardian. armed with powerful AA missiles.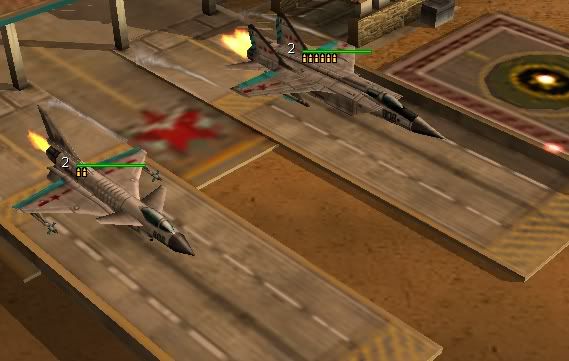 From left to right- The iron dragon gunship-armed with many HE bullets-good agianst all ground units. on the right is the Mark bomber-drops a stealthed artillery beacon that calls in a small artillery strike when enemy units come near.
the "Dragons breath" neutron bomber- fires 3 neutron missile. instant death to infantry and vehical drivers.
Infantry generals defences-
From left to right- The heavy defence-Manticore AA turret. fires 4 flak cannons. good aginast infantry and air. also has 2 rocket pods for AA only. next along is the Artillery designator-calls in a small artillery strike when enemies come close. next along is the artillery defence- fires a HE shell. then the first alert defence-detects stealth. then the gattling cannon. next along is the SRM turret. fires 4 HE missiles. good aginast infantry/tanks. next along is the cluster mine laucnher-fires bunches of neutron cluster mines at the the target. on the end, his fortified bunker.
The higer tech buildings and superwepaons.
on the left is the Neutron missile silo-fires a neutron missile that kills all infantry/drivers in a large area. to the right of this is the infantry paradrop superwepaon- many planes drop lots of infantry to the target location. to the right of the screen is the infantry re enforcement pad. every minute about 10 infantry are droped to the pad. a mix of minigunners and tank hunters.
The neutron missile firing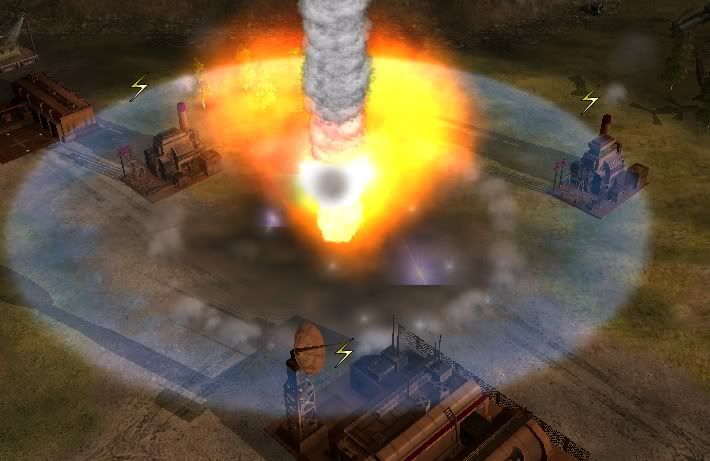 The infantry drop superwepaon
10 man squads of infantry with a field officer in the middle-provides frenzy bonus and is armed with a pistol.
A close up of the infantry- from left to right is, the red guard, next is the dragon trooper-armed with flame thrower, then the neutron trooper-armed with a neutron missile laucnher-kills drivers/infantry. next along is the mini gunner, then the tank hunter. next is the mortar trooper-fires HE mortar shells with a quick reload time. on the end is the ATGM trooper/ fires a very high powered anti tank missile. very high damage to tanks. (field officer in the back ground)
a close in zoom of assorted infantry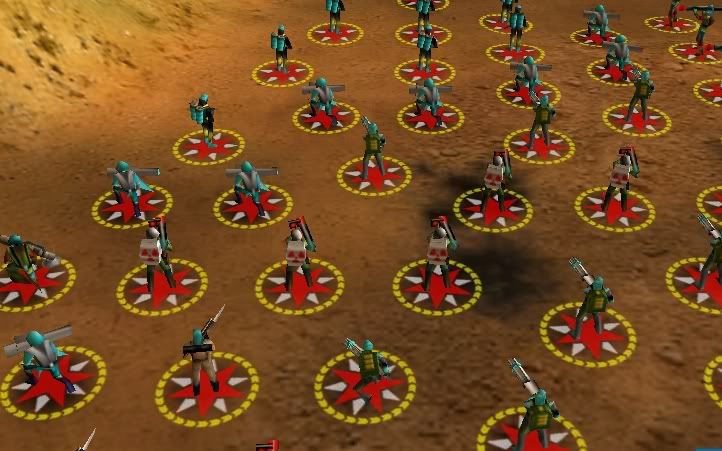 Edited by olli, 29 January 2008 - 05:44 PM.