A New Shadow
Started by
Mathijs
,
Jun 14 2007 03:13 PM
Posted 13 June 2008 - 07:28 PM
In the books, though, there is no mention of his death.


---
Posted 13 June 2008 - 07:39 PM
And that is what I follow
I remember in SotS, when someone told me that Saruman died in Isengard after falling down the tower, so he couldn't be in the new faction I made....

The 4th Age version 0.8 has been released: Link
---
Posted 22 February 2011 - 08:35 AM
Saruman was killed because of treason, and treason also showed its ugly face in the 4th Age:
[from a conversation between Borlas and Saelon. Borlas of Pen-arduin was the younger son of Beregond, the first Captain of the Guard of Prince Faramir; Saelon was the friend of Borlas' son Berelach. In another version Saeron is named Arthael, and the son of Borlas is named Brethil. - The conversation takes place in the second century of the 4th Age.]
from History of Middle-earth, Vol. XII, "The New Shadow":




... "the roots of Evil lie deep, and from far off comes the poison that works in us, so that many do these things - at times, and become then indeed like the servants of Molkor."

His voice sank low and could scarcely be heard above the murmur of a sudden chill wind in the leaves, as the sun sank behind Mindolluin.



"You have heard then the name? ..."

... with hardly more than breath he formed it:



"... of Herumor?"

His mouth formed tremulous motions of speech ...



"... the matter has been kept as secret as cunning could contrive ... those who have heard the call of the name ... they are not many yet, to set against all the people of Gondor, but the number is growing. Not all are content since the Great King died, and fewer now are afraid."


"What is the call? What would they do? ... how have you heard the whispers of this name?"



"If you wish to learn more ... you will come with me on a journey tonight. I shall meet you ... as soon as it is full dark ... I shall be clad in black, and anyone who goes with me must be clad alike."
Etymology: the name Herumor means "black lord", from heru meaning "lord" and mor meaning "black."
What is the call? What would they do? ... have you heard the whispers of this name?
Edited by Námo, 22 February 2011 - 10:50 AM.
... elen síla lúmenn´ ómentielvo ...
...
a star shines on the hour of our meeting
...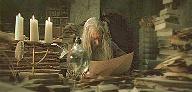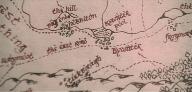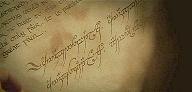 ---
---
0 user(s) are reading this topic
0 members, 0 guests, 0 anonymous users