EDIT: I'm using this post and all posts to follow, moved from the thread; "EvilMen faction - Instead of Goblins", moved here into a thread of its own. Why? Cause discussions about Goblin faction ONLY was taking over the reason of that thread
EDIT2: Here's a screen of models we could use for Goblin heroes. And yes I will keep "Gorkil" but I think I'm gonna use him for Great Goblin. I think EA was inspired but that caracter when designing him anyways... and I like the fully functional model he is!
//Nazgûl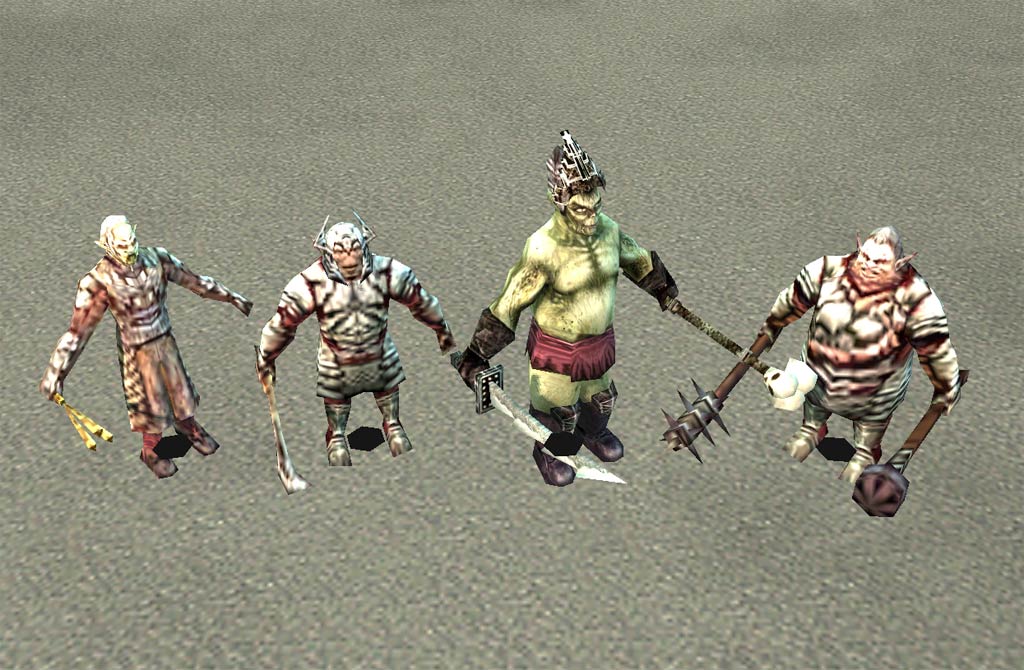 ----------------------------------------------------------------------------------------------------------------------------
*original unedited post below*
I like the idea of evil men....they were my favorite in BoG...But you can't completely scrap the gobs. if anything, they'd be allied with isengard (which i think would be cool, too). There's just too much to them to ally them with mordor, and it would make them very redundant. besides, that's two opposite ends of the world (middle-earth, at least).
Cmon, MS, the big ears are the best part...? well, yeah, they all do look like mini-ratchets, but still. it's something different.
I remember the Great Goblin from the hobbit. Gorkil=NOWHERE CLOSE. The Great Goblin was a warrior, not a boozer.
The way i see the goblins would make them very different. i even had an idea about mobile buildings, if that was possible. (each building, excluding mines, would have a team of cave trolls standing beside it that could lift it up and move it).
The Evil Men do kinda seem tacked onto mordor. Making them into a minifaction, like Gondor/rohan, would be really cool.
Oh, this is just a thought but you can incorporate stuff from RotWK, Right? If so, maybe you could give goblins their walls (reskinned), and even their fortress (reskinned), to get rid fo the spidery thing. Although from what i've read, it sounds like skinning a building is rather difficult. Still, it would be better than a fence IMO. And the goblins climbing over their own walls sounds cool to me.
Edited by Nazgûl, 09 October 2009 - 10:08 PM.