Hello fellow YR Argentina visitors! At
Project Perfect Mod
, I've finally released the
Voxel Section Editor III
1.37. This new version has a smarter auto normals and also comes with several bug fixes. With this reinforcement, let's keep our voxels comming!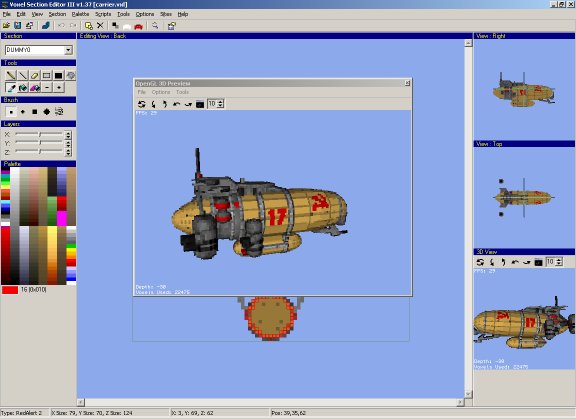 1.37
- revisions by Banshee
-
Added
: Tangent Plane auto normals based on the article sent to SIBGRAPI 2007. This should find the lighting of the voxels in a more realistic way.
-
Bug Fix
: Import a section will no longer crash the system.
-
Bug Fix
: If the program is deactivated, the application will stop rendering, severely reducing the cpu load on idle moments.
-
Bug Fix
: Fixed some inconsistences with the coordinate system.
-
Bug Fix
: New Red Alert 2 voxels starts with normals of the type 4 (RA2) and no longer type 2 (TS).
-
Bug Fix
: Increased stability when opening and saving palettes, voxels and HVAs. Thanks VK.
-
Updated
: Community links, new program icon from IcySon55 and interface improved thanks to VK.
Support for this tool is available at the
Voxel Section Editor III forum
(guest posting allowed).
The Help file isn't being updated because I don't have its source (Stucuk may have it). So, the help is pretty much outdated.
The very latest internal/test versions and source code can be found at the
Official Voxel Section Editor III SVN
.
You can download it
HERE
, at our updated utilities section. If you accidentally own a C&C fan site or you are staff of it, you can place this program on your site for download. If you wanna modify it, go ahead. But on both cases, make sure that Will, Plasmadroid, Koen, Stucuk and I are credited for our efforts. And, have fun voxelling!