Ladies and gentlemen, may I present;

What this means is that there is a new mod under production, The Hobbit, there and back again for BFME2.
What started small, only worked randomly has become a full scale improving existing factions. Like people wouldnt propably expect, only these factions are present in The Hobbit modification
-Men of the West
-Elves
-Dwarves
-Goblins
-Mordor
-Isengard
But being as true as possible to the book, Isengard may have to get replaced later on.
FAQ
Q: Will the Hobbit mod have a hobbits faction?
A: No, this is something that this The Hobbit mod wont have=no new factions. Will be just many cool things added to the existing factions but as Isengard wasnt evil at the time of The Hobbit, you might just see Hobbit or Dunedain faction
Or then Dol Guldur to balance the evil factions out but Dunedain/Hobbit faction would be cool.
Q: Will the Hobbit mod have a dunedain faction?
A: See the first question.
Q: Will the Hobbit mod have a campaign ?
A: At some point I would really like to have this
But skirmish comes first obviously
Q: Will the Hobbit mod have a bunch of hobbit heroes with cool powers?
A: Bilbo is hero for dwarves because he was pretty much the only hobbit shown in The Hobbit
Q: Will the Hobbit mod have new hobbit units?
A: I think that this is most likely to happen but they wont be for factions, will come from INN and other places
Q: Will the Hobbit mod have reskins ?
A: You will see many reskins for dwarves and goblins. Keep your eyes open for new models too
Q: Will the Hobbit mod be having single unit system that is planned for Last Alliance ?
A: At the end it might happen but as it takes alot time to perfect, I will propably finish all the material and all coding, then do the conversion
Q: Will Smaug be featured ?
A: Yes, naturally. I have some ideas on how to actually put him in but he will be featured.
Q:Will Erebor be reworked ?
A:I think that the one right now is pretty lowsy version so yes at some point.
Several in-game screenies
The three trolls are wondering where to get some juicy dwarves to eat
Gandalf is the mysterious fellow who leads you into many adventures
Dain is ready to war with his Iron Hill warrors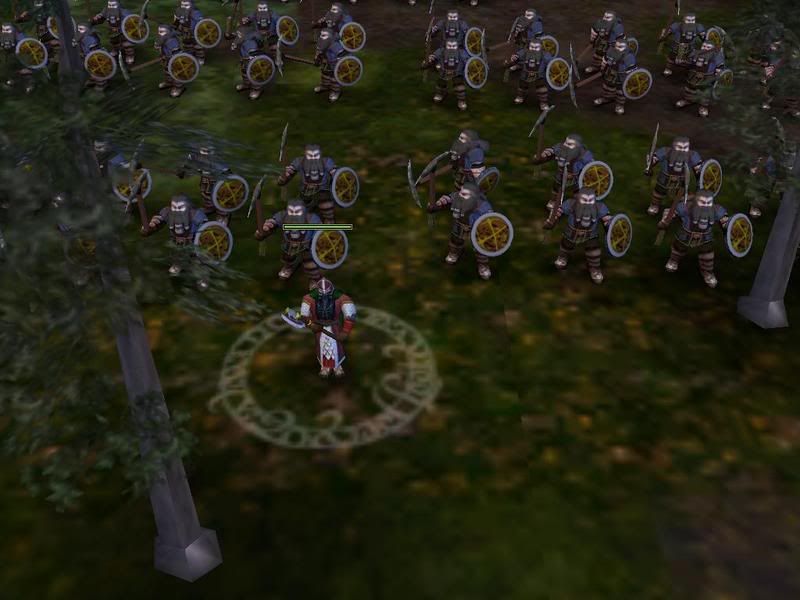 Warriors of Iron Hills will arrive to fight for you
After long journey Bilbo gets suited with mithril from Erebor
Dain and Iron Hills warriors are fighting bravely against the enemy assault
Gloin guards the hills with Bilbo as his companion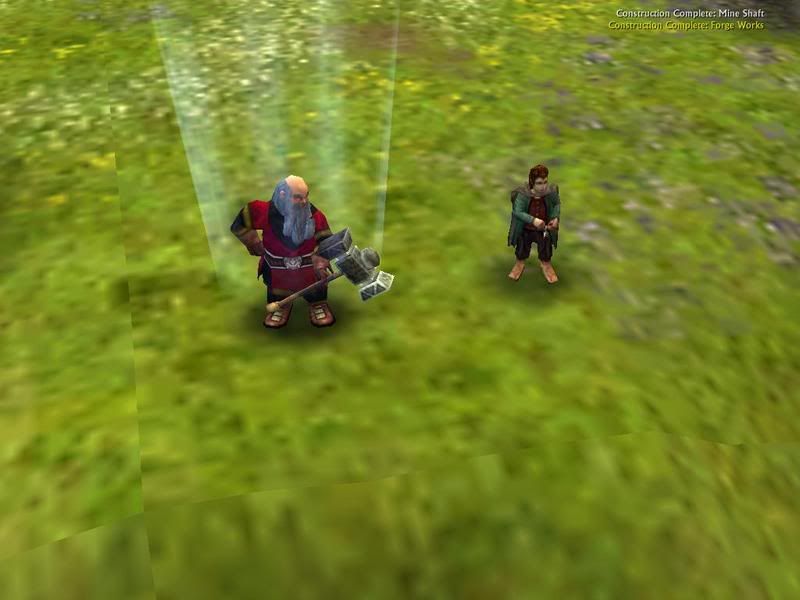 Credits:
robnkarla fixed bounding box and the glow of Iron Hills warriors
BFME+ team donated Dain model and skin
That is just little preview of whats coming
Keep your ears, eyes and computers open so you can check all the latest info of The Hobbit mod.
So now Im sure that almost all of you have some burning questions, lets hear them. Actually I would be more than happy to answer
any
questions members might have
Drop this into your sig if like what you see
Edited by Juissi, 26 September 2007 - 06:07 PM.