Well, another week and another update.
1) First I spent a couple of hours throwing some sort of video together for the mod. Sometime in the future I'll spend more time thoroughly going through and doing a trailer, but until then sit back and enjoy:
640x480 - 55mb mwv
320x240 - 10mb mwv
Credits for eveything seen can be referenced in my credits topic.
(The video was all captured during actual gameplay, with no scripted maps outside of the normal campaign. This is gameplay you can expect. It was Ultra High for the most part captured at 1024x768, so that added lag. When I was not capturing full quality video the lag was unnoticable. And sometime I'll fix the one annoying transition. Just did not want to sit around for a couple of hours for it to render again in premiere.)
2) Next up - elven siege units, the Nolëdhel. In a quest to try to remove all but the logical duplicate units/heroes, the ents are being removed from the Elven faction. The beta testers have seen these units in the mod, though I have not added their powers.
So what are the Nolëdhel? They are not canonical, but they are Elven loremasters that have knowlegde of the three elements of the Elven Rings - Fire, Water, Wind/Air. There are a lot of intricacies to the unit, but I'll give a general idea of how they function. From their altar you can purchase single units, either of water, wind, or fire. As a single unit they have powers in their elements to affect structure to tear them down to return the land to a natural state or repair the naturalistic structures.
They are weak to melee attacks, and can be countered quite easily by cavalry and other units. Each element has 2 powers that they can use, but one unit can also combine with another unit of a different element. When combined this also unlocks 1-2 powers that combine the elements. For example, combine wind and water to create a tidal wave, or fire and water to create a mist to hid units in. Again, combine all three elements together to combine for more abilities that use all three elements.
So that in general is a basic overview of some of the functionality of the units. I'll be doing a lot of fx programming shortly for all the combinations of powers, but it should give you an idea. If anyone wishes to help out with some of the FX I would not mind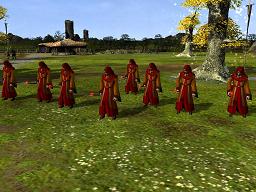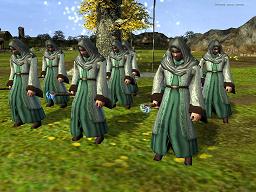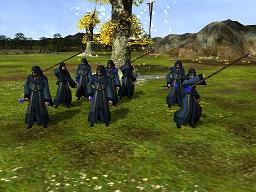 Credits - Megilaglar and Yoda Warrior for help in concept design, Edain-mod for the basis of the design of the unit (Water unit)
3) More Screens! Here are some screenshots taken by Shikari from Helm's Deep: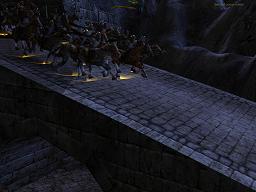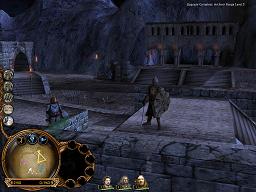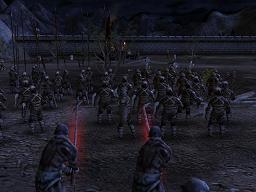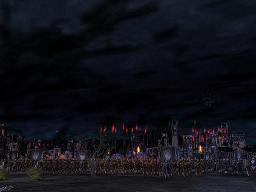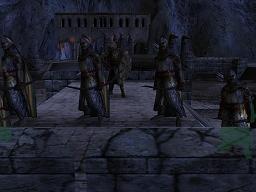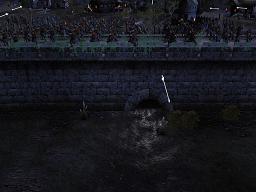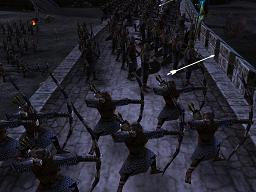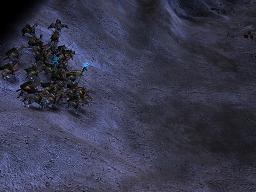 4) Capture flags for inns. Everyone finally has their own flag. So here are the three new ones, though under horrible lighting:
Arnor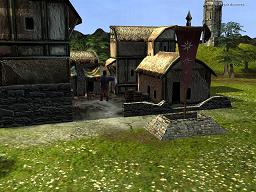 Men of the East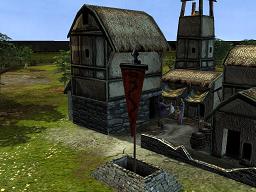 Rohan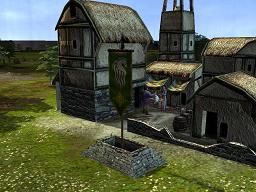 Last note, 1.05.04 was released this week to the test team. They have all been a great help in chasing down all the bugs, finding things faster than I can fix
but I'm going through and getting as many bugs out as I can. I'm not sure how much longer until the next public release quite yet. The goal is to get all of EvilMen/Arnor in game for that, which includes a lot of FX/power/ability coding which I'll be doing soon. Some of the changes in 1.05.04:
- Bug fixes from the bug report topic
- Arnor Elves completely re-done with four units, an elven captain, and a new structure.
- Arnor Ranger Cavalry added.
- Elven Lore Masters aadded (to eventually replace Ents for the elves) They are single units that can combine together up to three units.
- More scaling done for units (Ents, Mumakil, summon dragon, etc)
- More Ent units
- Added range/vision bonus etc. to walls
- Adjust height bonus for all units
- Have fun killing fellbeasts as well as the eagles
- Adjusted some heroes (Legolas, Eomer, etc. power levels)
- Added corsair ballista.
- Among some balance changes, Cavalry again is now a definite counter to catapults, trebs, ballista same as BFME1
- Evil Men use the Rhun Castle as the Fortress
- Evil Men do not crash the game when the AI controls them. There is no AI yet, but the game will not crash
- Fixed buildings on RJ maps, all buildings should follow rules
- and more
Well, I hope you enjoyed this week's update,
Robert J.
Edited by robnkarla, 29 October 2007 - 07:20 AM.