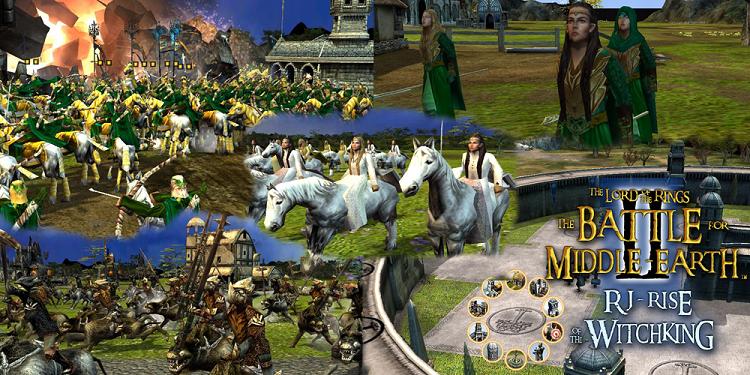 Another good-sized update this week. Just a note, instead of including thumbnails in each update I'll just have a header image showing off some of what is included and just links to the screens.
1) First of three new units with skins by ElrondHighLord - the Elven Healer. This unit serves as support, starting off as a mini-well that can travel with your troops. They're quite expensive, but they receive xp from surrounding troops much like heroes, and their abilities grow stronger at higher levels. You can only have a maximum of 4 at a time and they do not travel on the living map in WotR mode.
Screens:
1
2
3
4
2) Second of the three units - Arwen's maidens. Currently they are only available in the Elven inn alliance and the campaign, but at a later time they might be included in the Elven main faction. They are not 100% complete, and will probably have a greater variety of horses.
Screens:
1
2
3
4
3) The last of ElrondHighLord's unist units - Mirkwood Mounted Archers. Similar to Arwen's maidens they are available in the inn alliance and will be included in the campaign, but may be included in the main Elven faction at a later time. They currently are borrowing the Rivendell Lancers/Archers horses, but will shortly have their own.
Screens:
1
2
3
4
5
6
7
4) Next up are the new goblin warg riders. Currently they are going into the goblin inn alliance system. The debate is still strong whether the spider riders or warg riders will be included in the goblin main faction and the other in the alliance. As for the credits, the weapons are the amazing weapons from Morgoth's Four Ages orcs. The rest is done by EA and/or me.
Screens:
1
2
3
4
5
5) Well, more progress has been made in the BFME1 area. I've gone through and done nearly all the coding required for the BFME1 buildplot style map castles and have begun creating the first map in Fords of Isen. This includes commandset/commandbuttons for foundations, BFME1 style discounts on farms, wells, statues, etlc, removing porters, etc. I have not started to work on the AI yet, but I have idea on how to get work. Until then these are multi-player maps only. As a reminder, the goal for this mod is to be more as a BFME mod instead of a BFME1, BFME2, or RotWK mod. Thus you can play as all 10 factions in BFME2 matches, BFME1 matches, and the RJ BFME2/BFME1 mixed style matches.
Screens:
1
2
3
4
6) Lastly, Yodawarrior & Shikari had fun re-creating the battle on the slopes of Mount Doom between Sauron and the Last Allaince with Mordor and Arnor. They took some screenshots for our enjoyment.
Screens:
1
2
3
4
5
6
7
8
9
10
11
12
Robert J.