Hi all,
I know saying that I have not been active is an understatement at the very least, but have still been working on something that has taken a little more time than I thought it would. It's not a really big secret and I've posted some screens of it already, though it's been worked on extensively. I appreciate all the posts and I've been reading through them all.
Back on topic, with the focus I've been having on the fortress and in my life I wanted to finally get to some of the easter eggs I've been planning. Each one of them I'm adding in game - you won't have to change any ini's to get them to work. Just have to know how to unlock them. I'll also be tying them to the CaHs enabled. If you enable CaHs the easter eggs will be enabled.
To give you an idea of the type of eggs I've been thinking about, I've always referenced doing an Aragorn mounted on a purple scorpion and other crazy nonsense so I thought I'd show Aragorn's mount. (I've fixed the Rohan Aragorn's mount animations for Blademaster and elendil also.)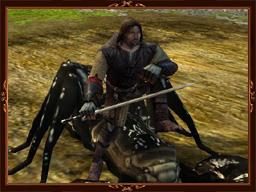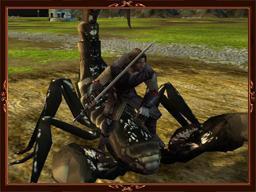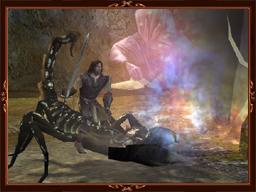 So let me know what kind of just fun stuff you'd like to see added in game as easter eggs and as I mod I'll through some things in there that just to have fun.
Robert J.
Edited by robnkarla, 16 March 2008 - 03:00 AM.