The current edition of
PC Gameplay
magazine from Belgium and Netherlands features two pages about modifications and, in one of them, it features a short article about
Phoenix Rising
. Thanks to Blaat85 for spotting this one and providing a scan: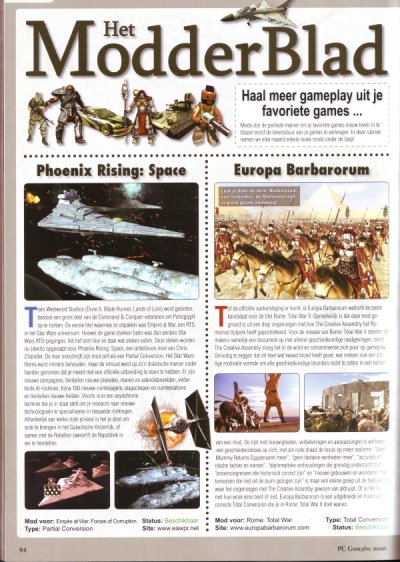 Here's a quick translation written by Mike.nl:
Phoenix Rising: Space

When Westwood Studios (Dune II, Blade Runner, Lands of Lore) was closed, a large portion of the Command & Conquer veterans decided to found Petroglyph. The first title they produced was Empire at War, an RTS in the Star Wars universe. Although the game was significantly better than earlier Star Wars RTS attempts, it did leave a thing or two to be desired. These desires are now (partially) fulfilled by Phoenix Rising: Space, an ambitious mod of Chris Chandler. The man describes his mod as a Partial Conversion. The Star Wars theme was kept, but the content was so drastically changed that you'll think you're dealing with an official expansion. There are new campaigns, dozens of new planets, moons and asteroid fields, improved AI routines, almost 100 new space fighters, battleships and space stations and dozens of new heroes. Furthermore, there is also an asynchronous tech tree which enables you to specialize your research of new technologies into specific directions. Depending on the side you choose, your goal is to bring order in the Galactic Empire, or to join the Rebels (boo!) in restoring the honor of the Republic.

Mod for: Empire at War: Forces of Corruption
Type: Partial Conversion
Status: Available
Site: www.eawpr.net
The current edition of
PC Gameplay
also includes a big article on red Alert 3 and many other interesting games. If it is available in your area, it is worth checking it out!