BlueGuard's submission:

Aro's Rating:
Detail - 8 / 20
Definitely could of done a lot more with the detailing as the way it was done around the majority of the map was not very realistic at all, but the slopes where done in a realistic desert fashion. There wasn't a High variety of LAT usage or even cliff areas, the hedgehogs where overused a bit and so was the whole theme of Civilian Military. Overall its not bad detailing, but could be a lot better, there where particular parts that where realistic.
Lighting - 5 / 20
Global Lighting changes consisted of none, however the default FinalAlert2 Lighting suits desert themed maps quite well. I'm not sure why on earth BlueGuard decided to put green light posts on golden ore fields, but It doesn't look really good, though I'll give you two points in that criteria for effort. 3 Points for global lighting (nothing was done with it, but the default lighting suits desert maps) and 2 points for an attempt at invisible light posts.
Layout - 5 / 20
There was not much too the layout to be fair. There was not a very good usage of cliffs which kind of ruined the layout score, but the water separate was alright and could make for seem decent battles. What I didn't like about the layout mainly is that it is unbalanced as one particular side gets more ore than the other and the fact that the Ore in general is just very far away from the players. Lack of choke points also didn't make things all that interesting.
Game-play - 3 / 20
As mentioned above, things that ruined the game-play where things like the Ore being too far away from the players and really unusual green lighting placed in usual spots. Unbalanced positions also ruined the game-play, but Overall, the AI Played fairly well, even though sometimes the AI's Miners never did anything but sit in the base.
Triggers - 0 / 20
Triggers Consisted of None. INI edits consisted of None.
Total Score : 21 / 100
Aro's Personal Comments: It was not a bad attempt at all considering I've never seen BlueGuard map before. The Layout was interesting but didn't really make things all that fun. I Liked the style of detailing used, but that just wont cut it for a win in the Cartographer's Call Competition. Better luck next time.
Joshy's Rating:
Detail - 7 / 20
The detail wasn't very good. I'm pretty picky about desert maps and the detail wasn't there. There wasn't really any LAT variation.
Lighting - 0 / 20
I didn't like the Global lighting, and I didn't see anything else done to the lighting
Layout - 5 / 20
The layout was ok, but not very fun to play on.
Game-play - 3 / 20
Not very fun, I couldn't really get into it.
Triggers - 0 / 20
None that I saw.
Total Score : 12 / 100
Joshy's Personal Comments: This map wasn't very fun to play on, and the detail was lacking. Try to put more effort into it next time.
Ixith's Rating:
Detail - 12 / 20
I felt the detail was pretty good really. There were nice little spots of things and it kept the desert theme fairly well still. However, I think that it could have been better still.
Lighting - 5 / 20
Nothing was really done with the overall lighting. Then there were invis green light posts in the ore fields, which green light with gold ore just doesn't blend well...especially not on a desert map. Not to mention the fact that the green was a puke green and intense. Take out the green and add a nice blue aura around the water and it would have been nice.
Layout - 6 / 20
I personally didn't like the layout all that much. Very few cliffs used and the ones that were didn't give any value to the map. The bay was nice but the two little river branches didn't seem realistic to me. Also I felt it bad only having two small little areas to cross into and out of that middle area, especially since one of those ways was a bridge that couldn't be repaired. I noticed an extreme lack of balance with the layout mainly in the location of the ore fields. The ore fields were horribly placed and just too far away from the player start locations and this had an impact on game-play.
Game-play - 3 / 20
I was very disappointed with game-play on this map. The ore fields were so far away from the player start locations that the AI wouldn't send out its harvestors. This caused the AI to do a few attacks and then stop dead in its tracks. The ore field placement was just bad. Also the left side had a bit of an advantage with many garrisonable buildings fairly close to use to its advantage.
Triggers - 3 / 20
There were no triggers to add or subtract from the map score. So I will give a 3 here since there wasn't anything to hurt the map.
Total Score : 29 / 100
Ixith's Personal Comments: When I first opened this map up in FA2 and saw the minimap I thought I was going to see a pretty good two player map. However, I was quick to spot the ore problem. This map would have been much better off if there had been ore fields closer to each player and if there was ore fields distributed throughout the map and worth fighting against each other for. If that gets changed then this could be a pretty decent two player map really.
TOTAL SCORE: 64 / 300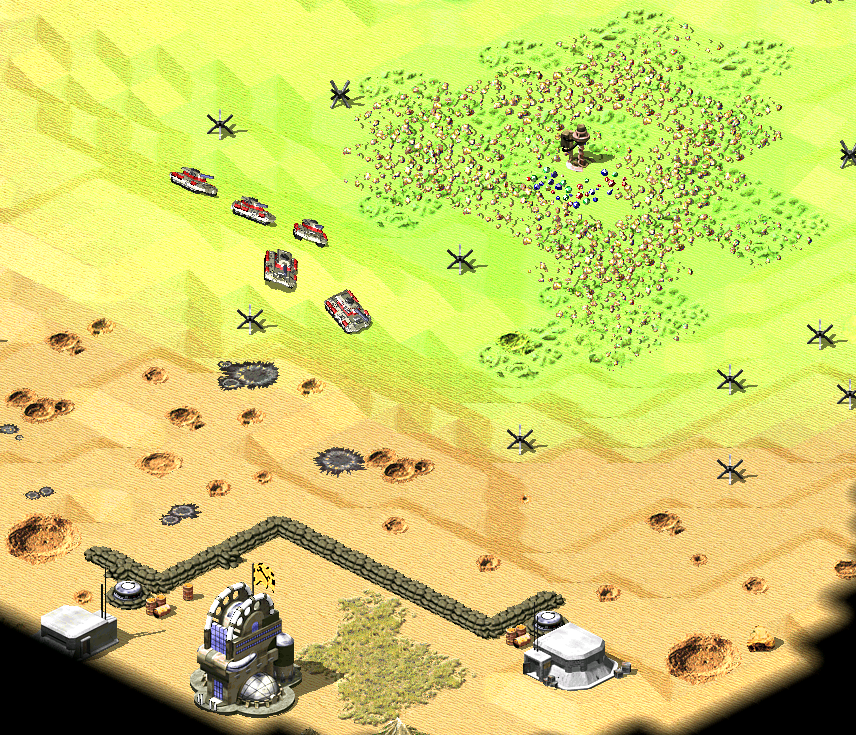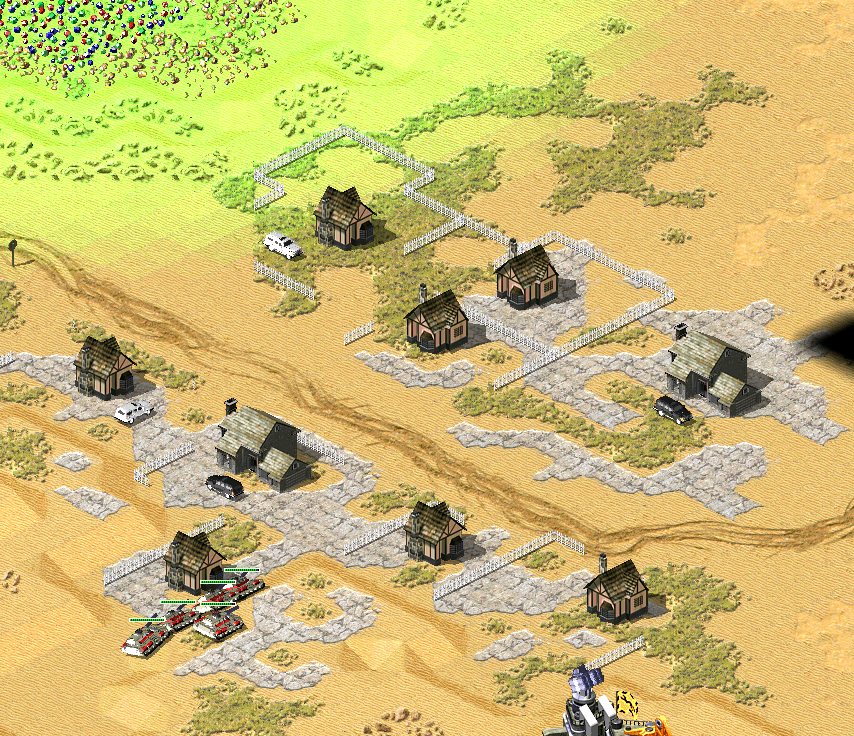 Edited by Aro, 24 July 2008 - 03:16 PM.