Toadnuke and Tripwired's Submission: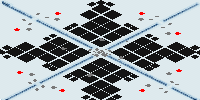 Aro's Rating:
Detail - 2 / 20
Detailing was very poor in this map. Invasion At Anzio was obviously a map that was not intended for great detailing but to be fun. Due-to the lack of detail, the map was boring and VERY repetitive and extremely unrealistic, some bits of raised / lowered ground and different varieties of LAT's wouldn't hurt every now and then.
Lighting - 8 / 20
The General lighting was quite good, It actually let of a feeling of the cold arctic areas. It was not too dark and not too bright which I found was quite good for the theatre setting. The use of invisible light posts also took a part in this map, but I didn't like how Toadnuke and Tripwired decided to use these invisible light posts, all it was, was a large patch of green lighting in the center of the map. No source as to where this light is coming from or could of been coming from etc. Overall, Use of lightposts was not so good but general lighting had a good feel to it.
Layout - 3 / 20
The layout was extremely simple, a simple 2 vs 2 vs 2 vs 2 kind of layout. The map was large which is always a good thing, but there was very little middle ground for things like tactical attacks and games. There was no cliffs or different height levels of which to defend your base which always makes things more interesting. The only thing stopping the bases from colliding is a small little stream between them. Another thing I really disliked about Toadnuke and Tripwired's submission is that it was extremely symmetrical and unrealistic, one of those classic online maps people only play to get a quick win. On a good side, there is an equal amount of gems on all sides.
Game-play - 5 / 20
Game-play was very... unique to say the least. A map such as this one is literally designed for team battles and long battles but it there where many .INI edits that made the map that extra bit special. I Played this map against 7 other AI players and got beaten in no time, but not before taking out one soviet AI. Game play was actually quite good if you take out all the detail / layout issues but could of been A LOT better. When playing this map the second time to attempt to win, the battle was long and hard, but in the end I did have some fun. All the .INI edits enhance game play by making it different.
Triggers - 5 / 20
Triggers consisted on one and that was revealing the entire map to every player after approximately 3 seconds (A tool script in FinalAlert2). Triggers get 2 points for the attempt of actually adding one. There may not have been a lot of triggers in this map but there was a lot of .INI edits which is what made this map that extra bit special. Replacing original tank bodies with bodies from Tiberian Sun was indeed an unusual touch and sparked my curiosity, but I personally REALLY dislike this kind of .INI edits in maps. I Give this map 2 points for the trigger and 3 points for all the .INI edits, but I really dislike how Toadnuke and Tripwired edited the maps .INI.
Total Score : 23 / 100
Aro's Personal Comments: This map was Unique if anything, but not much more. I Didn't like much about it, the only thing I liked about this map was the general lighting, but yet again, due-to the obvious lack of detailing, its clear that Toadnuke and Tripwired didn't attempt to make it look pretty. At least there was an equal ammount of gems on all sides.
Joshy's Rating:
Detail - 0 / 20
No detail at all. It was an eye sore. >_<
Lighting - 5 / 20
Lighting was ok. I didn't like it all too much.
Layout - -7 / 20
Symetrical maps are no fun. I did not like the layout at all. It was horrible.
Game-play - 20 / 20
Possibly the best part of this map. Playing against all Brutal AI's was the funniest thing. XD
Triggers - 10 / 20
There was one that revealed the map at the beginning. I really enjoyed the INI edits.
LOL Factor - 20/20
This map was just plain funny. Nice little mod map. XD
Total Score : 48 / 100
Joshy's Personal Comments:The map layout/detail sucked, but the gameplay made me laugh. I enjoyed playing it.
Ixith's Rating:
Detail - 2 / 20
The detail level is just...well there really isn't any. Lacks height variation, trees, different LAT usage. About the only thing on this map is well...gems, some civialian structures, and small, thin, and straight rivers that only serve to break the different 2 player spots up. Needs MUCH work on detail level.
Lighting - 6 / 20
Well the overall lighting was ok. The tint matched the snow theater choosen which was good. I think it could have been a little bit more intense of a blue and also a little bit darker overall and the overall lighting would have been nice. You had one random invisible green lightpost in the middle of the map. Like said it was random and there was nothing to suggest why there would be green light emitting from there.
Layout - 2 / 20
Really there is no layout. The layout is just plainly a completely symmetrical map for 8 players. Best for 2v2v2v2 games. There are sections of water which split the players and then gems in the middle of each 2 player area. This is the kind of map layout that can be reproduced very quickly making it nothing special. No usage of cliffs or anything. Giving this map a very bland appearance and layout.
Game-play - 9 / 20
Game-play was...well interesting. The .Ini editing was interesting but not to my liking. The changes made just made the game-play feel weird and also in some cases it felt imbalanced. I feel a better choice and attempt of layout could have made game-play better.
Triggers - 3 / 20
Well...there was only one trigger. Nothing impressive either. It was just a reveal all map trigger most likely the one from script section. I personally don't like maps that have a reveal all trigger that fires right from the get go. You could have at least made something in the center to capture to reveal the map. This trigger also kind of removes the whole point of having the Spy Radar for the Allies.
Total Score : 22 / 100
Ixith's Personal Comments: The map was just too bland in layout and detailing which really dragged the score down. I feel the mapper could have greatly improved their score if they had chosen to make a detailed map with a good layout rather than just a flat non-detailed layout. Probably a decent map for quick online play especially if you like unlimited money maps but not much more than that.
DISQUALIFIED!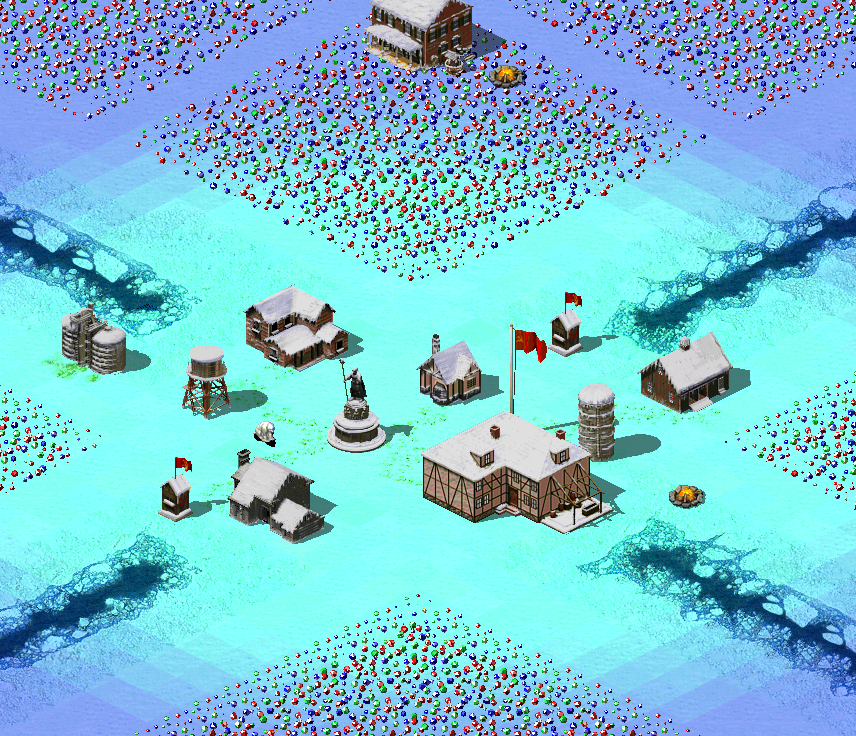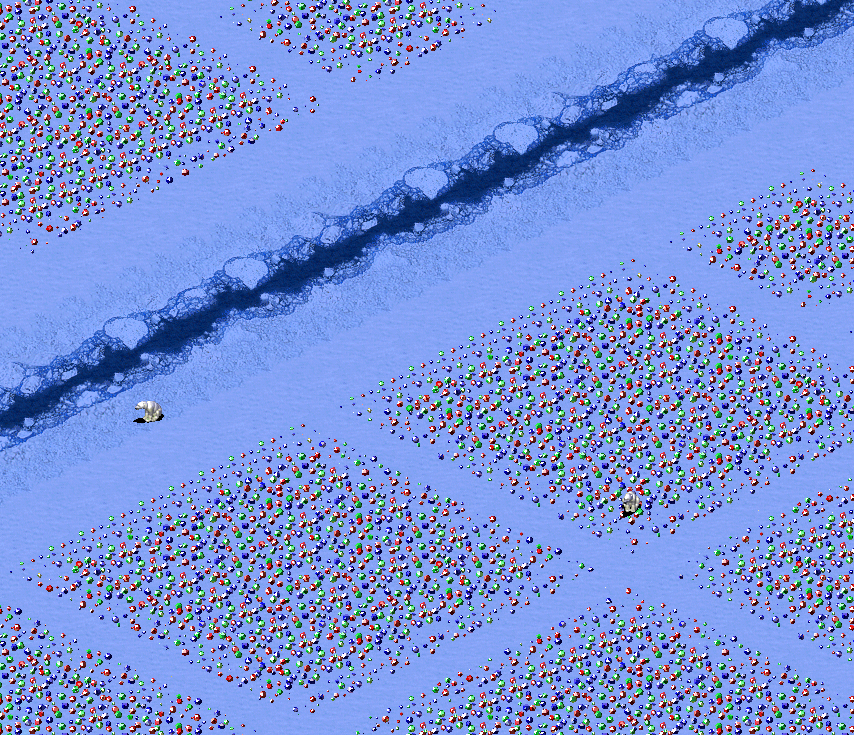 Edited by Aro, 24 July 2008 - 03:18 PM.