Someweirdguy's Submission: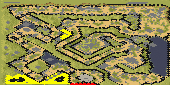 Aro's Rating:
Detail - 15 / 20
Detailing was rather good. Some bits of terrain where either repetitive, unrealistic or just simply plain, but over all the detailing was quite good. The map lacked a decent amount of cliffs and a larger variety of LAT detailing. Non-the-less, what was done was done and the maps general detailing looks fine.
Lighting - 10 / 20
General lighting was quite dark (If not too dark), but definitely suited the atmosphere. What Someweird guys map had that not many other maps had was a good usage of Invisible lamp posts, causing decent luminous effects around particular areas. The Yellow used on the ore patches was rather bright, but still looked quite good whereas the lighting around particular buildings was rather blocky, but also still good non-the-less. 3 Points for General Lighting, 7 Points for Invisible light post usage.
Layout - 8 / 20
The maps terrain layout itself was rather bad due-to its lack of cliffs to make for its decent and more... Interesting layout. However due-to how unusual this map is, the layout suited it fine. The walls used are what gave the map its layout but would've been better if it was a more natural layout. The Most unusual thing about the layout though probably the best was that the well detailed areas where out of bounds of the player but you could still see them. There is not much else to say about the layout other than the fact its more like an obstacle course than a Skirmish map, this map would've been FAR better if it was converted to a Single-player map which would've also prevented some of the Trigger errors.
Game-play - 12 / 20
While game-play would of been far much better if this map was converted to a snigle-player map, it was still pretty good. The reasons this map should've been single-player instead of multi-player was because of the trigger techniques used which is what ruined this maps Game-play. What also bugged me about the map was the beggining, again, due-to the fact that this map is a Multi-player map the starting areas where rather bugged as if you picked a particular starting location, you'd get a particular starting unit (which could possibly be killed right at the start or be useless in different areas of the map). In order to complete the level you have to destroy the castle, which was the authors original Intention but due-to the unusual trigger techniques used along with multi-player map limits, not much could be done about it. Overall the map was quite fun considering all the problems mentioned, it made a change. It was a very challenging map too, particular areas required thinking and patience to discover how you are to get past it successfully.
Triggers - 8 / 20
Triggers where a big problem in this map due-to its unusual circumstances. The triggers used however where unusual and could've been much better. For example, the starting location points where terrible due-to the lack of organization or balance. It would've been better if there was 2 players and a little read-me describing which point you should start at to prevent errors. For example, if you start as player 6 everything goes to your side, which is rather stupid. Players 1 - 5 get a particular hero unit (some get killed instantly). Though the triggers used get Someweirdguy 8 points due-to creativity.
Total Score : 53 / 100
Aro's Personal Comments: The Author (Someweirdguy) asked me VIA PM if I was allowed to fix the map in order to make the triggers work correctly but that would defeat the purpose of this competition. I Said to him if I gave him any help with triggers he would get a zero for the trigger section which would've been ashame, so someweirdguy entered this version of Mummy Attack as his final entrant. Overall is was good fun but could've been SO much better if it was a single-player map.
Joshy's Rating:
Detail - 14 / 20
Details where pretty good. There were some parts that repeated.
Lighting - 18 / 20
It was pretty dark which I enjoyed. I liked the lighting variations.
Layout - 2 / 20
The layout was bad.
Game-play - 0 / 20
I was unable to play this map once against the mummies. It kept randomly chosing whoever was going to be it.
Triggers - 6 / 20
Triggers were pretty good.
Total Score : 40 / 100
Joshy's Personal Comments: I couldn't really play this map to the fullest so I wasn't able to enjoy it. Too bad because I was looking forward to it.
Ixith's Rating:
Detail - 9/ 20
The detailing was ok. Nothing great in my eyes. Though you can tell that a decent amount of effort went into detailing and making it look like a good mummy/cemetary grounds....with a lot of buildings for war.
Lighting - 8/ 20
Lighting was way too dark for my liking. I could hardly see anything except for right after the weather storm. Then I had just a small amount of time to see. I believe there was some lighting variance in some areas which gave a small boost to this score.
Layout - 5/ 20
Not much to say about the layout. It was a maze that was established by walls. A few hills here and some water there. The lack of cliffs and a proper layout really hurt this score. The only cliffs on the map were on the very top edge of the map and didn't serve any stragetic purpose. (Also there are many connection piece cliff errors.)
Game-play - 3/ 20
I didn't really experience much gameplay other than the right out in the beginning kinda thing. It really wasn't much fun to me at all. I think a normal multiplayer map would have done better or if you really wanted to do a 1v5 map to make it more spread out with a tactical layout.
Triggers - 7/ 20
There were many triggers on this map. However, in my several test runs of this map not many of them worked. Looking at the map in Final Alert 2 I can see what they were suppose to do. Overall IF they all would have worked and been set up more properly then it would have not only improved this score but perhaps the game-play score too. I must admit the amount of effort is worth giving a 7 on this score though. Just looking out how many things changed to player 6's control had to have taken a lot of time to set up.
Total Score : 32/ 100
Ixith's Personal Comments: The map was indeed original, themed, and interesting. However, due to a lack of a well thought out layout, proper triggers (which could be due to it being an MP map with SP like triggers), and gameplay this map didn't really impress me in terms of the want to play it again. Though it was nice to see something different and I would like to see Someweirdguy to fix up the map himself and get it working 100% if it is possible. Nice to see someone with a creative mind!
TOTAL : 125 / 300