Gufu's Submission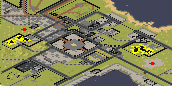 Aro's Rating:
Detail - 14 / 20
In air fairness, the detailing was done quite well. The detail level was quite realistic, nothing over the top nothing was underdone either. What I liked most about Gufu's map was that Gufu had done the park-like areas well and they looked just as they would do in the real world. I Loved the way the Ore was placed, It was realistic which made me put a large boost on Gufu's score. A great usage of trees and particular LAT's though not much detailing in the actual urban areas which is the main thing that dragged down Gufu's score along with the fact a lot more detailing could of been done LAT wise and layout wise. Something I really didn't like was the large urban cliffs with absolutely nothing on them other than some white fences, it served no purpose really and made Gufu's map just a bit lower in quality.
Lighting - 5 / 20
The Lighting was like none I've ever seen before in the temperate theater. The lighting was like a purple / pink kind of lighting which gave off the feeling of early evening (a very unusual early evening), but I actually quite liked it, It was unique and I do like unique. No usage of Invisible light posts, so a zero on that score. Five points out of Ten for general lighting, Zero points out of ten for Invisible Light post usage.
Layout - 10 / 20
What I liked about Gufu's layout was that it was again unique, it wasn't stupid and poor like some other noob map layouts but it was large and open which makes for some great battles. Buildings and particular cliff areas made for good tactical moves. What I liked most about Usual Cityscape is the way the Ore was placed in a realistic fashion and not just stupidly scattered everywhere. Gufu could of done a lot more with the layout, as there was a lot of open space.
Game-play - 9 / 20
The AI played quite well on this map due-to the large open areas but this map does not seem like it would be too fun for online play. There are a few tactical positions but nothing really to fight over other than a few well placed Tech buildings. Something that really got on my nerves was the useless civilians who kept on shooting my things for no good reason (Damn cowboys), If Gufu would of edited their .INI in the map to remove their weapons then it would of made this map a lot less annoying.
Triggers - 2 / 20
Triggers consisted of one: A Moving tugboat. While moving vehicles are always good, it normally makes it better if this actually has any kind of effect on the map. The tug boat was placed in an area that really didn't matter in the map and will not really be crossed so its not noticeable. The trigger surved no purpose to be fair, but a trigger is better than no triggers. .INI edits consisted of none.
Total Score : 40 / 100
Aro's Personal Comments: This map was Unique and realistic (in its own little way). I don't really have much to say about this one other than it makes for either a good testing map or a quick skirmish game. Gufu did a lot better than I expected him to do so, Well done to him.
Joshy's Rating:
Detail - 19 / 20
I loved the detail on this level. I always love city levels and Gufu did a great job detailing this one. It was very nice.
Lighting - 19 / 20
I loved this lighting! I've never seen anything like this before in a temperate theatre. I really liked the lighting on this map.
Layout - 17 / 20
The layout was great. Very fun map to play on, and the AI was pretty good too.
Game-play - 16 / 20
I thought this was a pretty fun map to play. I enjoyed it a lot, and I ended up playing it a few more times after I tried it.
Triggers - 3 / 20
Only one trigger which was the tugboat.
Total Score : 74 / 100
Joshy's Personal Comments: This is a great city map, and I loved playing on it. Gufu did a great job on this and this map is one of my favorite's now.
Ixith's Rating:
Detail - 12 / 20
The detail was nice. However, I thought that a few things seemed out of place. For example the random play ground stuff in the middle of a city area with giant buildings...just didn't seem right to me. My favorite area of detail was by far the park area up in the north. Also the small areas of construction like stuff seemed pretty cool.
Lighting - 4 / 20
Didn't really like the lighting. It wasn't bad but it also wasn't good. Nothing was there to make a variance in the lighting either. With nothing else to say other than that it was an interesting choice of lighting for a part city map.
Layout - 7 / 20
The layout was very basic. There were only 3 areas of cliff's. All city like cliffs which was expected from the map name...however, they weren't really inside the city. They were instead a bit away from the city and seemed a bit out of place. I know that it was suppose to be a city area. But I felt it was even too flat for a city scape area. I think the map could have been much better if there was a side route in a set of natural cliffs on the outside of the city area. Also you had some connection piece cliff errors at the bottom cliff set area.
Game-play - 8 / 20
Well AI seemed to do just fine. Mainly had 2 different routes it tried to use on me but every once in awhile it would try a third. The credit inflow was right to my liking for such a map and there where a few tech buildings to capture. Although the AI never attacked said tech centers if you captured them. I am however concerned about balance on this map. The players have plenty of build room and both are in the open for the most part but the player on the top left side of the map is MUCH closer to many buildings in which could be garrisonized. This would give that player an easy time to defend his base from the get go.
Triggers - 2 / 20
I'm giving a 2 for an attempt at making triggers. I noticed 3 attempted triggers in the map trigger file. However, none of which seemed to work. When I checked the tug boat trigger didn't work as the tug boat was tagged with the wrong tag. The Demo didn't go off because there was no action set for it. Finally the police car didn't work because in the teams section it had the wrong tag set for it. I think if you would have taken just a little bit more time in testing and perhaps asking about how triggers work then you could have made all of these triggers work, which would have added to your score if they were working.
Total Score : 33 / 100
Ixith's Personal Comments: The map was pretty decent really. Nice for a quick 1v1 battle and also nice if you want something different lighting wise. I was hoping to see more of a large city map when I saw the map name but this was still nice and I had some fun on it.
TOTAL : 147 / 300