Dutchygamer's Submission: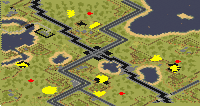 Aro's Rating:
Detail - 16 / 20
I Loved the detailing on this map for one simple reason: Creativity. The layout itself was good cause of plenty of choke points. I like the usage of LAT playing its self too as it was not under done or too over the top, though repetition of the Dark grass was a bit of a let down as sand and rocky ground could of been placed in particular spots too. The shore work needs work as the sand around it looks terrible (by default as well), some little sandy extra's wouldn't of hurt around the shores. But overall, a good Job, rather realistic detailing.
Lighting - 13 / 20
Wasn't TOO fond of the global lighting but it was pretty good considering the atmosphere. It was quite dark, yet not too dark which sometimes gives off a good feel. The atmosphere being a forest is what mainly gave the map its life, the dark lighting just added to the forest feel. Invisible light post lighting consisted of some small edits but came out really well, no blocky lighting in sight. I don't have much else to say on the Lighting. Global lighting seven points, Invisible light posts six points.
Layout - 16 / 20
Layout was an absolutely excellent idea in my honest opinion. I Liked the idea of the wall itself dividing up the whole map even if the wall itself could easily get destroyed by any heavy vehicles. The cliff work was well done too, giving the players plenty of Choke points to guard and get too with little tactical areas around the rest of the map (including some well placed and some not too well placed Tech structures). Excellent Job on the detailing for sure, Dutchygamer should be proud of himself. The Ore was also well placed yet unbalanced. The problem with Ore was that there was none to fight over and some players where closer to the Ore than others. Build space was balanced so that's all good... A Perfect layout for a decent online game if you ask me.
Game-play - 16 / 20
This map was one of my favorite maps for Game-play. The AI was challenging (which is something I expected from Dutchygamer's map), there was plenty of choke points (which all the AI's actually used) and overall, the large wall just added to the game play. I Had plenty of fun playing this map against three brutal AI's (Even though I lost the odd few times) and this is another map I would definitely recommend for an online game.
Triggers - 2 / 20
Triggers consisted of none. INI edits consisted of removal of Naval yards and slight lighting changes which is the +2 on the Trigger score.
Total Score : 63 / 100
Aro's Personal Comments: Well not much to say really, great map, great detailing, great feel and fantastic layout. It is ashame Dutchygamer skipped on the triggers which was the major downfall on Dutchygamers score. Excellent job non-the-less, I hope to see some more maps from Dutchygamer.
Joshy's Rating:
Detail - 15 / 20
Detailing was pretty good. I enjoyed it a lot. Although a bit repitious here and there it was pretty good.
Lighting - 9 / 20
It was pretty dark which I liked quite a bit. Although you could have done a lot more with the lighting. Make some variation in the lighting here and there.
Layout - 20 / 20
The layout was spectacular! I really enjoyed playing on this map. It was very fun and I loved playing it. Dutchy you did a great job on the layout of this map! A very fun map to play on. The dividing wall was a great idea.
Game-play - 18 / 20
Gameplay was awesome. I loved playing against the AI in this map. Plenty of chokepoints and the money income was good. Very fun.
Triggers - 1 / 20
No triggers. I only saw the removal of naval yards.
Total Score : 63 / 100
Joshy's Personal Comments: Very fun map! Two thumbs up! Great job Dutchy.
Ixith's Rating:
Detail - 15 / 20
I thought the detailing was very well done. It was very realistic in my mind. Though it could have been a bit better in a few areas.
Lighting - 14 / 20
Lighting was very well done in my mind. My only complaint about the lighting is that the overall lighting was a bit too dark for my personal liking. I did see some negative and general light post usage which gave the map an extra touch of variance in some areas without blowing it out of the water with bright colors. So good job on the lighting.
Layout - 16 / 20
The layout was quite nice. I noticed that there were defined paths and at least two entrances to each base. I thought basing the map on a dividing wall was quite nice and it seemed to work quite well. The way the map was set up created some nice areas to lurk around waiting for prey especially with mirage tanks. Also the cliff tops made for great spots to paradrop some GI's in. I also liked the little island area with Einstiens lab. That spot gave the map a nice touch of exploration to do. However, I did notice that the ore for some players was placed in a different way and made it harder for starting in those spots. The main spot that comes to mind is the bottom right start position. That player only had one ore mine directly in his area and his additional 3 oremine area was a little farther out then the rest of the players. I was also dissappointed that there was really nothing to fight over to the except of some gems at the gates of the wall. A few complaints about the cliffs would be that they are a little straight. Also I did spot a few connection cliff errors.
Game-play - 18 / 20
I personally loved the game-play. It kept me on my toes for a good while. Even though I made sure it was a free for all battle set up I was getting flanked by all 3 AIs at first and they were hitting me from areas I didn't expect at first. I came close to losing a few times yet managed to survive somehow. Though once I got on top of things it became easy with capturing enemy tech buildings and building defense there against them. Also I loved the barrels on the right side by the wall...I kinda think there should have been some on the left side too though.
Triggers - 3 / 20
No triggers which was a shame. Some ambient sounds would have been fantastic on this map and maybe some other kinds. Though having no triggers also means that those triggers didn't hurt the map in anyway so I will give a 3 for it.
Total Score : 66 / 100
Ixith's Personal Comments: This was by far my favorite map for game-play. It was fast at first but the layout still kept the players decently spaced away from each other so it wasn't like the players were at each others throats when just leaving the base. This provided for an excellent strategy map and is probably one of the better maps I have seen in RA2/YR mapping in awhile. Great Job!
TOTAL : 192 / 300