OmegaBolt's Submission: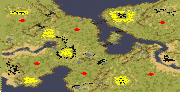 Aro's Rating:
Detail - 18 / 20
Excellent work on detailing. LAT placement was brilliant and realistic, Cliff work was good and overall detailing was not over the top or unrealistic. Some minor improvements which would of gave Omegabolt a 20 on detailing would be better looking slopes and most slopes placed where in an unrealistic fashion and sort of blocky. Overall a fantastic Job on detailing.
Lighting - 9 / 20
I Loved the global lighting on this map as it fit the atmosphere perfectly plus it wasn't too dark or too bright. What would of made this lighting better is a day and night loop trigger. Invisible lamp post lighting consisted of none. Nine points for global lighting, Zero points for invisible lamp post lighting.
Layout - 18 / 20
Layout was also fantastic. What I liked mostly about the layout was that it was in no way symmetrical and it was realistic. The only downfalls on the layout was that the tech buildings seemed to be placed in awkward areas causing unbalances (in some forms). Another concern was that the players in the middle of the map had no real purpose being there simply because they where always getting attacked from different positions before any of the other players where. The Middle players also had less building space and Ore placement than the other players. Otherwise, a fantastic Job on the map layout.
Game-play - 16 / 20
I Enjoyed playing this map as It was something different. The AI was actually quite good and a frequent attacker, the placement of the four players in the corners where balanced which made for a more interesting match (I didn't enjoy playing with the two players in the middle of the map). The only things that I would comment on is the unbalances based on the player locations as I've mentioned earlier in Omegabolts review. However, I enjoyed playing this map and I'll definitely play this some time again. Excellent work.
Triggers - 12 / 20
Triggers consisted of plenty of environmental sounds. What I liked about the sounds that where placed on the map was that they played at the correct places and at the right time. There where no other triggers other than the sounds. INI Edits consisted of a fair deal, for example: Removal of naval yards, Oil Derick edits and the attempt of AI Building Nuclear reactors (even though it doesn't work correctly in-game). 8 Points for triggers, 5 points for the INI edits.
Total Score : 73 / 100
Aro's Personal Comments: One of the best Yuri's Revenge maps I have played in a long time now. Detailing was excellent, Layout was excellent and the Global lighting fit the atmosphere like a glove. Its ashame more Triggers and Invisible lamp post lighting was lacking in the map which could've made this map so much better. Overall, definately a fun map, full of eye-candy. Excellent work, OmegaBolt.
Joshy's Rating:
Detail - 19 / 20
Fantastic detailing on all of the map. Wonderful LAT placement and cliffs were great. Awesome work on detail.
Lighting - 12 / 20
Global lighting was awesome and fit the map perfectly. There could have been a few invisible light posts here and there, but I don't mind. Very good lighting.
Layout - 18 / 20
Not symetrical!
The layout was awesome and very fun to play on. Great work on the layout.
Game-play - 17 / 20
Very fun. A great map to play on. The AI was pretty good too.
Triggers - 14 / 20
The enviromental sounds were awesome. They really bring more life to the map. I'm really glad you chose to do sound triggers.
Total Score : 80 / 100
Joshy's Personal Comments: It was a great map! It reminded me of the good old days when I played YR quite frequently. Great job Omegabolt, this was an awesome map.
Ixith's Rating:
Detail - 19 / 20
Detailing was fantastic. It gave the map a very nice look and remained realistic for the most part.
Lighting - 11 / 20
A nice night like lighting. Suited the map very well. However, there were no areas that differed from this lighting to the exception of the fact that he did still have his lighting level turned up a bit which made lower areas slightly darker, which was kinda cool. Wish Omegabolt would have done a little bit more with this.
Layout - 14 / 20
A very nice layout. Good for 3v3 North vs South games I think. However, I think the two center players were just a bit too squished together with nothing really seperating them all that well. I also was hoping that more would have been done with the water as to include water strategies such as using an amphibious transport to drop off some tanks where they wouldn't be suspecting.
Game-play - 11 / 20
I played the map once as a 3v3 and once as a free for all. As a 3v3 it was very good or at least I thought so. It played well but didn't quite have me up and on my toes all that much. As a free for all I found it a little too easy. Main reason being was placement and the amount of ore mines in each ore field. The ore fields are placed in a way that seems like they need to be shared...so in a free for all this would mean they would be fought over in many cases but the only ones worth keeping were the one near the upper right start position and then the one in the central area of the map as they had the most ore mines. It just kinda made the free for all battle a little unbalanced. Also the lack of bridge repair huts really effected game-play mainly because of the upper right start location and how it was set up.
Triggers - 12 / 20
OmegaBolt really put time in using some ambient sounds here. They were quite good and they worked, however in order to hear the ambient sounds I had to turn the music sound almost all the way down. Still they were there and they worked so good job.
Total Score : 67 / 100
Ixith's Personal Comments: A very good and well thought out map. I would have liked to see something be different so that it would have played better but again it was a very nice map with a nice feel to it. Another map that I will probably replay a few times here and there when I open up my Yuri's Revenge. Good job with this map.
TOTAL : 220 / 300