American M3 Grant/Lee
To match the newest German tanks there was a need for a tank that could carry a 75 mm gun. The M3 was ordered straight from the drawing board and Baldwin and the American Locomotive Company each made pilot models by April 1941. Production began in August 1941 and ended in December 1942. It was intended only as a stopgap tank before the M4 Shermans arrived. When the M4 started production the M3 was designated Substitute Standard in October 1941. In April 1943, they were classified as Limited Standard and in April 1944 were classified as obsolete.
Weight: 27,900 kg
Length: 5.64m
Height: 3.12m
Width: 2.72m
Armament: 75mm M3, 37mm M6, 3x Browning M1919A4
Armor (max): 57.15 mm
Engine: Continental R-975-EC2
Speed (max): 41.6 km/h
British Cruiser Mk VI, A15 Crusader MkIII
Nuffield designed at about same time of the Covenanter. Prototype had small turrets in front of driver and gunner. These were removed after trials. Hull was lengthened and another road wheel was added. The turret hatch slid back to open. However, it would sometimes close on the commander unexpectedly. An initial order for 200, plus a pilot model, was placed in July 1939. The pilot was delivered in March 1940. In June 1940 the order was increased to 400, and then to 1,062. Fuel tanks were located on each side of the engine with radiators fitted vertically between the tanks and the engine. Two cooling fans were fitted in the rear bulkhead. The drive chains were exposed and this posed problems in the desert and were replaced by a form of a shaft. The exhaust pipes went on each side of the engine, over the transmission, and ended inside the rear hull louvres. The concertina type air cleaners were mounted on the rear track guards in early models and were replaced by an oil bath type.
Weight: 20,085 kg
Length: 5.98m
Height: 2.24m
Width: 2.77m
Armament: 57 mm OQF 6 pdr MkV, 1x 7.92mm Besa
Armor (max): 51mm
Engine: Nuffield Liberty MkIV
Speed (max): 44 km/h
Canadian Cruiser Ram MkII "Badger"
Entering the war without a tank industry, 16 Vickers Mk VI, 12 Carden-Loyd carriers, little hope of future help from England, and 219 WW1 era junked U.S. tanks, Canada started her own tank production. The British Tank Mission, in collaboration with the Canadian General Staff, designed a modified U.S. M3 which would become the Ram. The Ram used standard M3 mechanical components, with a Canadian designed hull and cast turret. The first 50 would mount the 40mm 2 pounder cannon and were designated Mark 1. The remainder were called Mark 2 and had the 57mm 6 pounder cannon
Weight: 29,484 kg
Length: 5.79m
Height: 2.66m
Width: 2.76m
Armament: 6 pdr OQF (57mm), 1x Wasp II flame thrower
Armor (max): 87mm
Engine: Wright Continental R-975-EC2
Speed (max): 40 km/h
French Somua S-35
The Somua S-35 was the world's first tank to be manufactured from a cast steel. In Service with the French army in 1936. Many experts regarded the SOMUA S-35, in 1940, as the best medium tank in the world. The vehicle was designed and manufactured by Société d'Outillage Mécanique et d'Usinage d'Artillerie (SOMUA) and comes from a requirement from the French High Command in 1931.
Weight: 20,363 kg
Length: 5.28m
Height: 2.6m
Width: 1.85m
Armament: 47 mm SA35 L/34, 1x 7.5 mm Model 31
Armor (max): 56mm
Engine: SOMUA water cooled
Speed (max): 40 km/h
Russian BT-7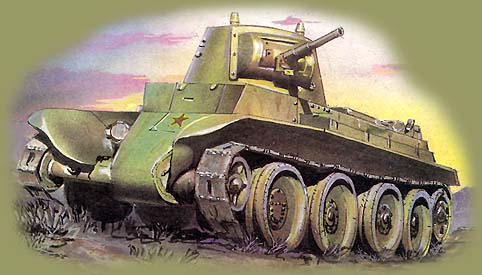 With the vast territories of Russia there was a need seen for fast tanks. In 1931, 2 Christie M-1931 (T-3) tanks were purchased from the United States. These were sent to Voronesh for testing. The Revolutionary Military Council of the USSR authorized it's use by the Red Army and requested mass production.The BTs were to be used in the mechanized, armored, and cavalry units. They were to advance into the enemy's rear to break supply lines and disrupt communications.They could be run on track across country or on wheels on roads. It took about a half-hour to switch from one mode to the other. When running on wheels the tracks were stored on racks above the running gear. When running on wheels 1/3 of the weight was on the back pair of road wheels. The wheels had a tendency to sink and slip if driven onto soft ground. Each wheel had twin rubber tires and were linked via an axle arm with a coil spring. The chassis was very steady when moving fast and on uneven terrain.
Weight: 14.65ton
Length: 5.66m
Height: 2.42m
Width: 2.29m
Armament: 45 mm 1934 L/46, 3x 7.62 mm DT
Armor (max): 30mm
Engine: M-17T
Speed (max): Tracks 62km/h, Wheels 86km/h
German Panzer IV Ausf H
On January 11, 1934, the Army Weapons Department drew up specifications for amitteren Traktor (medium tractor). It was to be a maximum of 24,000 kg. These were to equip the 4th company of each battalion. It's roll was originally intended to be artillery support and was designed with a low velocity, large caliber gun for HE. Rheinmetall-Borsig was to do the main development work and had produced a wooden model by the end of 1934. The first prototypes were completed in 1934 and 1935 and were tested at Kummersdorf. The code for them was Bataillonsführerwagen/BW (battalion commander's vehicles. The suspension initially had 8 paired bogies and 3 return rollers. MAN in 1935 developed a prototype that had interleaved suspension. Krupp designed a vehicle that had interleaved bogie suspension. Krupp's Heerlein division was given the responsibility for designing the turret and further development. New prototypes were thoroughly tested during 1935-1936. After these trials Krupp was appointed the main developer. Eisen, Hüttenwerke in Bochum, and Krupp produced the armor and turrets. By 1942 Krupp had subcontracted the hulls, superstructures, and turrets to Böhler of Kapfenberg and Eisenwerke Oberdonau of Linz. Krupp's Essen factory was producing 24 hulls, superstructures, and turrets per week. Volkswagen was among the firms that produced the bogies.
Weight: 25ton
Length: 5.89m
Height: 2.68m
Width: 2.88m
Armament: 75 mm KwK 40 L/48, 2x 7.92mm MG34
Armor (max): 80mm
Engine: Maybach HL 120 TRM
Speed (max): 38km/h
Italian M11/39
In 1937 prototype was built. Started with 6 road wheels and was similar to American M3 Lee except had 37 mm in sponson. Eventually had 8 road wheels. Had no radio. Riveted construction. Had 2 Breda 8 mm MGs in the turret and a 37 mm mounted on the right side of the hull. Was intended to be main tank of armored divisions. Each battalion would have 31 tanks. 70 were sent to Africa and joined the 4th Tank Regiment. First action Sidi Azeis, Aug. 5, 1940. Five were captured by the 6th Australian Division and used against the Italians at Tobruk in January 1941.
Weight: 11ton
Length: 4.7m
Height:
Width: 2.2m
Armament: 37 mm Vickers-Terni L/40, 2x 8mm Breda Model 38
Armor (max): 30mm
Engine: Fiat SPA 8T
Speed (max): 32 km/h
Hungarian Turan II
A light tank based on a design from the Czech Skoda factory. The Skoda design, T22, became the 40mm Turan. The Hungarians produced 2 forms, the Turan 1 which had a 40mm gun and the Turan 2 with a 75mm gun in a larger turret. These tanks equiped Hungary's only armored division (1st Pancelos Hadosztaly). Turans proved to be much too light to use against Soviet armor and armor clashes were avoided if possible. A prototype of Turan III armed with 75mm long barreled was ready in 1944. The proposed heavier Turan 3 never reached production stage before the ending of the war in 1945. Any surviving Turans were lost in 1944 when Hungary attempted to break it's Axis alliance.
Weight: 18,500 kg
Length: 5.68m
Height: 2.33m
Width: 2.54m
Armament: 75 mm (short barrelled), 2x 8mm MG
Armor (max): 50mm
Engine: Weiss
Speed (max): 47km/h
Japanese Type 97 Chi-Ha
In the mid-1930s the Army issued requirement for a new medium tank to replace the Type 89B. Two prototypes were built. Mitsubishi built one for the Engineering Department, and Osaka Arsenal built one for the General Staff Office. The Osaka prototype was known as the Chi-Ni and the Mitsubishi prototype was the Chi-Ha. The Chi Ni weighed 10,000 kg and had a 6 cylinder air-cooled diesel engine which produced 135 hp. Top speed was 18.5 mph. It had a 3 man crew with a 57 mm Type 90 gun and 6.5 mm Type 91 MG. At first the Chi-Ni was selected as it was cheaper, but it was decided that the more powerful Chi-Ha was needed after the war broke out in China.
Weight: 15ton
Length: 5.5m
Height: 2.23m
Width: 2.33m
Armament: 57mm Type 97, 3x 7.7mm Type 97 MG
Armor (max): 30mm
Engine: Mitsubishi Type 97 air cooled
Speed (max): 38.4 km/h