American M6A2E1-1 Heavy Tank
Though never deployed in battle, this tank did see service in the propaganda war. Captured documents after the war with Germany showed that they had worries about America's "Super Tank" and devoted time, effort, and money into the discovery of counter measures. At the time of concept and first production, this tank was considered the most powerful in the world. The M6, due to teething problems, would never see actual service in the American army though. Doubts existed as to it's mechanical reliability and there were fears that the tank was too heavy for actual operational duties. A variation to the design was the M6A2E1 in which only one was constructed. This tank was built to a specific need: to break tough defensive positions in Europe. The T5E1 105mm cannon was used and the turret ring increased from 69" to 80". The vehicle's height went up to 11' 5" as a result of the new turret. and the length (with the gun) went to just under 37'. A goal was to build 15 of these monsters and ship them quickly to the European theater. European commands considered this tank and promptly rejected it. The thought of a 154,000 pound vehicle that could only travel 18mph was considered too difficult to deploy.
Length: 24' 9"
Height: 9' 10"
Width: 10' 2.5"
Armament: 105mm, 3x 30 cal
Armor (max): 3.25"
Engine: Wright G-200 960hp
Speed (max): 22mph
Crew: 6
British/Canadian Cruiser MkVIII, A27m Cromwell Mk MkVI
In 1941 2 designs were submitted. One with a Liberty engine that was produced by Nuffield and the other with a Rolls-Royce Meteor engine that was produced by Leyland. The Meteor engine was proven to be very reliable and based on the Rolls-Royce Merlin aero engine. Approximately 80% of the components of the engine were similar to the aero engine. The M in the A27M stood for Meteor. In January 1942 Birmingham Railway Carriage and Wagon Company took over the design. In January 1943 production models first appeared. Initially Rolls-Royce produced the engines, but it was contracted out so that Rolls-royce could concentrate on aircraft engines.
Length: 6.35m
Height: 2.49m
Width: 2.91m
Armament: 95 mm howitzer, 1x Besa 7.92mm
Armor (max): 76mm
Engine: Rolls-Royce Meteor
Speed (max): 64 km/h
Crew: 5
French Bataille Char B1-bis
At the request of General Estienne and on the basis of previous studies worked out by Renault, Schneider, FAMH, FCM, and Delaunay-Belleville, a new battle tank was developed under the code designation of "Tractor 30". In 1929-30, three pilot models were built by Renault and FCM. These later became designated Char B. These three pilot models were extensively reworked and modified for tests. The first one, reengined and uparmored became the early prototype for the B1-ter in 1937. The Char B1 was the production version of the Char B. Production began in 1935. Only a small number were built before construction changed to the more powerful B1-bis. The B1-bis was the main battle tank of the French army in 1940. Considered one of the most powerful and advanced tanks in the world, it was hampered only by it's low speed and cost of production. The B1-ter did not go beyond protype stage. Studies started in 1935. Had the B1-bis been better employed, it would have easily defeated any invading German tank in 1940.
Length: 16.52m
Height: 2.79m
Width: 2.5 m
Armament: 47mm L/32, 75mm L/17 Sa35, 2x 7.5mm MG
Armor (max): 60mm
Engine: Renault water cooled
Speed (max): 28kph
Crew: 5
Russian Klementi Vorishilov Kv-1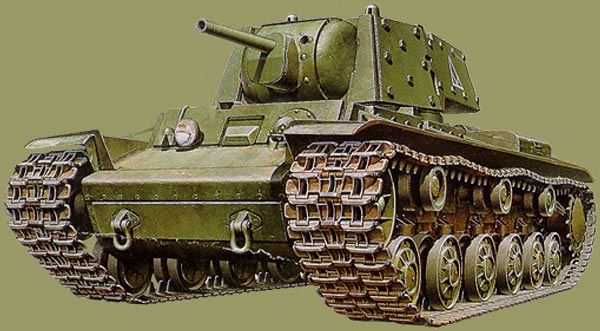 In 1938 the SMK (Sergius Mironovitch Kirov) and the T-100 were designed by S.J. (Z.?) Kotin (chief engineer of the Kirov-Zavod tank factory in Leningrad) to replace the T-35. The prototypes were tested in the Russo-Finnish War and were found to be too large and too complex. At Stalin's suggestion Kotin modified the T-100 by removing the small front turret which had a 45 mm gun and was able to design a more compact vehicle and increase the armor based on the weight savings. This vehicle was originally called the Kotin-Stalin but was officially changed to the Klementi Vorishilov (KV) after the Defense Commissar. The first prototype first appeared in September 1939 and it was accepted on December 15, 1939, for introduction to the Red Army. In the summer of 1940 production started. They came from the production lines in Leningrad and went straight to the front at Karelian. The factory was later moved to Chelyabinsk.
Length: 6.67m
Height: 2.75m
Width: 3.25m
Armament: 76.2 mm ZiS-5 L/42, 3x 7.62 mm DT
Armor (max): 90mm
Engine: W-2-K
Speed (max): 33.6 km/h
Crew: 6
German Panzer VI Tiger Ausf E (Sd.Kfz 181)
In 1937 Henschel was instructed to design and build a prototype of a 30-33 ton tank to be the successor to the PzKpfw IV. It was initially named the Durchbrüchswagen I (breakthrough vehicle). One chassis with interleaved roadwheels had been built, but in 1938 this was suspended to work on a 65 ton tank. However, after 2 prototypes were undergoing trials this project was canceled and development on the original DW 1 resumed. By 1940 Henschel had improved the design that it was designated the DW 2. It originally carried a short 75 mm gun. Trials were carried out until 1941 when an order was placed for a new design that virtually described the DW 2. Porsche, MAN, and Daimler-Benz were asked to submit designs as well. Henschel built 2 new prototypes in March 1941, and 2 more in October 1941. It had a superstructure similar to the PzKpfw IV and the suspension had 7 interleaved road wheels and 3 return rollers on each side. It was to carry to 75 mm L/48, however with the invasion of Russia and their T-34/76s, it quickly become obsolete and development was discontinued. Two of these prototypes were lengthened and mounted a 128 mm K 40 gun and were used in Russia in 1942. A new specification for a 36 ton tank was proposed by Hitler. It was to have a high velocity gun, heavy armor, and speed of 25 mph. Henschel had a prototype developed by March 1942. However, the specifications were changed to a 45 ton tank with 88 mm gun. The deadline was to be Hitler's birthday on April 20, 1942.
Length: 6.9m
Height: 2.93m
Width: 3.8m
Armament: 88 mm KwK 36 L/56, 2x 7.92 mm MG 34
Armor (max): 102mm
Engine: Maybach HL 230 P45
Speed (max): 40 km/h
Crew: 5