I am proud to announce that my long anticipated mod, Kings of the West, has been released! It may be downloaded at my site at the following link: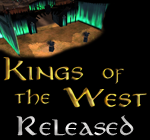 For a full description of the changes, there is a 42 page mod manual in PDF form available at my site at the above link.
Be sure to visit my forums for updates, bug and error support, and to discuss the mod. Here's a link to them:
GothmogtheOrc Forum
Also be sure to rate the mod on the main site,
HERE
, and on
ModDB
where we are currently #6 overall today!
Also, already in the first few hours of release several small bugs have been found, so a new version (1.1) will be released within the next day correcting these bugs.
Enjoy!
-GothmogtheOrc