Toadnuke and Tripwired's Submission: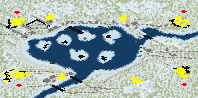 Aro's Rating:
Detail - 10 / 20
The detailing was pretty nice, MUCH nicer than the last map you guys submitted to us. While much more detailed, the LAT detailing pattern you chose looked a bit unusual, kind of like sandwich layers surrounding the lake, but it also had a unique look to it which is good. The little urban details were nice too. Downfalls would be the blocky slopes and straight dirt roads. The concrete bridge looked out of place considering there were no paved roads linking to them. You could of done a bit more variation with rocks, trees and shores. The main problem with the detailing is that the map is
really
flat other than the odd slope area by the player locations, but still you did a good job on the detailing overall, thumbs up.
Lighting - 13 / 20
Global lighting was really good, definitely added a lot for a cold arctic feel. Great job on that. The use of light posts was unusual in some instances, but you did a good job on it regarding that RA2 hates lighting. 8 For Global, 5 for Light Post usage.
Layout - 8 / 20
The layout was a bit of a downer, nothing was done with cliffs but rather a large lake. Bridges being the only way to cross isn't very pleasable and can hurt gameplay, though in this case the bridges are indestructible which could be better, though bridges are only 3 cells wide which doesn't support great tank control, but naval warfare looks promising on this map.
Game-play - 15 / 20
Gameplay was good in Skirmish. The AI played really well due-to the large open spaces on the map. The map also adds for some good online tactics such as late expanding onto the small gem islands and capturing tech buildings to fortify your position. It's a shame the AI isn't that advanced but online this map has good potential for great gameplay.
Triggers & INI Tweaks - 20 / 20
Triggers were VERY creative and clever. They varied from moving vehicles, police arriving if a civilian was killed, civilians evacuating areas and many sound effects. Brilliant job with those, I'm very impressed with your creativity.
Total Score : 66 / 100
Aro's Personal Comments: Tne map would of been much better if it had a more complex layout rather than a mostly flat area with a large lake in the middle, but even so this didn't hurt the gameplay. It's a fun map with lots of creative triggers and I'd reccomend playing it. Great work guys, next time I reccomend playing with cliffs to create a complex and proper layout.
Ixith's Rating:
Detail - 11 / 20
Well there was certainly a decent bit of detailing going on. You had trees, some slopes, and LAT slapped down in a weird pattern. So there was an attempt at detail and it wasn't hatefully bad but I felt some things were out of place. Parking lots with no pavement around them looked a bit weird and I could have used a lot more usage of slopes.
Lighting - 12 / 20
lighting was a nice dark blue which went well with the snow theater. I saw only a few kinda unexpected uses of light posts but they weren't hurtful in fact decent considering RA2 lighting.
Layout - 8 / 20
Well I certainly like the layout better than the map you submitted in the last CCC but I had some problems still of course. Overall it was too flat for my tastes. Also the rivers going into the lake cut off the bottom right side player fairly well from the others which could also effect gameplay. However, I liked the naval ability on this map as bases tended not to be too close to the water where one could destroy it all with just naval but could still effect it. Also the bits and pieces of gems/ores on the islands was nice although probably impractical as I don't see too many people constantly loading up their harvestors into transports to go get it. Another downer was the tech buildings. 3 Oil derricks foe 3 of the players and then the bottom left player had a Powerplant and a Service Bay which i find is a bit disadvantage for that bottom right player...i find the placement of them could have also been better.
Game-play - 12 / 20
Skirmish play against AI was about as expected. Not bad but nothing spectacular. The AI would either drive a near straight line with their forces or they would hug the edge of the lake which made it predictable. The garrisonable buildings were more tactical in some areas i found which influenced the game play as a downer as it gave some spots a better advantage i thought. Though I would assume online play would be fun as players wouldn't always shoot a straight line to your base.
Triggers & INI Tweaks - 18 / 20
I found the triggers be a very nice effect and really added to the map. Ranging from civilians running away as you garrisonize or attack buildings, to firetrucks and police cars coming in. And also the cows. Overall the trigger certainly added an entertaining bit to the map that didn't effect your army but added those nice effects and as far as I could tell everything worked.
Total Score : 61 / 100
Ixith's Personal Comments: Overall it was a fairly decent map. If it had a bit more of a complex layout then I think it would have been a great map as with the layout you could have made more stragetic opportunities for the tech structures and buildings to garrison. I gotta say I like the triggers you added in it certainly added to the map. Good job!
TOTAL : 127 / 200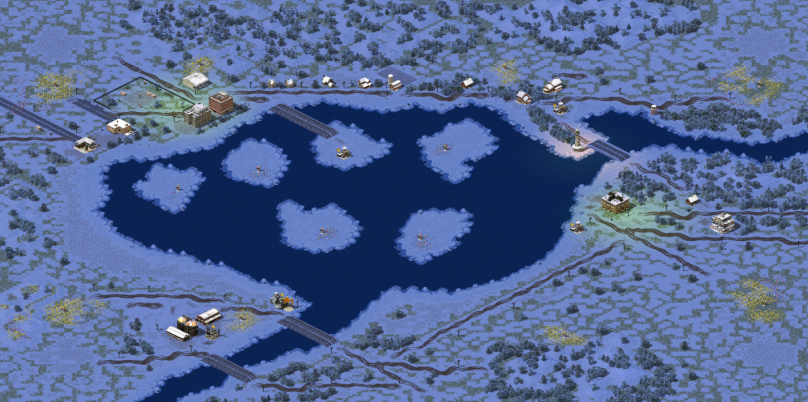 (Click to view map in actual size)