American M10 Wolverine
The first M10 came off the General Motors Fisher production line in the summer of 1942. By the end of production in December 1943, 4993 of M10 units had been built. The primary difference between the M10 and the M10A1 was that the M10 was diesel powered. The M10A1 was built by Ford and powered by the Ford GAA gasoline engine. Ford produced 1038 M10A1 units and GM produced 375 bringing the total M10 and M10A1 production to over 6400. The M10 served in all theaters of war.
Weight: 29600kg
Length: 6.83m
Height: 2.90m
Width: 3.05m
Armament: 76.2mm M7, M2 .50 cal
Armor (max): 57mm
Engine: Twin GM S6-71
Speed (max): 30 mph
British Archilles Mk IIC
The Achilles was the best British tank destroyer, introduced in 1945. It was basically a M10 but armed with the potent British 17-pounder gun instead of the US 3".
Weight: 29600kg
Length: 7.27m
Height: 2.90m
Width: 3.05m
Armament: 77mm 17-pounder Mk. V, 12.7mm Browning
Armor (max): 57mm
Engine: Ford GAA
Speed (max): 30 mph
Canadian Ram QF 3.7" AA
Weight: 29,484kg
Length: 5.791m
Height: 2.66m
Width: 2.76m
Armament: 3.7" (93mm) AA gun
Armor (max): 87mm
Engine: Wright Continental R-975-EC2
Speed (max): 25 mph
French Lorraine 37L SPG
need info?
Soviet Su-85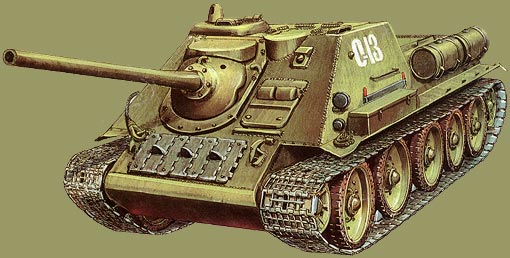 At the Uralmash works in Chelyabinsk a project was lead by the development bureau of General F. F. Petrov to develop a self-propelled gun on a T-34 chassis with an 85 mm gun. From the beginning it was designed as a tank destroyer. Work on it started in August 1943 and by the end of 1943 100 had been built. Based on the superstructure that was used in the SU-122. Gun was based on an anti-aircraft gun and was mounted in a ball mantlet. First 100 appeared in August 1944 on the Dneiper and Ukraine fronts. By early 1945 it had been withdrawn from the front and replaced by the SU-100. Used in all self-propelled gun regiments or brigades.
Weight: 29600 kg
Length: 8.15m
Height: 2.45m
Width: 3.00m
Armament: 85mm Gun D-5S
Armor (max): 75mm
Engine: W-2
Speed (max): 30 mph
German Sturmgeschütz III G
On June 15 1936, the order was given to Daimler-Benz AG to develop and produce an armored infantry support vehicle mounting 75mm gun. The gun was to have a limited traverse of minimum 25 degrees in order to provide direct support up to 6 kilometres. The gun was to be mounted in a superstructure that provided full protection for the crew. The height of this vehicle was not to exceed the height of an average man. Daimler-Benz AG being already involved in the development and production of Panzerkampfwagen III tank decided to use its chassis and components for this new vehicle. The experimental "0" series of five prototypes (chassis number 60201 to 60215) was produced in 1937 by Daimler-Benz - Pz.Sfl.III (s.Pak). Prototypes were pre-production Panzerkampfwagen III Ausf B tanks mounted with mild-steel superstructures housing short-barrelled 75mm StuK (Sturmkanone) gun designed and produced by Krupp. Vehicles were extensively tested at Kummersdorf, Doberitz and other testing / training facilities e.g. Jueterbog. Prototypes remained in use as training vehicles as late as 1942.
Weight: 23900kg
Length: 6.77m
Height: 2.16m
Width: 2.95m
Armament: 75mm StuK 37 L/24
Armor (max): 80mm
Engine: Maybach HL 120 TRM
Speed (max): 40km/h
Italian Semovente L40 da 47/32
In early 1941 the first examples of the SPG were produced. It was proposed that all 47mm anti-tank guns would be mounted on this chassis eventually. This orginal design called for no overhead cover, though, later models were provided with overhead covers. Conceived as a light assault and support vehicle, it was to be used in conjunction with light tanks and reconnaissance vehicles and against strongpoints as well. Though not designed to be a tank destroyer, it soon fell easily into that role. This was the largest Italian SPG sent to the Russian Front. A command version was produced in which the main gun was replaced with a Breda Model 38 8mm MG (disguised as a 47mm gun). This allowed for more interior room for the commander and extra radio equipment. A total of 300 were produced between 1941 and 1943.
Weight: 6.7t
Length: 3.78m
Height: 1.83m
Width: 1.74m
Armament: 47/32mm, 8mm MG
Armor (max): 30mm
Engine: ???
Speed (max): 36km/h
Japanese Type 1 Ho-Ni II
Short 10.5 cm howitzer mounted on the hull of the medium tank Chi-Ha in an open combat compartment. Entered in service in 1943.
Weight: 15.8t
Length: 2.39m
Height: 1.83m
Width: 2.36m
Armament: 105mm
Armor (max): 50mm
Engine: Diesel Mitsubishi, 170 hp
Speed (max): 38km/h