Name:
Vam'brac Kaughrin
I'm thinking with this name part of it is more a title. like "Brac, of the Vam tribe/village/bloodline/coven/whatever" type deal, although if i'm not sure which way would be better (title than name, or name than title). What do you guys think, Vam of the Brac or Brac of the Vam?
Further thinking on this it might be part of a description of the Vyre's 'mission'. eg. if they're on a quest for their queen it might be 'Hin' *whatever*, or if they're in a blood feud seeking revenge 'Tarn', or if they're adventuring 'Vam'. (just examples, not sure what 'Vam' or 'Brac' should really designate)
Age:
61
Gender:
Male
Race:
Vyre
Weapons:
Hybrid weapon - Its kinda like a flail/mace crossed with a pick/hand scyth.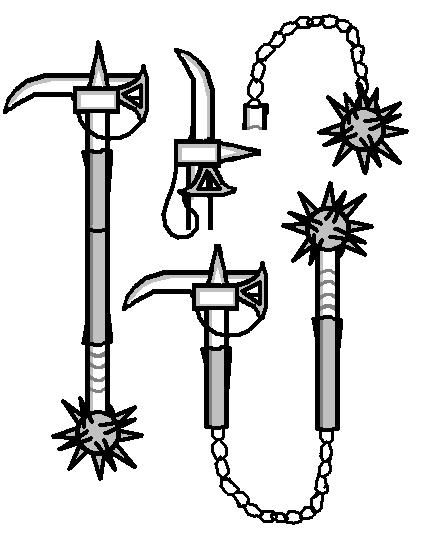 It has a chain running through the center shaft. so it can be configured to make it into different weapons. Asides from being like a hand scyth/pick and a morning star, it can be like a spear if the pick head is rotated upwards, like a flail if the mace head is let loose, the shaft splits in the middle so it can be wielded two handed.
Class/Order:
ranger maybe?
Height:
4.3 feet tall
Weight:
87 pounds
Alignment:
Neutral edging on good
History:
Vam'brac is now acting as somewhat of an adventurer and mercenary. Having gained intelligence with all the other Vyre he has learnt that money makes the world go round and you don't get far without it. His weapon was crafted by 'The great Maltesh" a self proclaimed inventor genius who sells many such unique items at "Maltesh and Sons Invention Emporium" (although unless gnomes can have dwarvern sons who are older than they are the name doesn't really seem quite fitting).
He considers himself honorable and refuses to kill women and children. He mostly hires himself out as an escort, hunts criminals, and even does some arena matches.
Edited by some_weirdGuy, 07 June 2010 - 07:19 AM.