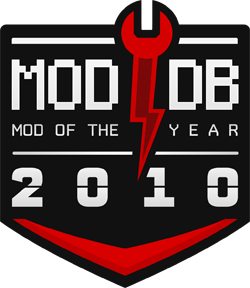 Well voting for phase 2 of Moddb's MOTY awards started a few days ago and with the Top 100 officially announced I'd like to congratulate all those that made it. I wish them luck in phase 2 of voting. Speaking of which, please vote. Take a couple of seconds out of your day to vote for one or two of your favorite mods. As I said in my previous news post about phase 1 voting, "Remember mod team members are modding on their own free time, everyone likes a little acknowledgement for their work from time to time."
On another Petrolution-related note, I'd especially like to congratulate Sci-Fi at War, which is hosted here on the Petrolution forums, as well as the other Empire at War mods that also made the Top 100. This year has seen the most EaW mods make the Top 100 since I've been apart of the community (2007) and probably since EaW (and expansion FOC) has been released (2006). So I'd especially encourage you to support the EaW/Petro community by voting for at
least
one of the EaW mods that made it (see below).
Best Released Mods:
Best Upcoming Mods: