We've made a number of changes to Gondor's arsenal of spellbook powers, removing duplicates and some of the others.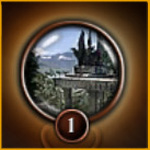 First,
Elven Wood
has been replaced with a new power called
Remnants of Numenor
. This power similarly creates an area of overgrown ruins for your troops to fight in. However, instead of giving a large bonus to armor, it gives a large bonus to experience gain rate and a small one to armor. This lets you level your troops quickly in the early game, reducing the money you might spend on Banners.
Rohan Allies
has been replaced by
Fealty of Dol Amroth
. This new power is similar, summoning cavalry, but instead calls on Prince Imrahil and two units of powerful Knights of Dol Amroth. Besides giving generally potent units,
Prince Imrahil
can use Righteous Fury - a single target damage power to prey on monsters or heroes. He also comes with two passive abilities -
Prince of Dol Amroth
for leadership and
Imrahil the Unscathed
, which passively reduces the damage of all enemies attacking him in melee by 40%. Use these units wisely though, as they're only around for two minutes.
Elven Allies
is gone as well, replaced by a passive spell called
Light the Beacons
. To explain this I'll need to tell you about the new building Gondor has acquired: the Beacon. The Beacon is built on economy plots like the Farm, and passively provides a bonus to armor and fear resistance. When you purchase
Light the Beacons
, they become lit and now you're in business. Each beacon can purchase
Call for Aid
for 500 resources, summoning a random unit from Rohan or the Southern Fiefdoms to your aid. These units are permanent and can all use formations and be upgraded with Banners. You might get Knights of Dol Amroth, a unit of Rohirrim Archers, some Spearmen from Pelargir - or one of many more possibilities.
The last major change is to the
Army of the Dead
. No longer does the green tide eat armies for breakfast - it functions in a slightly more interesting fashion. They don't do any damage, but instead apply a massive reduction in armor, fear resistance and damage whenever they attack an enemy. In addition, they also broadcast uncontrollable terror. Alongside the reduction in fear resistance, this means that often even high-ranked units will run away! During this time, your enemy's army is completely vulnerable to a charge by Gondor's finest.
This about concludes the changes to Gondor. I'll get on to Isengard changes in a week or so.