I have the honour of writing the first news post for Phoenix Rising for a few months. I want to take this opportunity to introduce myself. I'm evilbobthebob, the new mapping lead for the mod. If you frequent the forums, you may have seen some of my posts. I had a hiatus from modding Empire at War for roughly a year before taking up this position. So why did I end that hiatus? Well, Phoenix Rising is a mod that aims for accurate depiction of an era we all love: the Galactic Civil War, and the events that followed. That made it stand out to me. First I was just submitting suggestions here and there, then bug testing. Well, one thing led to another, and here I am as the mapping lead.
I have already produced a number of maps for the mod since I joined. I've also tweaked nearly every vanilla map, smoothing out bugs and improving the placement of space structures. In v1.2, Imperial-Class Star Destroyers will be able to navigate maps with ease, and defence is no longer a case of clumping your fleet around your space colony. In fact, this change is possibly one of the more profound adjustments coming to v1.2. Playing in space battles now feels like it has the scale this mod deserves.
However, land has not been neglected. In fact, that is the real focus of this news: one of the most well-known planets in the galaxy has a new map.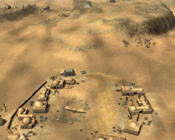 Tatooine. The desert world. Dunes, mesas, tusken raiders, banthas, jedi. The beginning of the Skywalker line, and the birthplace of many excellent pilots. In this image is Anchorhead. A small town scraping by, the cantina is an excellent place to find freelance pilots that are trying to hide from prying eyes in Mos Eisley or another of the larger spaceports. Don't forget to pick up some power converters at Tosche Station.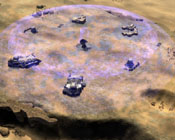 The local Rebel base, located on the edge of the Great Mesa. This spot provides some respite from the sandstorms that rage across the dune sea.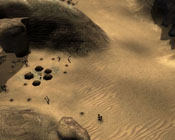 Some tusken raiders have made camp in the entrance to this canyon. Perhaps they will cause trouble later.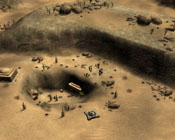 A moisture farm, where a family scrapes a living growing crops with what water they can gather from the vaporators.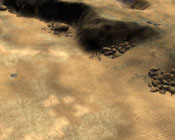 The Great Salt Flats. A wasteland of little interest, though the collapse of the mesa wall makes this an attractive prospect for invaders, especially if they capture this makeshift landing area.
So that's Tatooine. I'm sure you'll enjoy both invading and defending this backwater world in its strategic location near Geonosis.
Part two of this map announcement will be released soon, with news of planets a little closer to the galactic core. Also coming soon: one of the most significant news posts in the history of the mod
Edited by Phoenix Rising, 31 August 2011 - 11:01 PM.